All about me theme activities for your preschool, pre-k, or kindergarten classroom.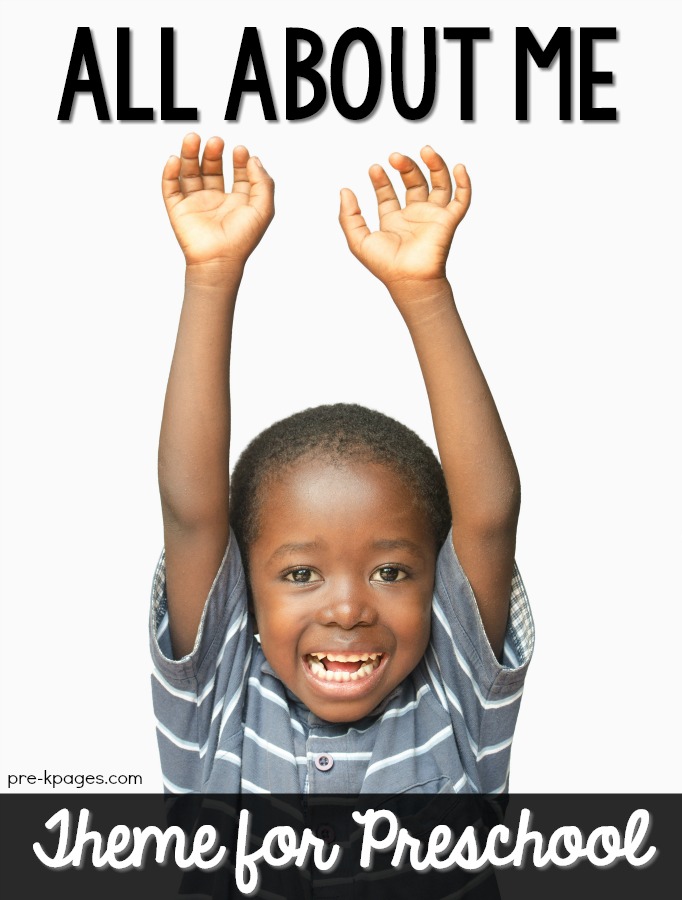 All About Me Books
All About Me Activities
Paper Plate Face
Materials: paper plates, crayons
Give each child a blank paper plate or a piece of paper with a large circle drawn on it and have them draw their face. Keep this in the portfolio to compare with end of the year sample.
Mini-Me
Materials: multicultural cardboard people cutouts, crayons or markers, yarn, fabric scraps, glue
Give each child a multicultural cardboard cutout and have them decorate it as themselves. Crayons and markers are fine, if you have more help you can use yarn and fabric. Use these little people to take the daily attendance all through the year 🙂 If you have a Cricut you can also make these using the Paper Dolls cartridge.
All About Me Graph
Materials: large sheet of butcher paper, markers
This theme lends itself well to many graphing activities. You could graph any of the following with your class: hair color, eye color, boys vs. girls, number of letters in names.
My Name is… Class Book

Materials: white construction paper, boy and girl stencils, paint or crayons, black sharpie marker.
Have each child trace stencil a boy or girl on their paper. You can use paint or crayons for the stencil depending on your preference. At the bottom of each paper use your black marker to write the words "My name is _________". If your students are able they can write their name on the line, or if they aren't able you may do it for them saying each letter out loud as you do so, this way they will begin to become familiar with the letters in their names. A great twist on this idea is to bind all of the pictures together and make into a class book. You could also glue a photo of each student to the head of the picture.
Class Birthday Book

Materials: months of the year poster, 13 pieces of white cardstock, glue, scissors, black marker, student pictures
Take a cheap months of the year poster/chart from the teacher store (usually .99 cents) and cut apart. Glue one month to the top of each piece of cardstock, then glue the title piece "Months of the Year" to a piece of cardstock to make a cover page. Next, glue student photos to their correct birthday month page. Next to each student photo write their name and birthdate with the black marker. When finished laminate and bind into a class birthday book. This book will be a big hit all year long and it's a great way to learn the months of the year.
Here Are My Hands Class Book

Materials: multicultural paint, white construction paper, black sharpie marker.
Use multicultural paint (or mix varying shades of white and brown) and have each child make handprints on a sheet of construction paper. Caption each page "Here are ____'s hands". Bind pages into a class book. Another twist on this idea would be to add the following sentence to the bottom of each page "_____ (child's name) can _____ with his/her hands."
All About Me Resources
More All About Me Ideas
Teaching 2 and 3 Year Olds