Do your kids love hands-on sensory activities? Then they'll love searching for and finding letters of the alphabet in this fun sensory bin. This alphabet sensory bin play experience is the perfect way for your little learners to boost those letter recognition skills.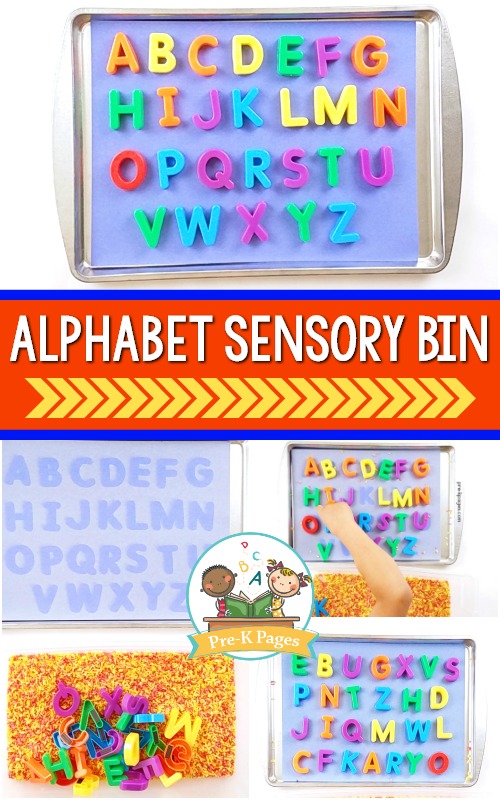 Alphabet Sensory Bin
Any early childhood teacher will tell you that the secret to teaching young children to recognize letters of the alphabet is to use fun, hands-on activities. A sensory bin, table, or tub is an important part of any high-quality early learning environment.
This sensory bin packs a powerful educational punch because it also provides young children with opportunities to touch and feel the shape of the letters. Touching and feeling the shapes of the letters helps your kids become familiar with the letter shapes, which will help when it comes to learning their letters.
Just in case you're new to the sensory bin scene, you can learn everything there is know about the how, the why, and the what of sensory play here.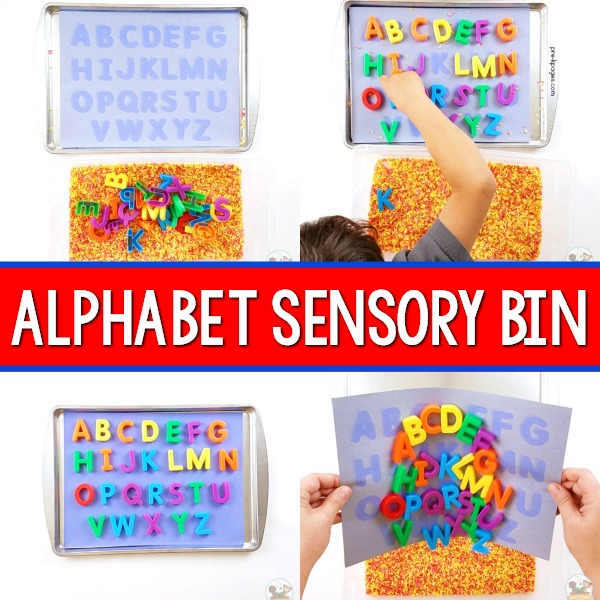 Alphabet Sensory Bin Materials
Here are the things I put in my bin, but you can use whichever filler you prefer or have on-hand.
Metal Cookie Sheet (your best bet for these is the dollar store)
Sensory bin, tub, or table
Filler for your sensory tub, bin, or table. I used colored rice but you could use moon sand, shredded paper, or anything that will cover the letters.
The addition of a sun-bleached letter matching mat to this sensory bin is super helpful for practicing important visual discrimination skills.
Sensory Bins Can Be Messy
You may be thinking, "But sensory bins are so messy!" And you'd be right! I challenge you to think about the pros and cons of sensory bins before rushing to judgment.
The benefits of sensory play far outweigh the negatives. Are sensory bins messy? Yes, they can be, but there are so many more educational opportunities for your kids to learn through sensory play.
Instead of worrying about the mess, set yourself up for success. When it comes to preparing for sensory play think about the following:
Where is my sensory bin located?
What can I do to contain the mess?
What are the rules about cleaning up the sensory play area?
How can I teach my kids to clean up the sensory area?
Find a place in your home or classroom where a sensory bin makes the most sense. Tile or hard surface floors are best when it comes to messy play activities.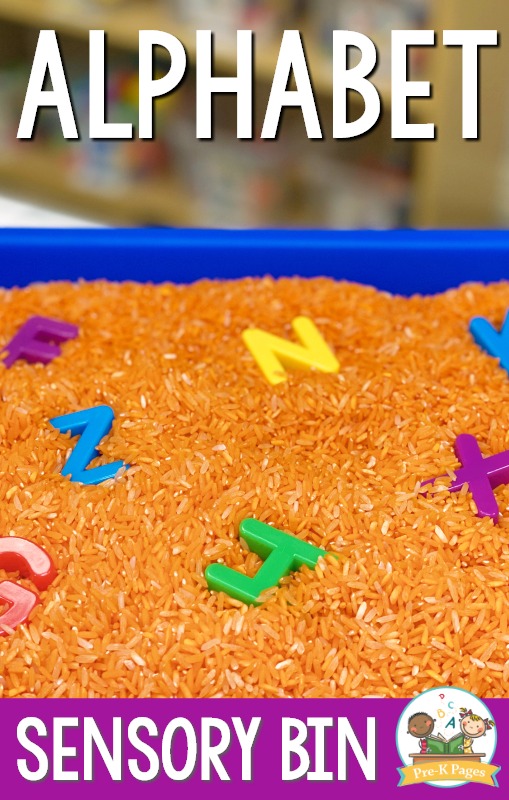 If possible, put a mat or plastic tablecloth under the sensory bin to "catch" anything that may spill out.
The next step is super important, introducing the rules of sensory play to your little learners. Be sure to address where the contents of the bin can and can't go (in the mouth, hair, floor) and where they can go.
And lastly, you'll want to have procedures in place that allow young children to independently clean up the sensory area when they're done playing. Little hand brooms and dust pans are perfect for cleaning up sensory bin spills!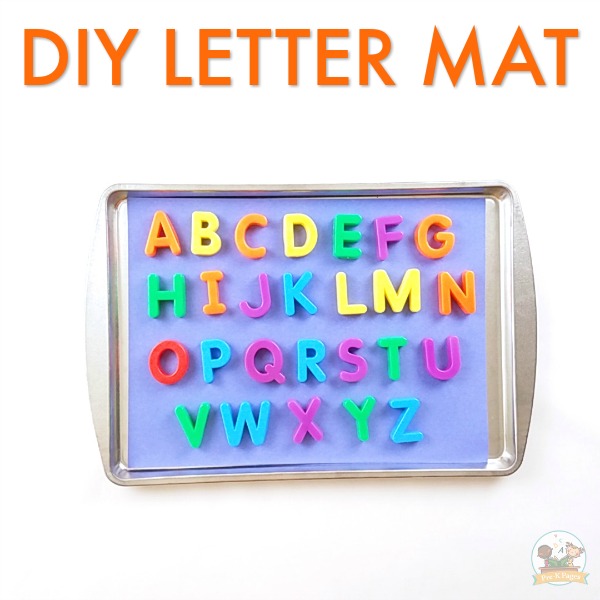 Setting Up Your Alphabet Sensory Bin
First, cut a piece of dark colored construction paper (dark colors like black or blue work best) to fit the inside of your cookie sheet. Place the paper inside the cookie sheet, then place the magnetic letters on top of the paper and place it in direct sunlight for several hours.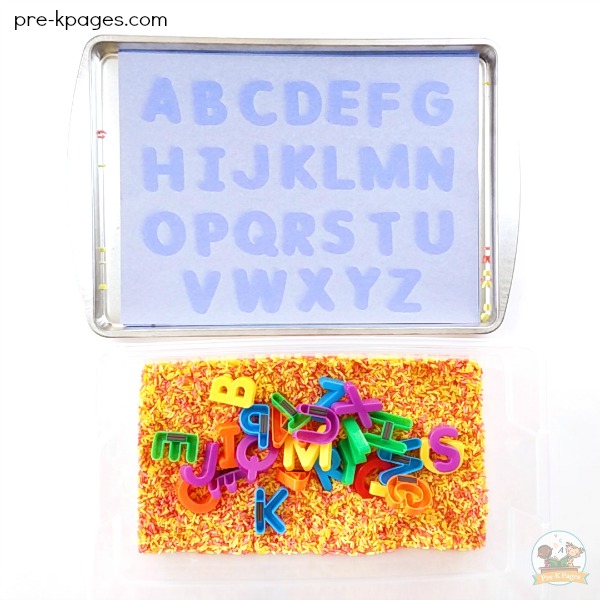 Once the sun has bleached the paper enough for the letters to show up clearly, remove it from the sunlight and laminate the paper.
After the paper is laminated, attach it to the cookie sheet with tape so it stays in place.
Next, if you're using rice, color it using your color or colors of choice. In case you're not familiar with how to color rice, I've included my favorite recipe for you below.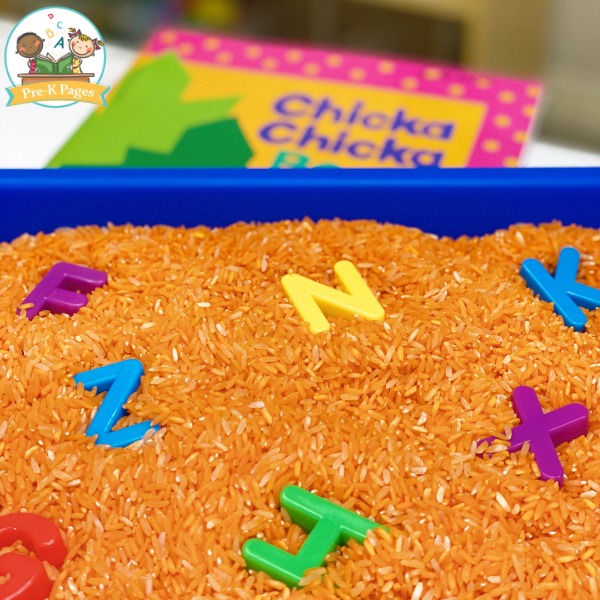 Colored Rice Recipe
1 cup uncooked rice
2 tablespoons rubbing alcohol
8 drops food coloring
You could also use liquid watercolors, they are perfect for coloring rice in bright, vibrant colors – but they do cost more than food coloring.
How to Color Rice
Place the ingredients in a zip top bag, seal and mix until the color is absorbed evenly into the rice. Of course, if you're filling a large sensory tub with colored rice you will need to repeat the steps in the recipe several times. Then, line some cookie sheets with wax paper and pour your rice on top to dry.
After your rice is dry, pour it into your sensory tub or bin and mix in the magnetic letters. Now, children can search for the letters in the sensory bin. When they find a letter they can look at it carefully and match it to the corresponding space on the cookie sheet.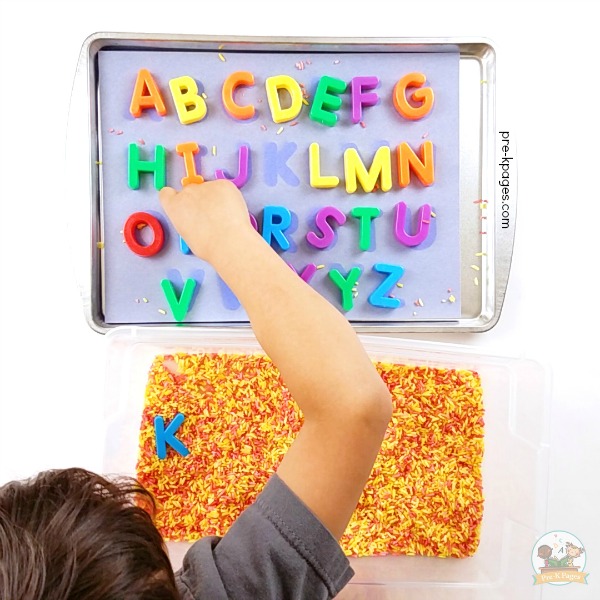 This activity will help children learn to identify letters of the alphabet. Before children can learn to recognize and name the letters, they first have to learn how to visually discriminate the similarities and differences of each letter.
If you place the letters inside plastic Easter eggs it adds an extra element of fun, however my little dish tub wasn't large enough to accommodate 26 plastic eggs.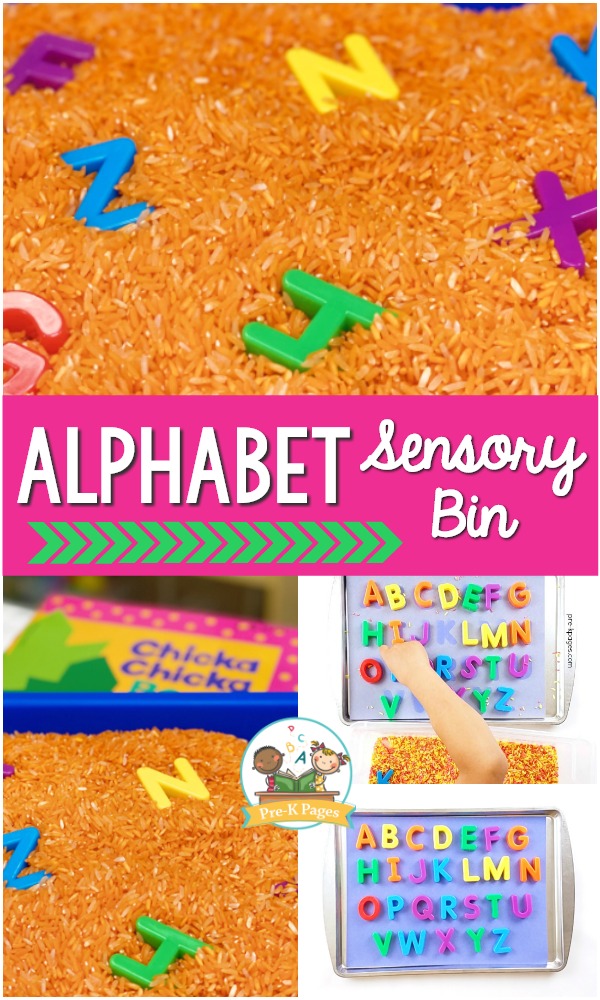 Introducing the Sensory Bin
Before you introduce the sensory bin, you may want to consider reading an alphabet book to your students. You probably already have a basket of alphabet books in your classroom library you can choose from. Reading a book aloud before introducing the sensory bin is a great way to connect the academic aspect to the playful aspect of learning.
When it comes to alphabet books, my personal favorite is Chicka Chicka Boom Boom by Bill Martin Jr. and John Archambault. The sing-song way this story is told, along with the colorful illustrations have made it a classic, must-read book for the Preschool and Pre-K crowd!
More Sensory Bin Ideas