Visiting the apple orchard is a fun fall tradition in many places.
Growing up in Michigan, I have many fond memories of visiting the apple orchard every fall. I went to the apple orchard on many school field trips, with my Girl Scout troop, and my parents- that's a lot of trips to the apple orchard!
Apple Orchard Pretend Play
After many requests, I finally created a new dramatic play kit based on- you guessed it- the apple orchard!
This kit includes printable props to help you easily create an apple theme in your dramatic play center. Open and closed signs, orchard sign, picture cards and much more are included in this 34 page printable packet.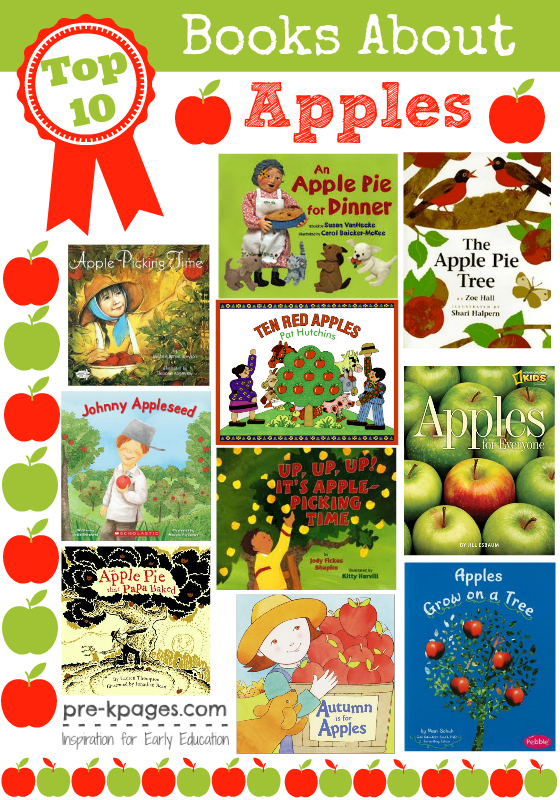 Books about Apples
I've also compiled a Top Ten list of my favorite books about apples for you below.
Ten Red Apples by Pat Hutchins

Up, Up, Up! It's Apple Picking Time by Jody Fickles Shapiro

Apples for Everyone by Jill Esbaum

Apple Picking Time by Michele Slawson

An Apple Pie for Dinner by Susan Vanhecke

Autumn is for Apples by Michelle Knudson

The Apple Pie that Papa Baked by Lauren Thompson

Johnny Appleseed by Jodie Shepherd

Apples Grow on a Tree by Mary Schuh

The Apple Pie Tree by Zoe Hall

To read more about this dramatic play kit visit the Apple Orchard page.

More Apple Ideas