It might not feel like it here in Texas, but fall is officially here! I have compiled a list of my Top Ten favorite Fall books for preschoolers for you below, plus one more.
Fall Books For Preschoolers
Leaf Man by Lois Ehlert
From favorite children's author Lois Ehlert, Leaf Man is perhaps my favorite fall book not only because of the beautiful illustrations made from real leaves but also because it provides you with an instant activity- making leaf people! Check out what Teach Preschool did with this wonderful book here.
Red Leaf, Yellow Leaf by Lois Ehlert
Another classic from Lois Ehlert, Red Leaf, Yellow Leaf always mesmerizes children with its vibrant colors and cut out pages. Check out this fantastic sensory bin from Stir the Wonder inspired by Red Leaf, Yellow Leaf.
Autumn is Here! by Heidi Pross Gray
Author Heidi Pross Gray has paired beautiful watercolor illustrations with text that is simple and repetitive yet still full of rich vocabulary words such as flutter, bundled, scattered, chattering, and hoard.
It's Fall! by Linda Glaser
The stunning cut-paper art in this book is both beautiful and fascinating. Take the time to ask your students how they think the author/illustrator created the pictures and invite them to do the same- lots of fun!
Leaf Jumpers by Carole Gerber
The vibrant watercolor and block print illustrations paired with rich, descriptive text will captivate your students and pique their interest in leaves and changing seasons.
Fall Books
We're Going on a Leaf Hunt by Steve Metzger
We're Going on a Leaf Hunt is similar to the classic book Going on a Bear Hunt. This is one of my favorite books not only because it makes for an interactive read-aloud experience as students act out the story as they chant along, but it is also the perfect book to read before going on an actual leaf hunt or nature walk. Check out what Teach Preschool did with this book here.
Awesome Autumn by Bruce Goldstone
Beautiful color photographs are paired with kid-friendly, factual information about fall in this non-fiction book by Bruce Goldstone.
Autumn Leaves by Ken Robbins
The life-size, full color photographs in this book introduce the reader to thirteen different varieties of leaves and trees. Another great non-fiction book for young children to help spark interest in the changing seasons.
Mouse's First Fall by Lauren Thompson
Author Lauren Thompson has created a beloved fictional character in Mouse, who appears throughout her playful series. In this edition, Mouse and Minka discover that fall is a season of fun!
Leaves by David Ezra Stein
Your students will enjoy watching bear, who is experiencing fall for the first time- attempt to put the leaves back on the trees in this fictional story with lovely pen and ink illustrations.
Bonus Book: Tap the Magic Tree by Christie Matheson
In the style of Press Here, Tap the Magic Tree is the newest member of the interactive read-aloud genre. This fun and playful book invites readers to tap the pages to make the tree change with the seasons- without any mechanical components!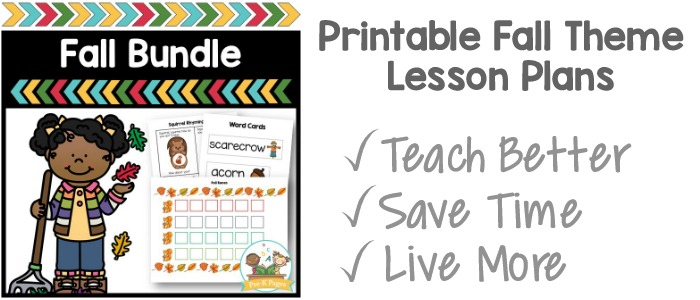 More Fall Ideas