Thanksgiving is just around the corner! I have compiled a list of my favorite Thanksgiving books to read aloud during the month of November.
This list focuses mainly on being thankful, turkeys and the family feast because the concept of the First Thanksgiving is a very abstract one for young children to grasp.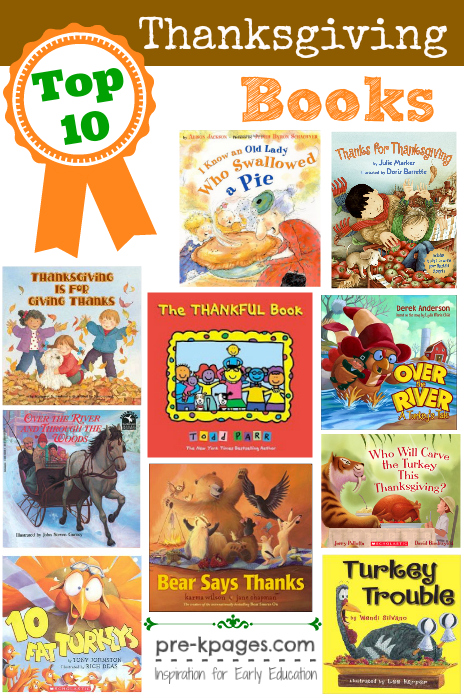 Thanksgiving Books
Bear Says Thanks by Karma Wilson


A celebration of friendship and family featuring Karma Wilson's beloved bear character. If you're not familiar with this series run, don't walk to your nearest library or bookstore! Beautiful illustrations paired with rhyming text make this series the perfect read aloud for any preschool or kindergarten classroom.
Over the River by Derek Anderson


An amusing take on the classic song where turkeys take the place of humans. The vivid, eye-catching illustrations will capture the attention of your students and the hilarious antics will keep them engaged.
10 Fat Turkeys by Tony Johnston


The silly rhyming text teaches children how to count backwards from ten. While it may be silly it can also be used as a tool to support the Common Core through the development of mathematical fluency. Children need to be able to fluently count forward and backward and know what numerals come before and after. Ten Fat Turkeys is the perfect book to support the concept of mathematical fluency.
Turkey Trouble by Wendi J. Silvano


A hilarious story about a turkey who disguises himself to avoid the inevitable on Thanksgiving Day. Turkey's attempts at disguising himself will have your students giggling from start to finish. Click on the picture of the book cover and check out the preview on Amazon- too cute!
I Know an Old Lady Who Swallowed a Pie by Alison Jackson


I Know an Old Lady Who Swallowed a Pie is one of my personal Thanksgiving read-aloud favorites. This book can be used as a tool for supporting sequencing and re-telling skills. I have also created some free printables to go along with this story; you can find them on the Thanksgiving page.
Best Thanksgiving Books for Preschool
Thanks for Thanksgiving by Julie Markes


Simple rhyming text coupled with beautiful watercolor illustrations capture the true spirit of being thankful from the perspective of a child.
Thanksgiving is for Giving Thanks by Margaret Sutherland


A simple book appropriate for young children that will help explain the concept of being thankful. This book features multicultural characters, and is perfect for young children who are second language learners.
The Thankful Book by Todd Parr


From bestselling author Todd Parr, The Thankful Book celebrates all the little things children can give thanks for. Parr's distinctive illustrations and relatable text make this a must have for all early childhood classrooms.
Over the River and Through the Woods by Lydia Maria Francis Child, illustrated by John Steven Gurnsey


While it is only available second-hand, this is one of my favorite Thanksgiving books. The full-page illustrations are very detailed and the text follows the classic song word for word. I love to read this book aloud and then introduce the children to the song. You can see an extensive preview on Amazon, but ignore the editorial reviews – they are for the wrong book.
Who Will Carve the Turkey This Thanksgiving? by Jerry Pallotta


I love this "Who will…?" series by Jerry Pallotta so much I just had to include it! Although it is only available as used it is well worth it. The illustrations are amazing and the funny premise has my students howling with laughter every time. After reading this book aloud, ask your class what other animals they can think of and then create your own class book.
More Thanksgiving Ideas
1. Thanksgiving Bingo (Pre-K Pages) -Free printable bingo game for a Thanksgiving theme or party in your preschool, pre-k, or kindergarten classroom. Includes both a black and white and a color version!
2. Thanksgiving Music for Preschoolers (Pre-K Pages) – Need some fun Thanksgiving songs for kids? You can use YouTube to find fun music to use in your preschool or kindergarten classroom.
3. Thanksgiving Counting Mats (Pre-K Pages) – A set of free Thanksgiving play dough mats to help your kids develop number sense and fluency within ten. Includes 11 printable color mats for you to use in your play dough center with prompts, and 11 without prompts.
4. Turkey Snacks (Pre-K Pages) – When it comes to celebrating Thanksgiving with kids I prefer the KISS method- Keep It Simple Silly. That's why I love these two easy Thanksgiving snacks (featuring turkeys) that kids can make with very little help.
5. One-to-One Correspondence Activities (Pre-K Pages) – These hands-on activities with a Thanksgiving twist will make learning how to count fun for all young children.