Take Home Backpacks or Bags for Preschool and Kindergarten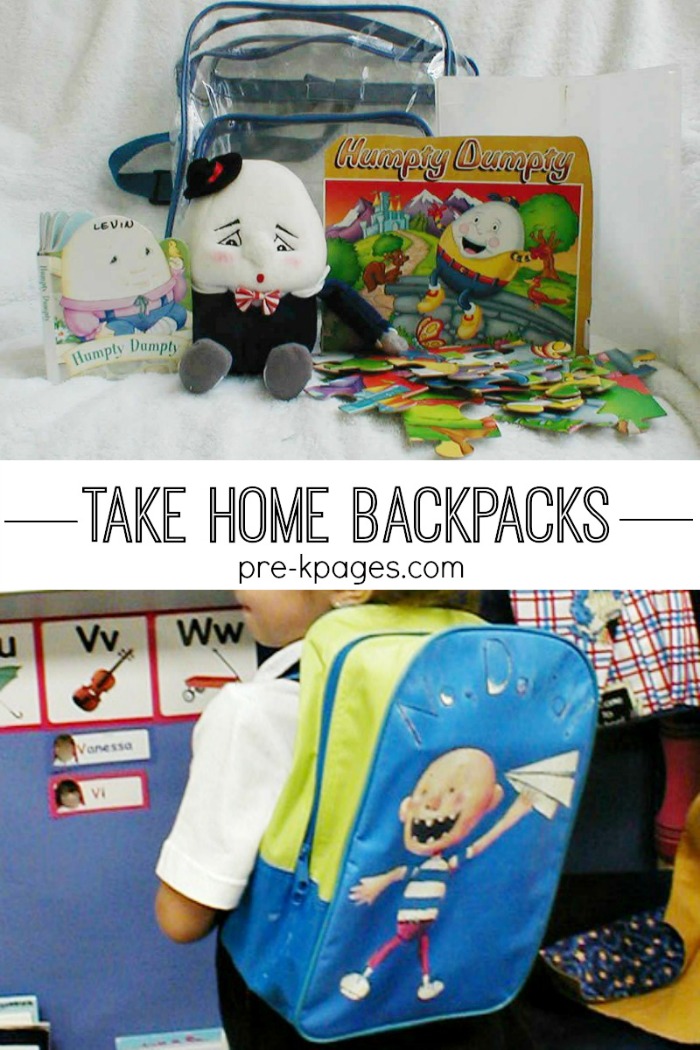 Take Home Backpacks and Bags for Preschool
Ideas for implementing a take-home bag program in your preschool, Pre-K, Head Start, or Kindergarten classroom. Ideas and free printables for creating math, science, and literacy take-home bags.
What are Buddy Bags?
Buddy Bags are designed to be fun and informative ways for families to share literacy and learning experiences at home. A Book Buddy is a stuffed animal or character that goes home in a special backpack with one student along with books and activities. 
One Buddy Bag is sent home with the "leader" each day. The bags are distributed on a rotating basis so each child will have a turn numerous times throughout the school year. Families will read the book(s), participate in the activities, and write in the journal. The Buddy Bag is to be returned to school the next day.
How do you keep track of the Buddy Bags?
The Buddy Bags go home with the leader of the day in each class. Since I have both AM and PM classes there are 2 bags checked out each night, one from each class.
Where do you get the clear backpacks?
The clear backpacks are from Lakeshore. I have been using the clear backpacks for a number of years and they hold up very well; they are "kid size", inexpensive, and clean up easily.
What items do you include in the Buddy Bags?
I have listed the contents of each bag for you below.
How do you explain everything to the parents?
I start by having parents sign a contract to participate in the Buddy Bag program. Inside each bag there is a note that is printed on cardstock and laminated that explains what is in the bag and how to use it. See the resources section at the bottom of this page to print the note.
Where do you get the stuffed animals or characters for the buddy bags?
All of the items in the bags are things that I have collected from various stores over the years. Whenever I see something I think would be good for a backpack I grab it!
Bag #1 Chicka Chicka
Contents
Chicka Chicka book
Parent Journal
Instruction Sheet
Magnetic letters
Chicka Chicka recorded on iPod
Bag #2 Three Little Kittens
Contents:
Kitten Beanies
Three Little Kittens book
Parent Journal
Instruction Sheet
Three Little Kittens recorded on iPod
Bag #3 Gingerbread Man
Contents:
Stuffed Gingerbread Man
The Gingerbread Man book
Parent Journal
Instruction Sheet
Gingerbread Man story sequencing activity
The Gingerbread Man recorded on iPod
Bag #4 Hey Diddle Diddle
Contents:
Stuffed Hey Diddle "plush pal" Doll
Hey Diddle Diddle book
Hey Diddle Diddle puzzle
Parent Journal
Instruction Sheet
Hey Diddle Diddle recorded on iPod
Bag #5 Humpty Dumpty
Contents:
Stuffed Humpty Dumpty Doll
Humpty Dumpty book
Humpty Dumpty puzzle
Parent Journal
Instruction Sheet
Humpty Dumpty recorded on iPod
Bag #6 Jack and Jill
Contents:
Stuffed Jack and Jill Dolls
Jack and Jill book
Jack and Jill puzzle
Parent Journal
Instruction Sheet
Jack and Jill recorded on iPod
Bag #7 Little Miss Muffet
Contents:
Little Miss Muffet "plush pal" doll
LMM book
LMM puzzle
LMM recorded on iPod
Instruction sheet
Parent Journal
Bag # 8  Brown Bear
Contents:
Stuffed brown bear
Brown Bear book
Parent Journal
Class made book "Pre-K, Pre-K, What Do You See?"
Instruction Sheet
Brown Bear recorded on iPod
Bag #9  Happy Birthday
Contents:
Stuffed Birthday Bear
Happy Birthday Moon book
Happy birthday recorded on iPod
Instruction sheet
Birthday Journal
Bag #10 Clifford
Contents:
Stuffed Clifford
Clifford book
Clifford's Journal
Clifford's bowl, leash, and blanket
Instruction Sheet
Clifford story recorded on iPod
Bag #11 Fire Fighter
Contents:
Stuffed firefighter dog
Firefighter/safety books
Parent Journal
Fire safety tips sheet
Instruction Sheet
Fire truck cards w/numbers 1-10 for putting in order.
Fire safety stories and songs recorded on iPod
Bag #12 Goodnight Moon
Contents:
Stuffed Goodnight Moon Bunny
Goodnight Moon & Kiss Goodnight books
Parent Journal
Instruction Sheet
Goodnight Moon recorded on iPod w/lullabies
Bag #13 Wonderful World
Contents:
Stuffed multicultural dolls
What a Wonderful World & What is Your Language? books
Parent Journal
Instruction Sheet
What a Wonderful World story and song recorded on iPod
Bag #14 I Love to Read
Contents:
Stuffed reading bunny
I Can Read! & Curious George Goes to the Library books
Parent Journal
Environmental Print sheet
Environmental Print memory game
Instruction Sheet
I Can Read! story recorded on iPod
Bag # 15 Butterfly
Contents:
Butterfly Beanie
The Very Hungry Caterpillar & Caterpillar life cycle books
Parent Journal
Instruction Sheet
The Very Hungry Caterpillar story recorded on iPod
Bag  #16 No David!
Contents:
David Doll
Special No David! backpack
No David! and David Gets in Trouble books
The Adventures of David notebook
Instruction Sheet
No David! story recorded on iPod
Bag # 17 Plants & Seeds
Contents:
2 Plant/Seed books
Parent Journal
Instruction Sheet
3 part seed sequencing activity
Plant/Seed stories recorded on iPod
Bag #18 Seasons
Contents:
2 seasons books
Parent Journal
Instruction Sheet
Seasons sorting game (Lakeshore)
Seasons stories and songs recorded on iPod
Bag #19 Weather
Contents:
3 weather books
Parent Journal
Instruction Sheet
Magnetic weather game
Weather cassette tape & tape player
Bag #20 Transportation
Contents:
2 Transportation books
Parent Journal
Instruction Sheet
Transportation counters
Transportation sorting, graphing, and patterning mats
Transportation stories and songs recorded on iPod
Transportation pictures
Bag #21 Farm
Contents:
Big Red Barn book
Parent Journal
Plush cow (sings Old MacDonald song)
Chicken Beanie
Instruction Sheet
Farm Puzzle
Magnetic farm playset
Farm stories and songs recorded on iPod
Buddy Bag Printables
Buddy Bag Contract
More Teaching Tips from Pre-K Pages