These are some of my favorite books and activities for celebrating Dr. Martin Luther King Jr. Day in the classroom. This holiday is about celebrating the life and achievements of Dr. King. However, it can often be difficult to address the topics of racism and prejudice with young children in a way that is meaningful yet easily understood.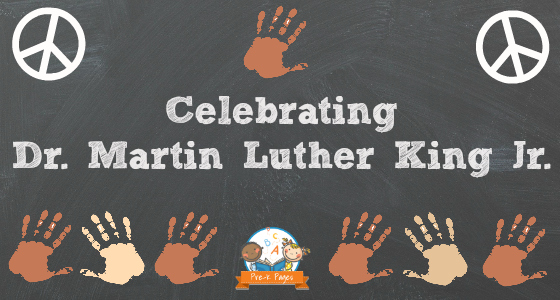 Activities for Martin Luther King Jr. Day
Bag Activity


For this activity you will need one plain brown lunch bag and one decorative gift bag. You will also need a few objects that are exactly the same, for example a cube and a penny- anything really. Place a set of objects in each bag so they have the same items inside. Display the bags in front of the class and ask the children which bag they would like to receive and why. Next, open the bags one at a time in front of the class. The students will see that both bags, although very different on the outside both contained the very same things inside. This can lead to a great discussion about how people are all different on the outside, but the same on the inside.
Egg Activity


You will need one raw brown egg, one raw white egg and a bowl for this activity. First, gather your students in a circle and invite them to examine the eggs. Next, ask the students if they think the eggs are the same or different inside. Ask them why they answered the way they did, for example "Why do you think the brown egg has brown 'stuff' inside?" Next, crack the eggs into the bowl. Pass the bowl around so the students can see the yolks are exactly the same. Ask the students if they still believe the brown egg is different inside. You could also graph their predictions on a chart.
Martin Luther King Bulletin Board


To create this bulletin board students use construction paper shapes, glue and crayons to represent some of Dr. King's achievements. The earth is a construction paper circle painted with blue and green watercolors. When hung in a pattern these make a stunning bulletin board.
More Dr. Martin Luther King Resources:
Picture Books About Dr. Martin Luther King, Jr. for Kids
Ideas for Learning About Dr. Martin Luther King, Jr. Day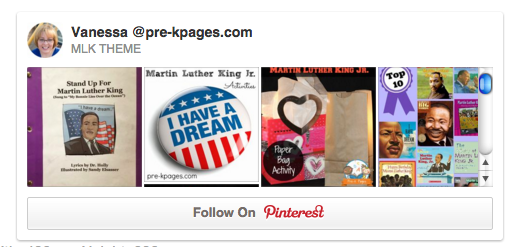 Follow my Martin Luther King Jr Pinterest Board for more great ideas!