Did you know that Hanukkah begins at sunset on December 10, 2020?
There are many Christmas activities for kids out there, but I have found very few for Hanukkah.
Here is a super easy and tasty Hanukkah snack you can make at home or in the classroom along with a list of my favorite Hanukkah books.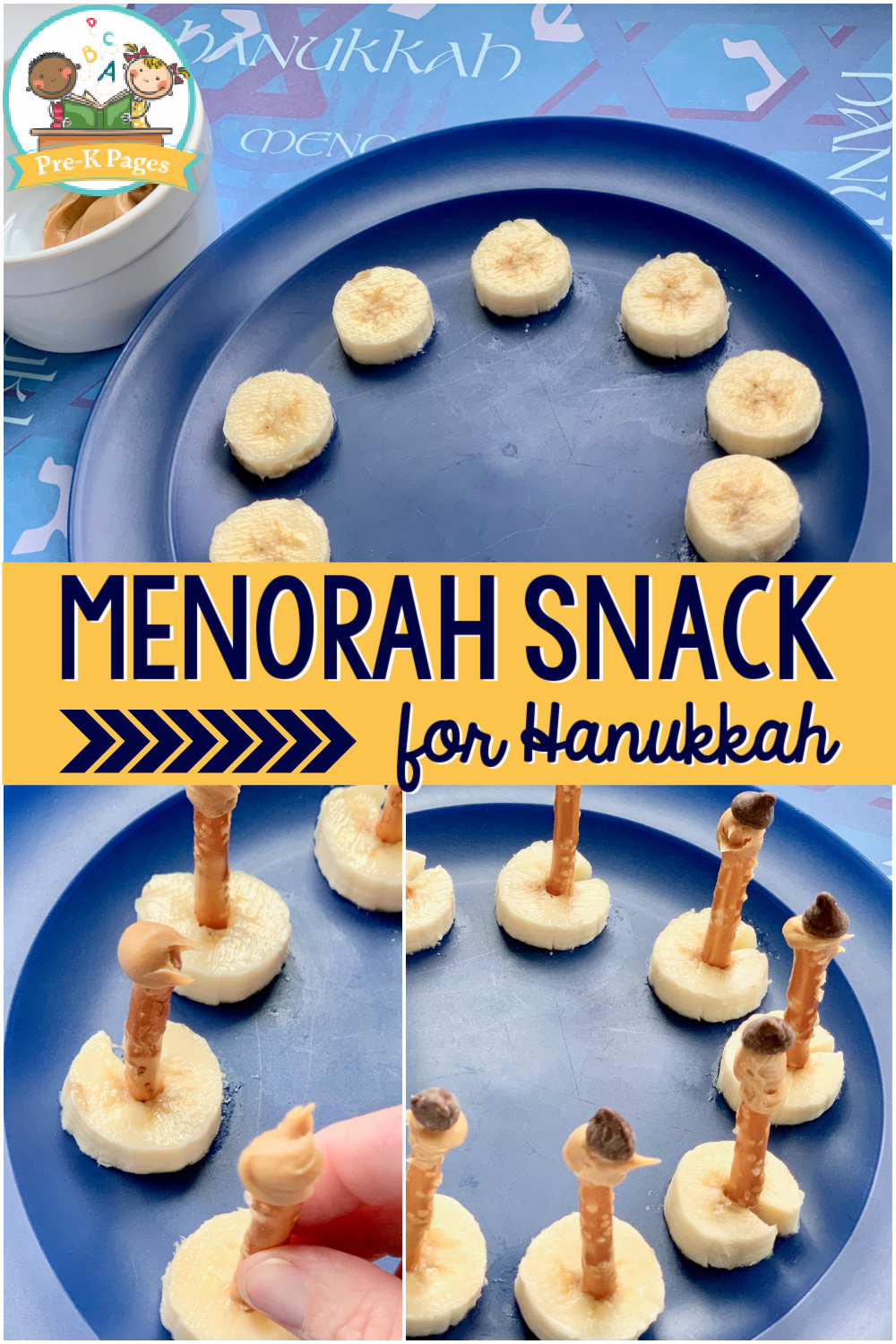 Hanukkah Menorah Recipe
This recipe for a Hanukkah menorah is so easy the kids can assemble it themselves. Now you have both a snack and an activity, you're welcome!
Ingredients:
Banana
Skinny pretzel sticks
Chocolate chips
Peanut butter OR cream cheese
Start by slicing the banana into the different lengths as shown above. You can do this step for your children if they are too young for a knife, but plastic knives or even craft sticks would work well and be great practice.
Then, have the kids arrange the banana slices on their plate with the tallest piece in the middle.
Next, give the children the pretzel sticks and a bowl of peanut butter, or cream cheese if you have any nut allergies.
Invite the children to swipe one end of each pretzel stick in the peanut butter. The peanut butter (or cream cheese) will serve as the "glue" to attach the flame to the end of the pretzel sticks.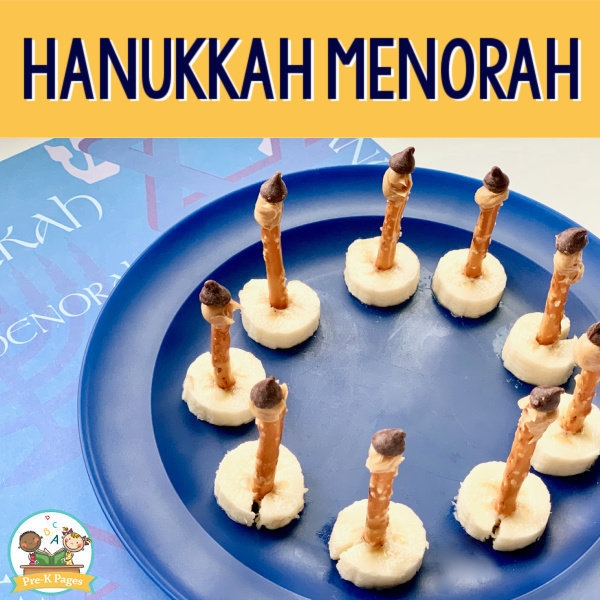 Now, invite the children to place a pretzel in the top of each banana slice with the peanut butter "glue" on top to represent the candles.
Finally, the children can add one chocolate chip to the top of each pretzel stick for the flame. You could also use raisins for the flames if you prefer.
Congratulations, you have just made a Hanukkah Menorah! Now comes the fun part, eating it!
You can also discuss the story of Hanukkah with the children and the significance of the candles.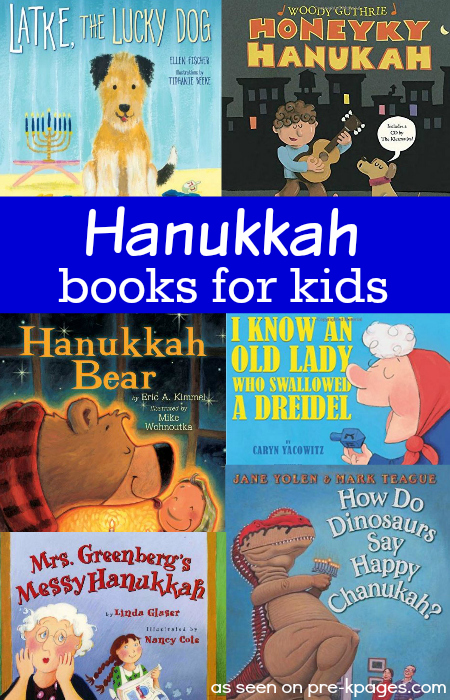 Hanukkah Books for Kids
I am so excited to share this book list with you because it was created by…you! I asked you for your Hanukkah book recommendations and you delivered. Here are some of the most popular Hanukkah books you recommended below along with a few of my own favorites.

It was love at first read when I discovered Latke the Lucky Dog by Ellen Fisher. This is a heartfelt story of pet adoption readers young and old alike will love, but it's also a great tool for teaching and learning about Hanukkah!

Honeyky Hanukah by Woody Guthrie is a book you can dance to, it includes a free song by the same title on CD from the Klezmatics. A young boy and his dog gather family and friends for a fun Hanukkah feast to remember.

Sammy Spider's First Hanukkah by Sylvia Rouss is a charming and beautifully illustrated story that your kids will beg to hear again and again. Sammy's mother says, "Spiders don't spin dreidels. Spiders spin webs." But oh how Sammy wants a dreidel…
Recommended by: Gina, Wendy, and Barbara

Mrs. Greenberg's Messy Hanukkah by Linda Glaser is the tale of young Rachel who wants latkes now! Not to be deterred by her mother, Rachel comes up with her own plan to make latkes.
Recommended by: Ellen

Hanukkah Bear by Eric A. Kimmel is an updated and re-illustrated version of the classic tale first known as The Chanukkah Guest. This book is perfect for acting out the characters with appropriate voices, especially Bubba Brayna's Yiddish (Jewish) accent! Woven throughout this entertaining and humorous story of a case of mistaken identity are many Hanukkah traditions.
Recommended by: Barbara, Deb, Miriam, and Katje

Eight Winter Nights: A Family Hanukkah Book by Laura Krauss Melmed features festive poems and scenes of family life that evoke the sights, sounds, and tastes of the festival of lights.

Sweet rhyming text and warm illustrations make Hanukkah! by Roni Schotter the perfect introduction to the festival of lights.
Recommended by: Rosemary

Your favorite prehistoric pals are tempted by all that Chanukkah has to offer- including mischief! If you're a fan of Yolen's popular dinosaur series, How Do Dinosaurs Say Happy Chanukah? by Jane Yolen will not disappoint.
Recommended by: Suzanne and Cathy

A family visits bubbe for Chanukah and hilarity ensues when she develops an insatiable taste for latkes, applesauce, and much more! I Know an Old Lady Who Swallowed a Dreidel by Caryn Yacowitz is a fun and creative twist on the most classic of American folk songs.
Recommended by: Suzanne and Cathy
Please note: I have spelled Hanukkah both ways in this post according to how it was spelled in the book I was reviewing.
More Book Lists from Pre-K Pages
Best Books About Winter and Snow
Best Gingerbread Books for Kids
Best Christmas Books for Kids