When I'm absent I encourage my substitute teacher to leave me a note about how my students did while I was gone.
Twice I returned to find this cryptic message "Couldn't find the Band-Aids". Hmmm… I have a touch of OCD am very organized so this leads me to believe every time I'm gone that the kids are either:
a) trying to kill each other or
b) trying to kill the sub
It also tells me that I better leave some Band-Aids on my desk the next time I'm gone!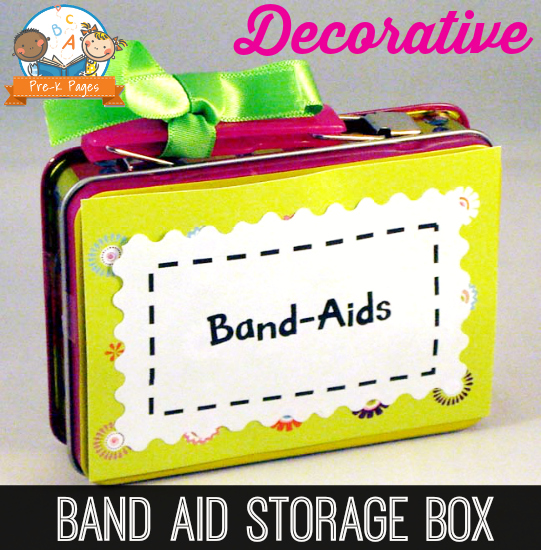 Band Aid Storage Box
I debated over leaving an entire box of Band-Aids for subs or just a few but decided on a box because it is 3-D and less likely to be
buried
accidentally covered up with papers.
The next obstacle to tackle was to make sure the kids would not see the box of bandages and start faking injuries to get one.
Every teacher knows that Band-Aids are to little kids like nectar is to bees.
Then I stumbled across this little gem over at Controlling My Chaos and my unsightly Band-Aid box problem was solved!
Of course, I had to make some modifications to this idea to match my garden themed classroom.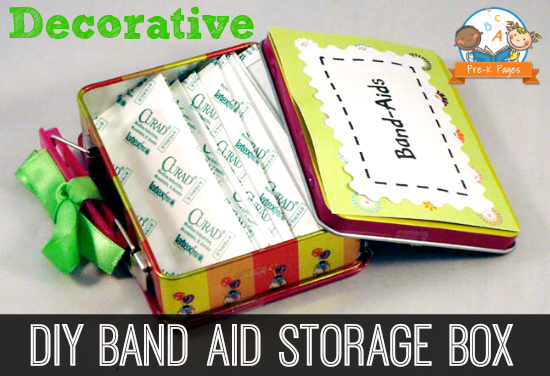 Band Aid Storage Box Supplies
My bandage storage box is not nearly as fancy as the one at Controlling My Chaos but here are the details in case you want to make your own:
Supplies
Mini lunch box (I found mine at the Target Dollar Spot)
Scrapbook paper to match your theme
Computer printer
Glue stick or double sided tape
Scissors
Coordinating ribbon
How to Make a Band Aid Storage Box
First, I measured the front of the lunch box and cut the scrapbook paper to size. Next, I printed the words on my computer and cut them out with scalloped scissors.
Then, I glued the paper to the lunch box with double sided tape. I could have used Mod Podge to adhere the paper to the lunch box but chose not to.
Finally I topped off the lunch box by tying a coordinating scrap of ribbon to the handle.
I could probably fit one of those little tubes of antibiotic cream in the box too.
Check out my Classroom Storage board on Pinterest for more great ideas!