When it comes to preschool classroom rules it's always best to keep them short and simple. The more rules you have, the more difficult they'll be for young children to remember. Use simple words for each rule so your kids can easily understand the meaning of the rules.
Having just a few simple rules in place in your early childhood classroom will help your school year go so much more smoothly!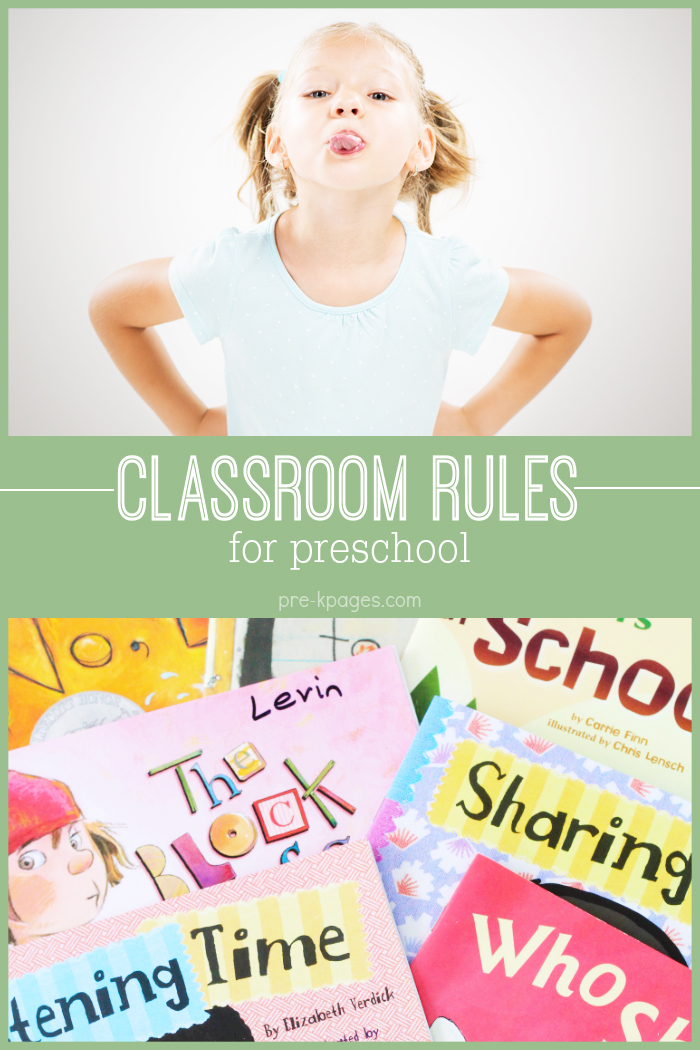 Preschool Classroom Rules
Adding visuals (pictures) to the rules in your preschool classroom will help young children better understand the meaning of the rules.
You can also add hand motions to provide physical prompts. When you add picture cues and physical actions to your rules your preschool children will be more successful remembering the rules. They'll hear you say the rule aloud (verbal/auditory cue), see the picture (visual cue), and make the motion with their hands (physical cue) – all of which increases their rate of retention. It's a win-win for everybody!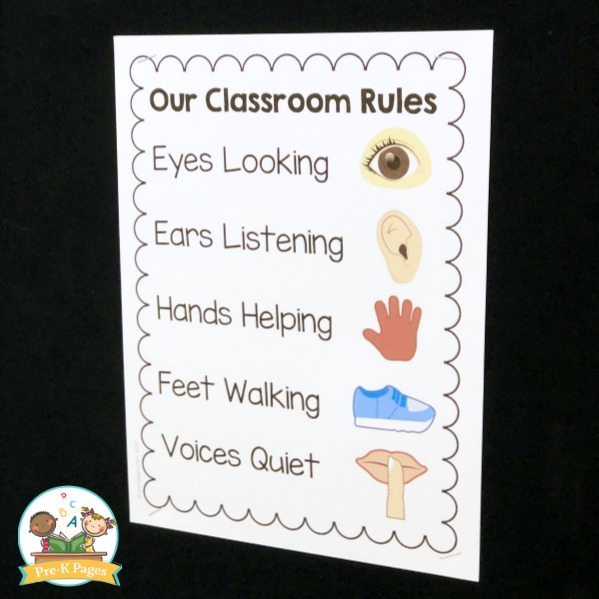 Positive Rules
Vague or abstract classroom rules don't hold any meaning for young children. Abstract rules might includes words that young children don't understand or know the meaning of, like "respect," "obey," or "responsible."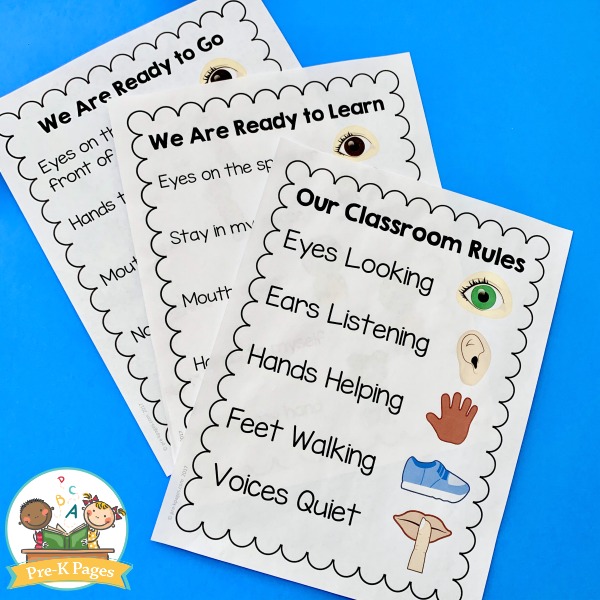 You can post the easy to understand rules chart on the wall in several locations throughout your classroom. Remember to post it at the children's eye level so you can refer to it whenever necessary. The images used include diverse skin tones and eye colors.
Having a rules poster is great, but you'll also want your classroom rules available to your little learners in other ways. A book about classroom rules is another way you can introduce and reinforce the rules in your classroom.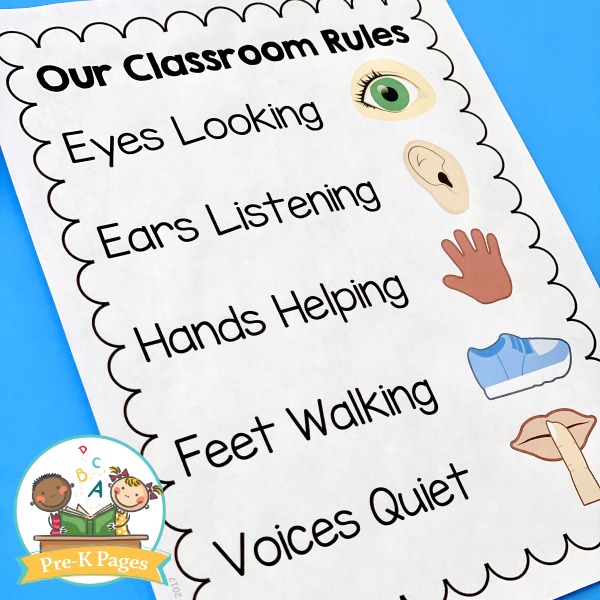 It's also important to keep your classroom rules positive and avoid using negative words like "don't." When you focus on the positive instead of the negative, your classroom environment will also be a happier, more positive one.
Our Rules
Helping Hands (hold our your hands in front of you)
Listening Ears (tug on one earlobe)
Quiet Voices (put your finger to your lips)
Eyes Looking (point to your eyes)
Walking Feet (make a walking motion with the first two fingers of one hand)
I've used these simple rules with preschool children for more than 20 years and they work well because they're easy to understand and simple enough for young children to remember.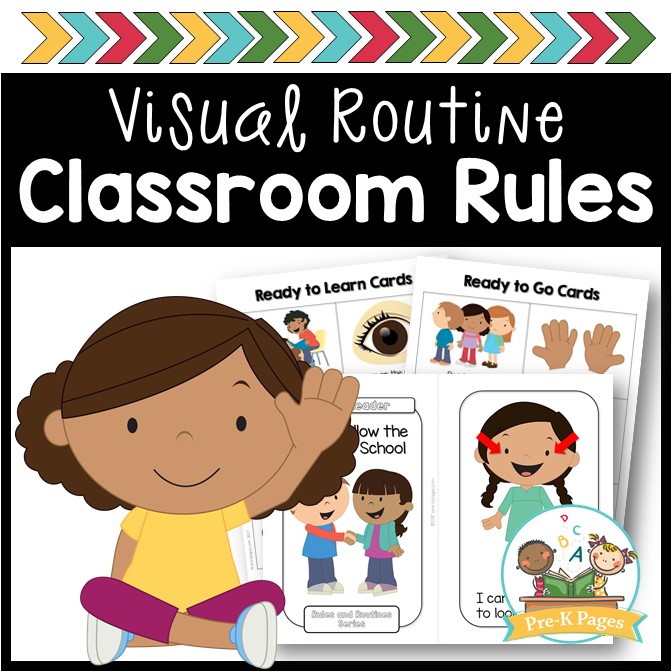 Printable Classroom Rules
I created a printable classroom rules packet that contains books, booklets, posters, and cards to help you teach the classroom rules to your students. Everything is in color and black and white.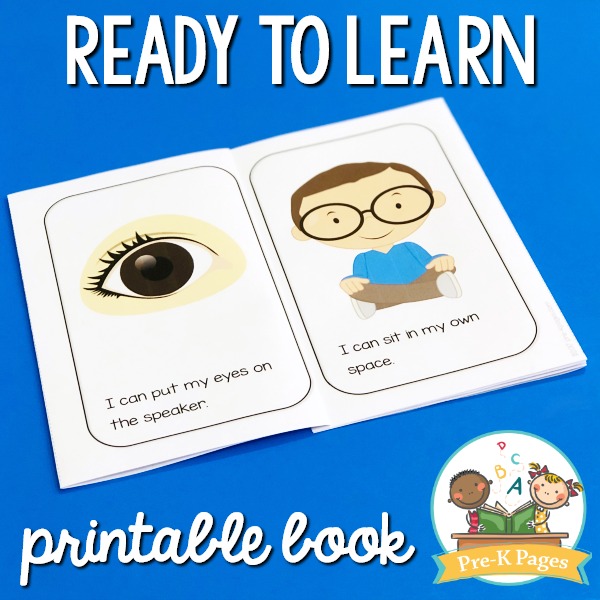 How Do You Introduce Classroom Rules?
Many early childhood experts advise creating the rules with the children, and I agree that this is a very effective method for native English speakers. However, when your class consists entirely of second language learners or very young children this is not going to be a practical strategy.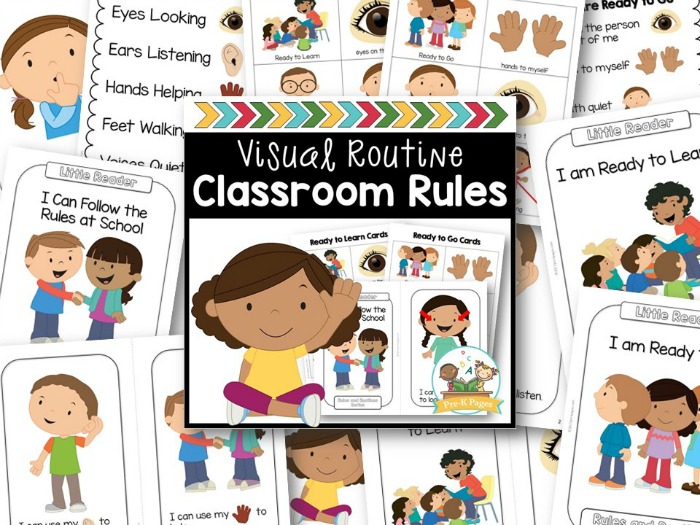 At the beginning of the year, on the very first day and each day afterwards, we review the rules during our large group time. I begin by asking the children "Does anybody know why we come to school?" After a few responses I may prompt them and say "We come to school to learn."
You may want to introduce each rule separately, on a different day so the children don't become overwhelmed with learning too many rules all at once. You can focus on introducing a different rule each day the first week of school and by the end of the week you've introduced them all! Of course, you will need to review them all daily for the best results.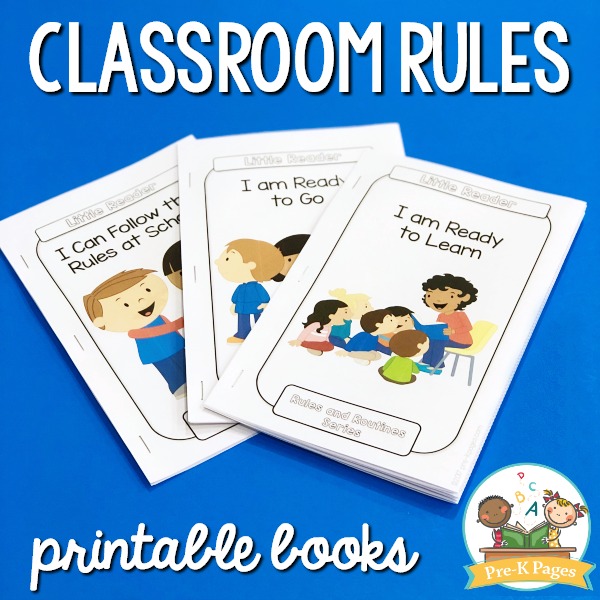 Explaining Classroom Rules
Next, I explain that learning is like "getting smart" (they usually understand this much better) and in order to learn we have to follow the classroom rules; this is when I introduce the rules chart with pictures. Explaining the rules in very concrete terms with visuals helps young children better understand the rules.
I explain that there are five very important things we must do to learn and I say the rules aloud as I point to each one on the chart. The next day, when I ask these questions a few more students will be able to answer them, and finally after several days everybody should be able to answer the questions.
After the first few weeks of large group daily review, I switch to having a class helper point to the rules on the picture chart and say them aloud for the class as we chant along. This process helps children learn to internalize and take ownership of the rules.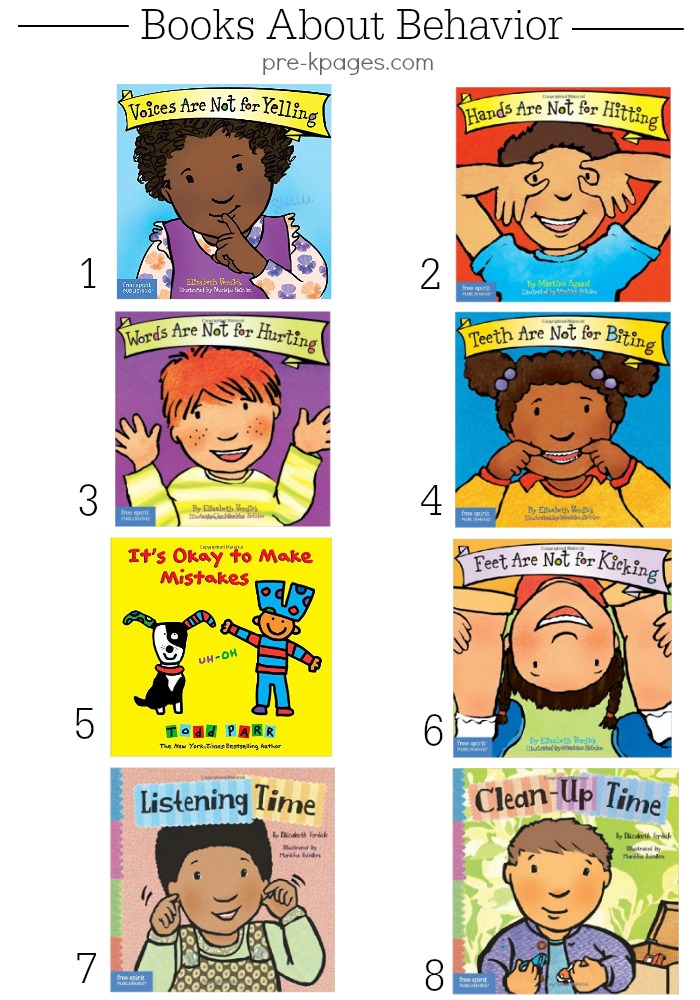 Behavior Books
Another way you can introduce your classroom rules is to read the series of books titled Best Behavior to your class. During large group time I like to read Listening Time, I read this book every day in the beginning of the year before every large group lesson. There are others in this series that address behaviors such as sharing, cleaning-up, kicking, hitting, biting, and unkind words, I have listed them all for you below.
Hands Are Not for Hitting (Best Behavior Series)
Feet Are Not for Kicking (Best Behavior Series)
Listening Time
Sharing Time
Voices Are Not for Yelling
Words Are Not for Hurting
Teeth Are Not for Biting
It's Okay to Make Mistakes
Clean-Up Time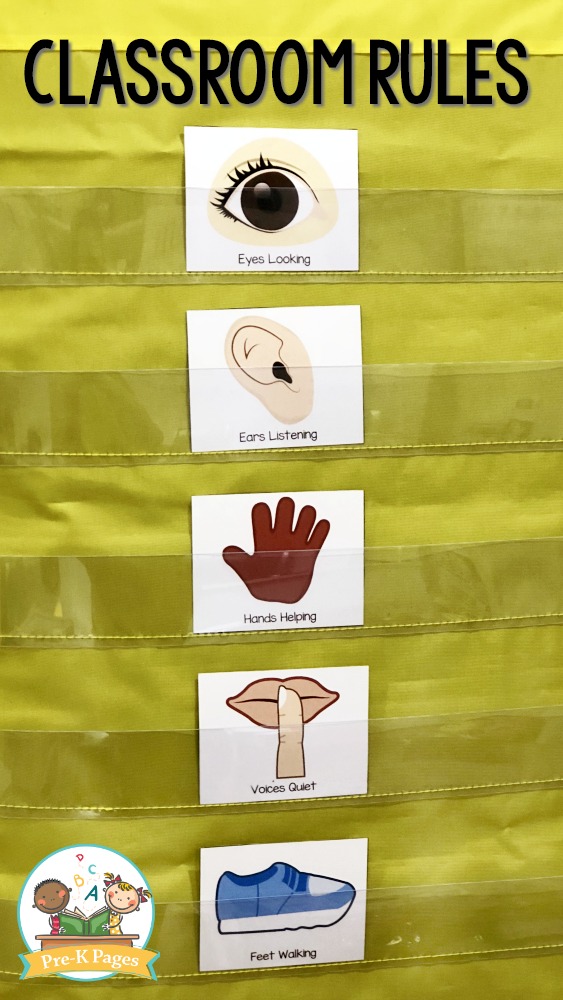 Do You Use a Classroom Management System?
I use ideas from several sources including Love and Logic, Positive Discipline, and Conscious Discipline. Certain aspects of each one work well with young children and for me in my own classroom.
Love and Logic works by making the child responsible for his or her own actions, giving the child choices to make and then helping the child follow through.
Conscious Discipline by Dr. Becky Bailey creates a School Family and has many practical strategies for working with young children including alternatives to time-out.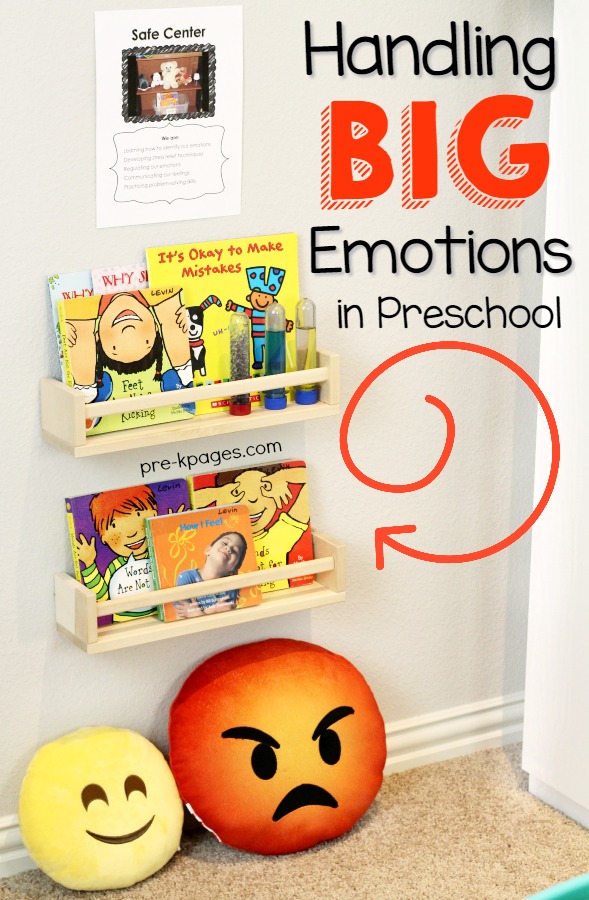 Do You Use Time Out?
No, I have an area of the classroom where children can go if they feel the need to handle big emotions, instead of time out. If a child needs some time to regain control of his or her emotions he or she can go to the calming area and use the tools provided there to problem-solve and learn how to regulate their emotions.
Using a calm down or big emotions area helps young children regulate their own emotions instead of just punishing them for making poor choices. In the "Safe Spot" or "Calm Down" area you can help children learn how to problem solve and make better choices.
Here are some items you may want to have available in your Calm Down area
Soft stuffed animals for hugging if we are sad
Books from the Best Behavior series (listed above)
Calm down bottles (have a very calming effect)
Soft emoji pillows that kids can hug or squeeze
Emotion lotion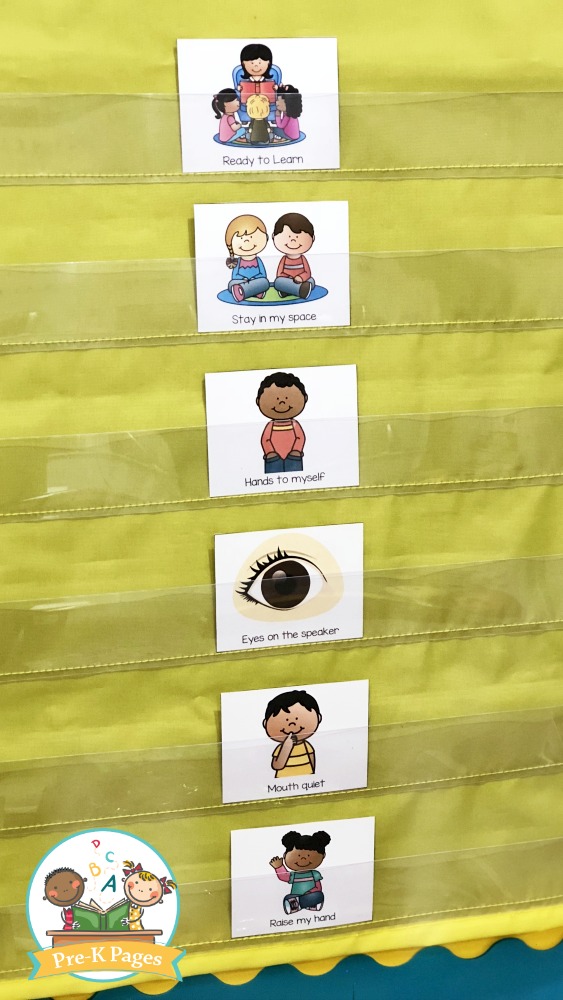 Do You Use a Behavior Chart?
No. Typically, these types of classroom management systems make more work for the teacher and are punitive, I believe in being positive and working smarter, not harder.
Behavior charts, stoplights, and card or ticket systems are a lot of work to keep up with and require lots of prep and complicated rules. None of these systems hold the child accountable or have any flexibility, they are all or nothing and they are also negative and out in the open for everybody to see. It is demeaning for a child to have his ticket pulled and everybody to see that he has been "bad"? What does that teach the child other than to be ashamed? Or maybe not get caught the next time?
Establishing a personal connection or relationship with a child and help them solve problems by giving them choices and empowering them, these are valuable life lessons that a child will be able to internalize and use in daily life.
Acknowledging a child's good behavior is far more powerful than acknowledging his bad behavior and goes a long way towards establishing a positive classroom environment.
Do You Use a Prize Box?
No, see the answer above. Rewards for prize boxes and treasure chests are expensive! I would much rather spend my money on instructional items for the classroom and not trinkets that will become lost or broken in a few seconds, often resulting in fights or tears. What are we teaching young children by giving them rewards for good behavior? They're being rewarded for doing something that they should already be doing anyway. The biggest reward they can receive is the gift of learning how to make their own choices and the good feelings that come with choosing to do what is right for the sake of doing the right thing.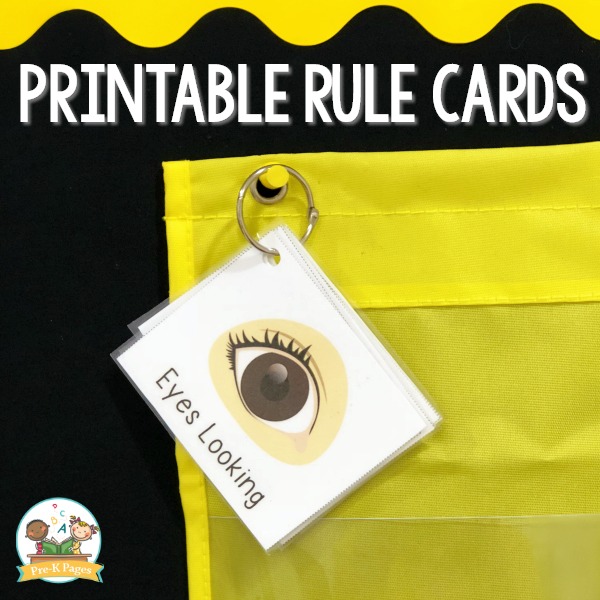 How DO You Get Them to Behave?
This is a question I am asked frequently and the answer is both simple and complicated at the same time. I spend lots and lots of time modeling how to make good choices and role playing different scenarios with the kids in the beginning of the year.
The modeling and role playing is very time consuming but really pays off in the long run. If you want your students to share then you have to invest the time in the beginning teaching them how to share. If you want your students to clean-up on cue then you have to take the time to teach them how to do that too. We cannot take simple things for granted, everything must be taught, modeled, and role played with this age group to ensure success.
What if they won't sit and listen?
Before beginning any group activity such as a read aloud I always review the rules first. You don't always have to use the rules chart, I also made individual cards for your pocket chart using the classroom rules packet. You can change up the rules a bit to fit with your read aloud time.
More Teaching Tips from Pre-K Pages