Mirrors are great tools to include in your science center; however the mirrors that are designed specifically for use by children in the science center are safety mirrors and cost a pretty penny.
Here's an inexpensive and easy way to make individual mirrors for your science center in a flash.
Supplies
Silver metallic plastic tablecloth or wrapping paper from party supply store
Cardboard
Tape
Scissors
Directions
Cut your cardboard into small rectangles, about the size of a 3×5 card. Next, cut your metallic tablecloth or wrapping paper. Wrap the cardboard tightly with the metallic covering and put tape on the back to hold it together, as if you were wrapping a present. There you have it, super simple and inexpensive mirrors for your science center in a flash.
Even if you make 10 of these mirrors you will probably have enough wrapping paper or tablecloth left over to make 50 more. Since they are so cheap to make you don't have to worry about them getting scratched or broken, you can just make more.
I do recommend choosing your metallic covering carefully; I found some of the wrapping paper wasn't shiny enough to do the job.
More Science Resources:
Science Center Materials
Science Sound Shakers
DIY Science Magnetic Tray
DIY Science Texture Board
DIY Safety Mirrors
DIY Science Magnifying Board
Scented Discovery Bottles
Scientist of the Day Printable
Nature Walk Printable
Science Observation Notebook Printable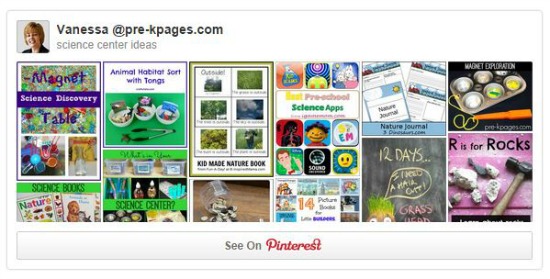 Follow my Science Center board on Pinterest for more great ideas!