Do you struggle to find time to change out the props in your dramatic play center? These printable props will help you easily transform your dramatic play center with a space theme. Your little learners will love pretending to be astronauts, scientists, and engineers in this pretend play space station!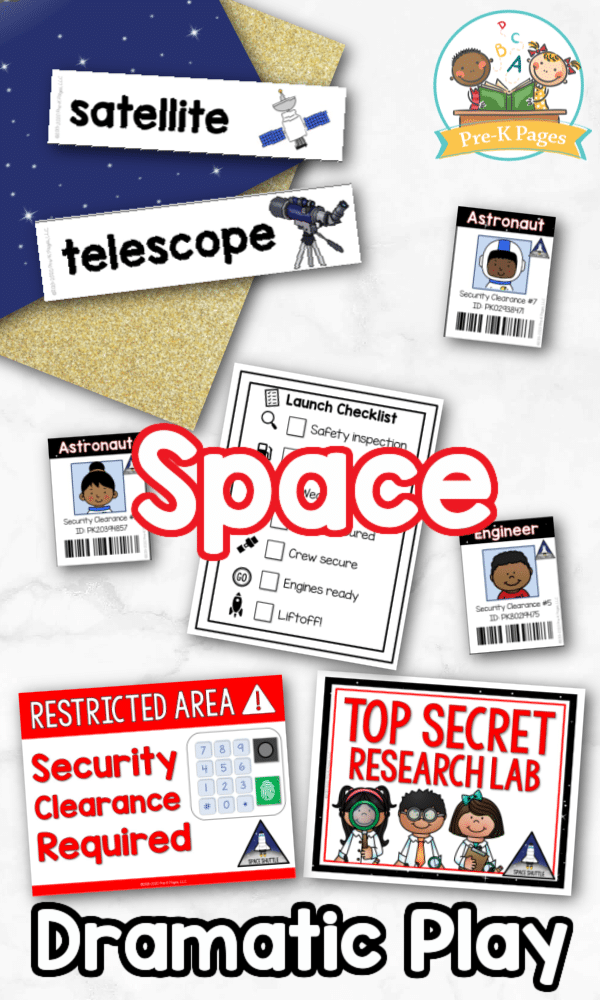 A space station theme offers many opportunities for your students to experience math, literacy, science, and STEM in fun and meaningful ways – all through play.
Space Station Dramatic Play
This resource also provides research that explains how pretend play supports academic learning. The Dramatic Play Space Kit is infused with literacy, math, and writing opportunities that support current learning standards.
This is the perfect addition to your space theme!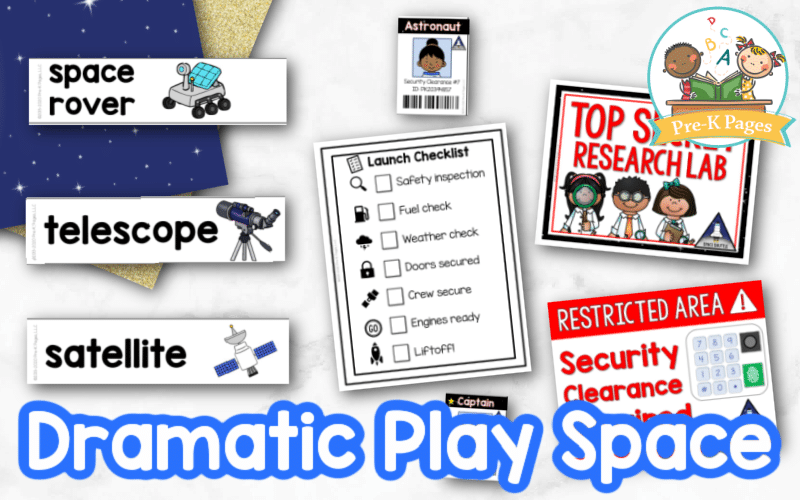 Space Theme Dramatic Play Contents
The 89 page Space Dramatic Play kit includes the following:
Book List
7 Different Signs (color + b/w, half + full-page)
4 Posters (solar system, phases of the moon, liftoff, & planets)
20 Vocabulary Picture Cards (color + b/w)
32 Labels (color + b/w)
Flight Plan (b/w)
Flight Log (b/w)
Launch Checklist (b/w)
Role Playing Nametags (color)
Pennant Banner (color + b/w)
DIY Play Props (color monitor screens, keyboards, & gauges)
You can hang paper lanterns and gold stars from the party supply store in your dramatic play center to represent planets and stars.
Another fun touch you can add to your space center are rope lights. You can find rope lights at your local home improvement store.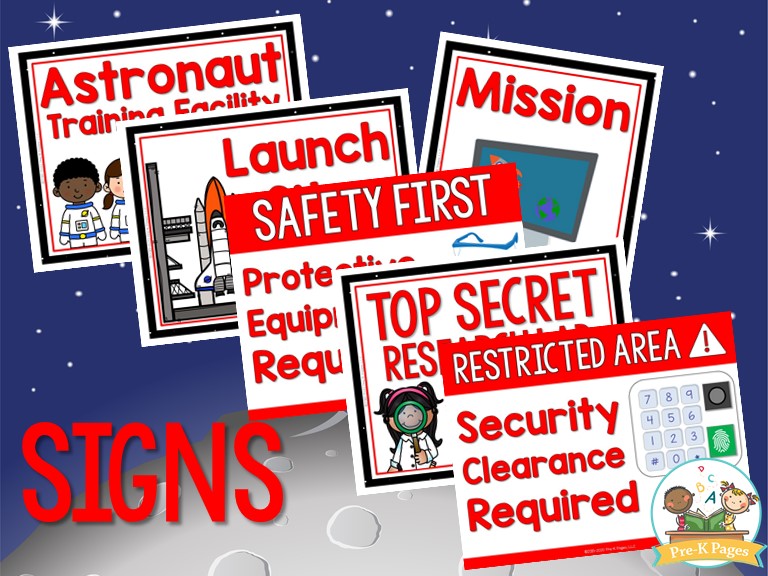 Dramatic Play Space Center: Signs
Creating a print-rich environment is a breeze with this center! You can choose from a variety of different signs (and sizes!) to help your little astronauts make connections to meaningful print in the world around them.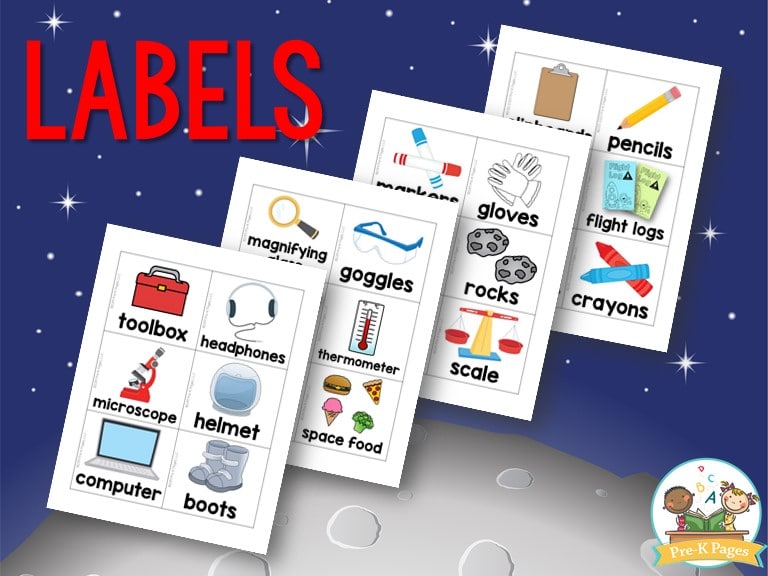 Space Dramatic Play Labels
These done-for-you labels are perfect for organizing the props in your space center! Keep things neat and tidy by labeling everything – and your clean-up time will go much more smoothly!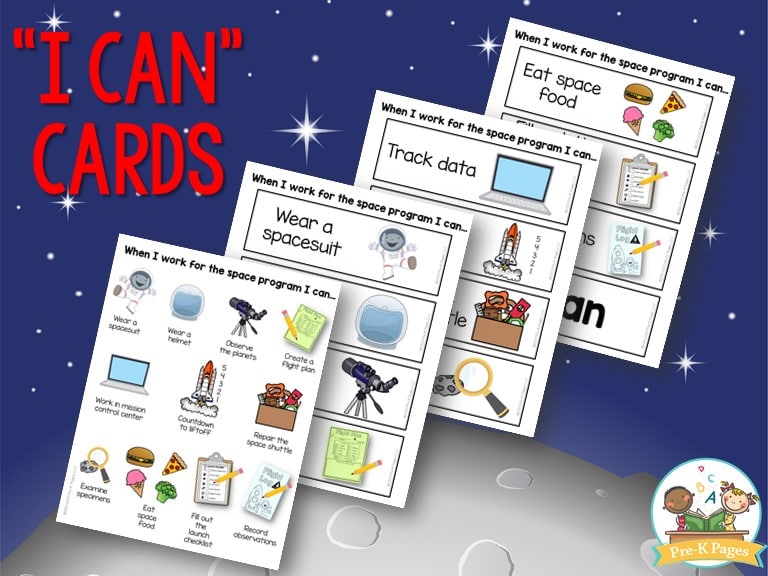 Space "I Can" Cards
Outer space is a more abstract theme since none of your students have actually been there before. For this reason, it's important to give your students examples of what roles and duties astronauts and engineers may have. Use the "I Can" cards or posters included to keep your kids focused and on-task in the dramatic play space center. You can display these as posters, or place them in a pocket chart.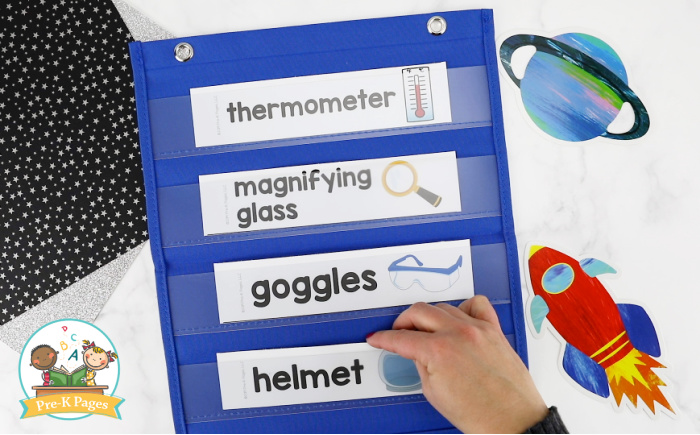 Space Vocabulary Cards
There are lots of new vocabulary words to be learned in the space center! Add even more print to your dramatic play center with vocabulary cards. Place these cards in a pocket chart, or print them as posters to display in your dramatic play center. Pick and choose the cards you want to display.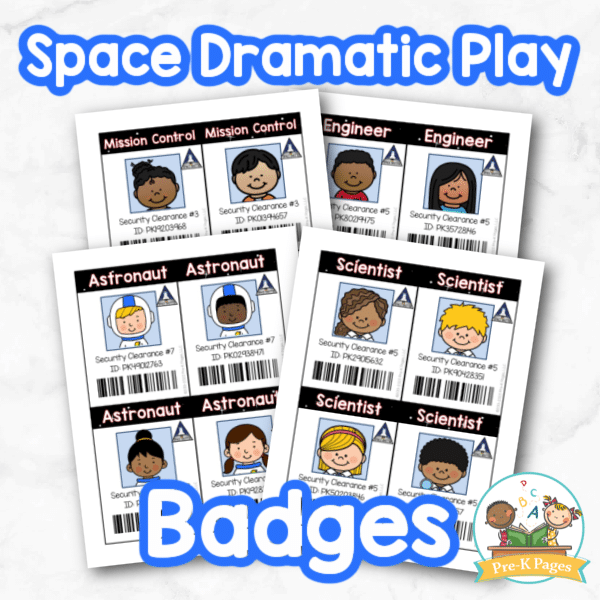 Role Playing Name Tags
There are so many jobs to be done in the space center. These diverse badges will be necessary to gain access to the top secret research labs and ground control center. You can place them in badge holders from the office supply store, or laminate and add yarn to make necklaces.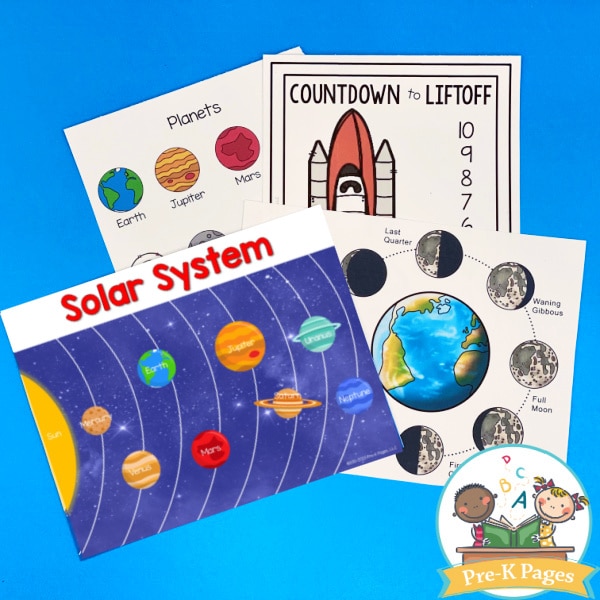 Printable Posters
Countdown to liftoff, planets chart, phases of the moon, and solar system posters are also included.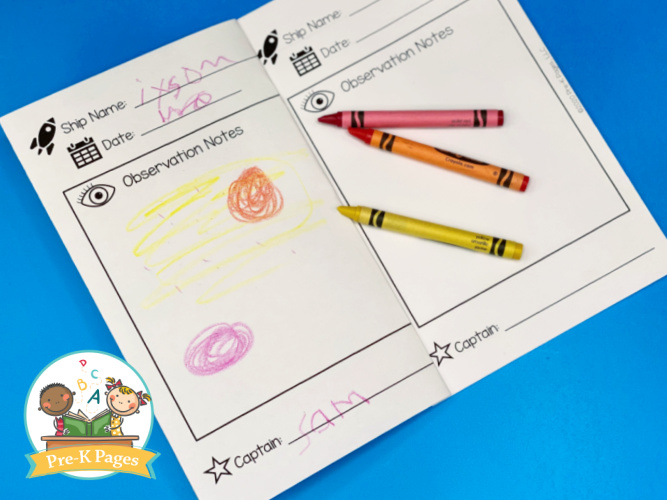 Flight Log
Encourage your little learners to write for a purpose by recording their observations in the printable flight log.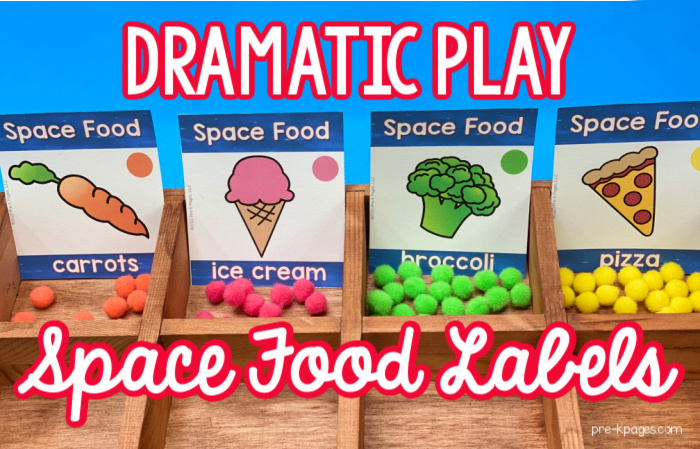 Space Food
No study about astronauts and space travel would be complete without space food. Use the printable labels to create a fun and easy pretend space food station in your dramatic play center.
Ground Control Panel
Wrap tin foil around a piece of thick foam board, or a piece of plywood to create a ground control panel. Then, use a glue gun to attach colorful plastic bottle caps to the board to create buttons for the crew to push. There are plenty of printable dashboard controls included you can add to your ground control panel.
Purchase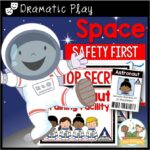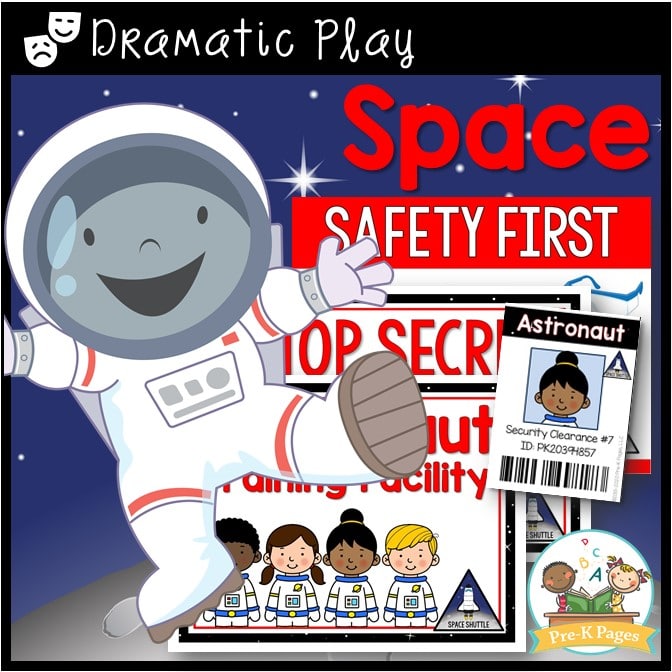 89 pages of space theme printables to transform your dramatic play center into a space station. Tons of fun and learning for your kids!
©2013-2020 Pre-K Pages, LLC, Terms of Use
More Dramatic Play Themes from Pre-K Pages
Books About Space


Space Resources