Family projects for preschool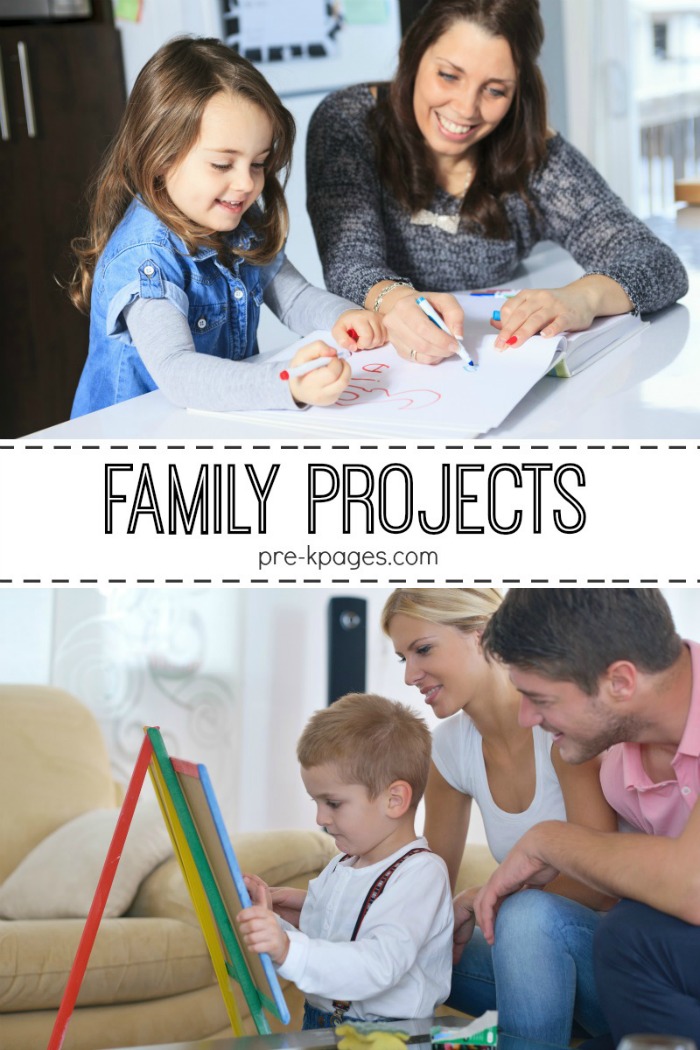 Printable Monthly Family Projects
As teachers we are often told to increase parent involvement and communication, but seldom are we given any tools or support to do so. Our jobs are already tough enough as it is; we have increased class sizes, assessments galore, and endless meetings to attend- when do we have time to create parent involvement programs from scratch?
Now for the good news, it is not as hard as it seems! The following are highly effective, teacher tested ways you can interact with and keep your parents in preschool or kindergarten informed:
Monthly Family Projects offer another effective method you can add to your toolbox of parent involvement tricks.
The purpose of monthly family projects is to involve families in their child's education and encourage them to work together creatively at home.
The 25 page Family Project Packet in PDF format contains everything you need to start a monthly family project in your classroom.
Monthly note to parents
Monthly project templates, September-June
The Family Project Packet includes a note to send home to parents for each month of the school year, September-June. Each note is accompanied by a project template for families to complete together. Each month features a different theme, all of which are appropriate for public schools. Families are encouraged to collaborate together and get creative to complete the assignments.
No Products found
Benefits of using the Family Project Packet:
Involve families in their child's education
Encourage creativity in the home
Create positive, lasting memories for families
Provide quality "together time" for families
Produce quick and easy bulletin boards every month!
The Family Project Packet can be used to create a bulletin board display in the classroom or hallway each month. Parents and students love to see their projects on display. Displaying the projects also gives parents and students ideas for materials they can use in future projects.
The Family Project Packet also provides great keepsakes for parents; save each project and include them in student scrapbooks at the end of the year. Take a picture of each child holding their family project every month and include it in the scrapbook.
Projects by Month:
September- All About Me (person template provided)
October- Feelings (pumpkin template provided)
November- Thanksgiving (turkey template provided)
December- Gingerbread (gingerbread template provided)
January- Snowmen (snowman template provided)
February- Love (heart template provided)
March- Lucky (shamrock template provided)
April- Fruits and Veggies (basket template provided)
May- Favorite Things (collage template provided)
June- Summer Fun (sun template provided)
No Products found
Please read the Product FAQ's before you make a purchase. Upon purchasing you will immediately receive a download link to retrieve your product. Please note all orders are sent digitally; you will not receive anything in the US mail.
Visit the Teacher Resource store for more printables.
More Teaching Tips from Pre-K Pages