Family theme activities for preschool, pre-k, and kindergarten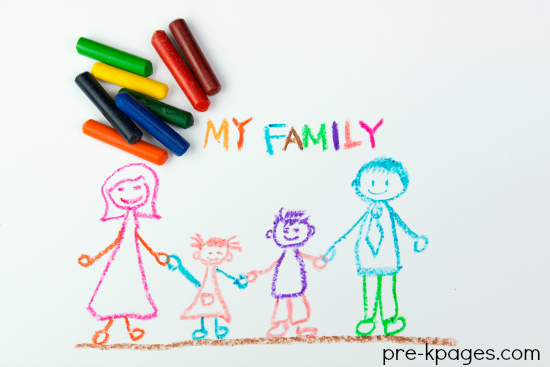 Family Books
Fun Family Activities
My Family Tree
Materials: Green paint, brown paint, paper, and crayons.
Have each child paint a tree on a large sheet of construction paper OR make one large tree for the entire class using butcher paper and mount on the wall. Next, have each child draw a picture of his or her family, cut out and mount on the tree. Title individual pictures with "My Family Tree", or if doing a whole class display, "Our Family Tree".
Family Class Book
Materials: Paper, crayons or markers.
After reading What Mommies Do Best, What Daddies Do Best, What Grandma's Do Best, and What Grandpa's Do Best have each child draw a picture of what their family member does best. Bind and make a class book titled "What Families Do Best".
Paper Doll Family
Materials: paper, crayons or markers, glue.
Using an 8 1/2 x 11 sheet of paper trace a person shape with a black marker. Make several copies of the person for each child. Make sure to make some of the people smaller than the others for younger siblings. Each day have the students draw a different family member using the people patterns. When the family is finished cut them out and glue them together by the hands to make a paper doll family.
Family Hugs
Materials: adding machine tape, multicultural paint, white paper, scissors, and glue.
Have each child make his or her handprints with multicultural paint on white paper. Provide each child with a strip of adding machine tape as wide as their arms. Glue handprints at each end and help the students write "I Love My Family" on the strip of paper in between the hands to make a banner. These look great when hung in the classroom on the wall.
Family Resources