Farm theme activities for Pre-K and Preschool. Literacy, math, printables book lists and more!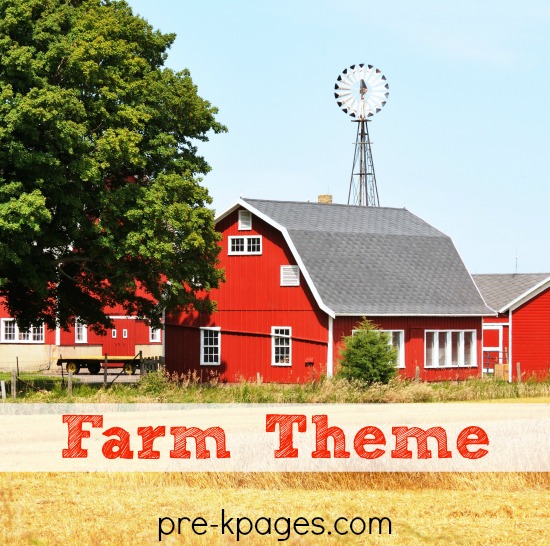 Farm Books
You can find my favorite books about the farm HERE.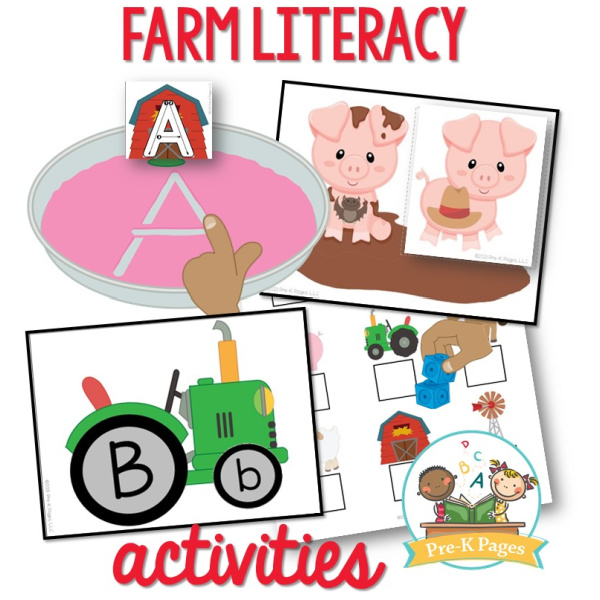 Farm Literacy Activities
The farm literacy packet includes 130 pages of fun, farm learning activities! These farm themed literacy activities are perfect for any time of the year and will help your students build a solid foundation for future literacy success.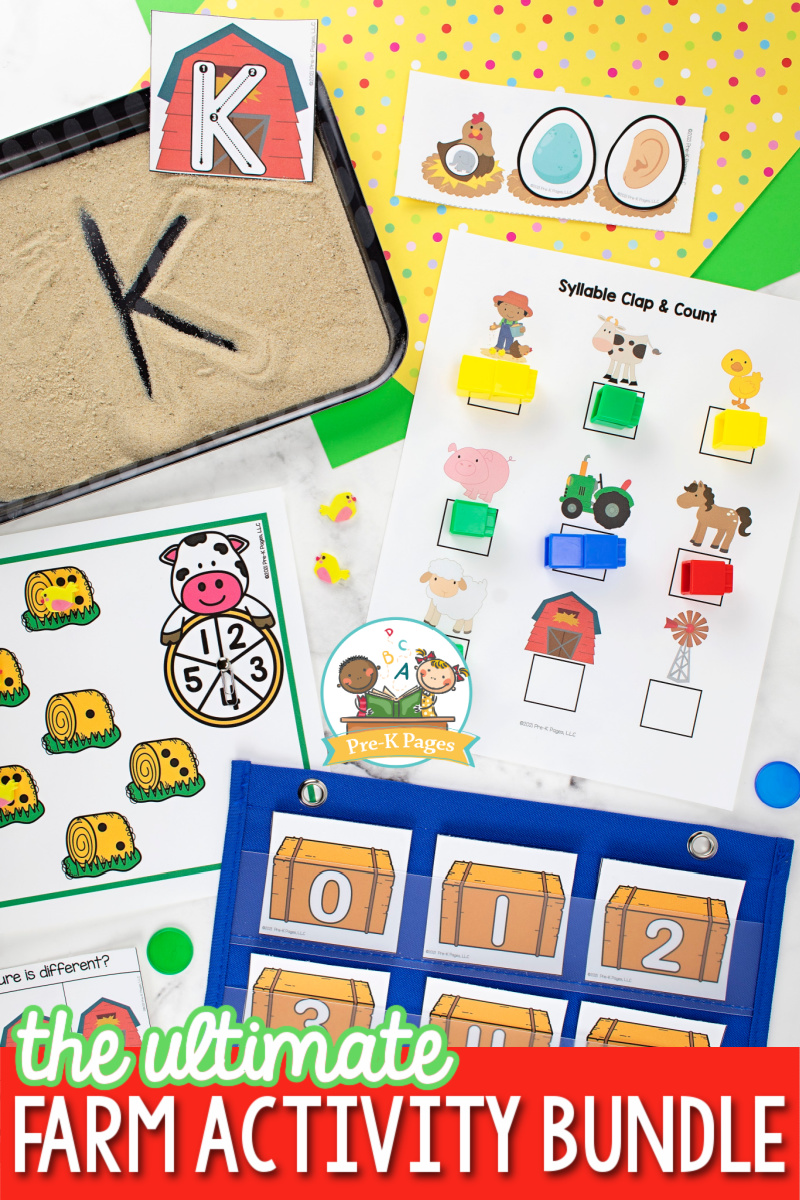 Here are the activities and games included in the literacy packet:
Farm Alphabet Matching Activity
Farm Rhyming Game
Farm Rhyming Activity
Farm Emergent Reader
Farm Read and Write Around the Room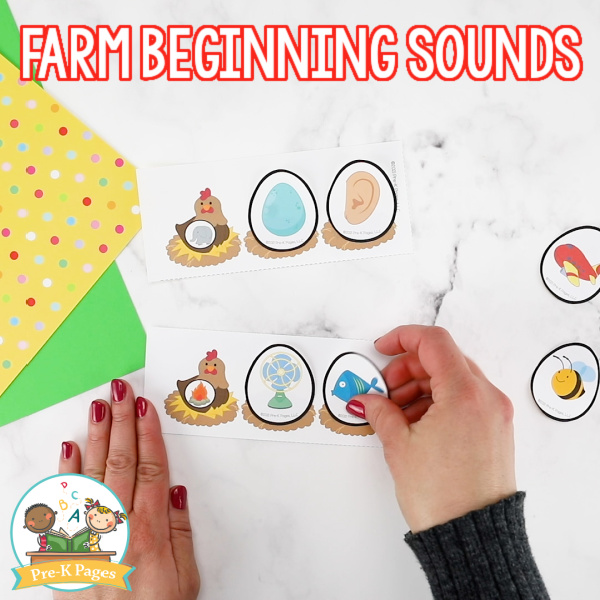 Farm Beginning Sounds Activity
Your little learners will have a blast matching the eggs with the correct beginning sounds to the nests. Get your copy of this activity in the Ultimate Farm Bundle.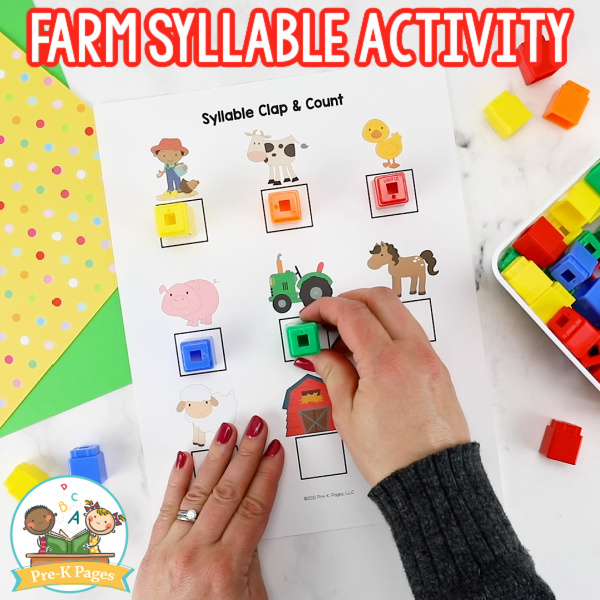 Farm Syllable Stamping Activity
There are two different syllable activities included in the Ultimate Farm Bundle. Your students will love using cubes to build the syllables in words. They'll have even more fun using bingo daubers to mark the number of syllables on their recording sheets.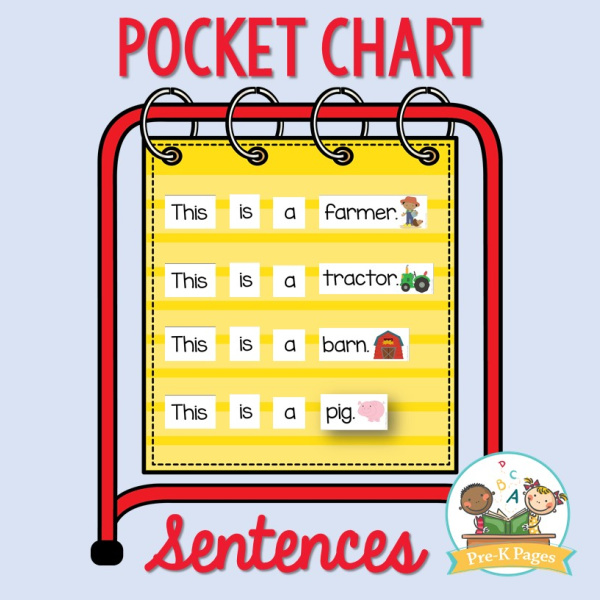 Farm Pocket Chart
The predictable text in this pocket chart set will help your students learn concepts of print such as left to right directionality, return sweep, one-to-one correspondence, and more. The printable pocket chart sentences are available in the Ultimate Farm Bundle.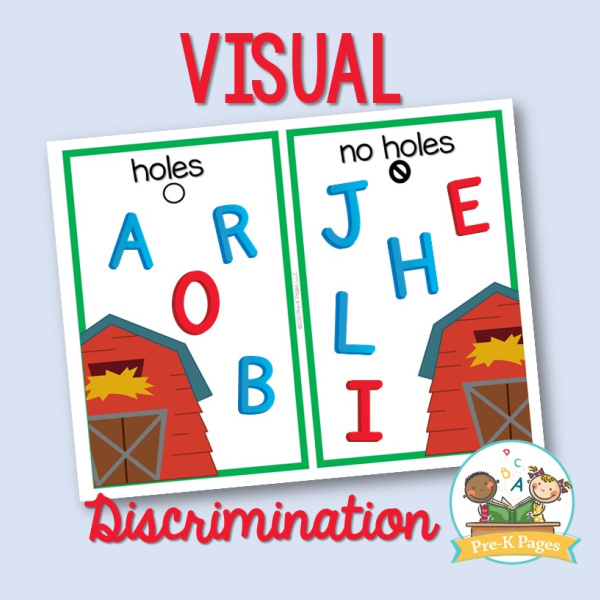 Farm Visual Discrimination
Students will strengthen their visual discrimination skills as they sort the letters of the alphabet on these farm themed mats. You can use magnetic letters, or the printable cards included in the Ultimate Farm Bundle.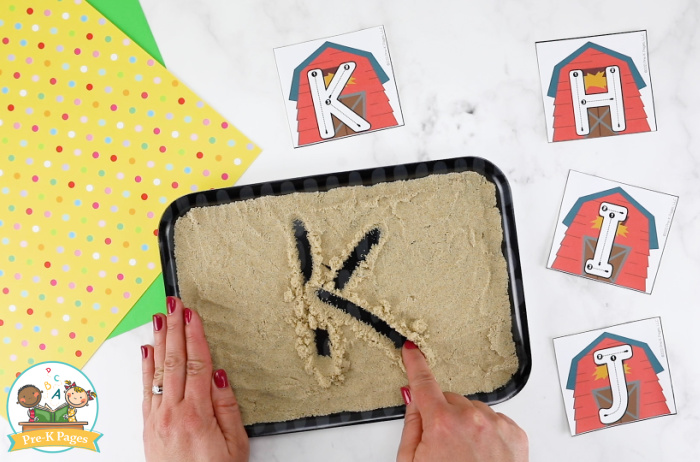 Farm Letter Formation Cards
You can use these alphabet cards in your writing center, or place them in a sensory tray for a more engaging writing activity. Students will use the index finger of their dominant hand (if they have one) to write the letters in the sand. Get your set in the Ultimate Farm Bundle.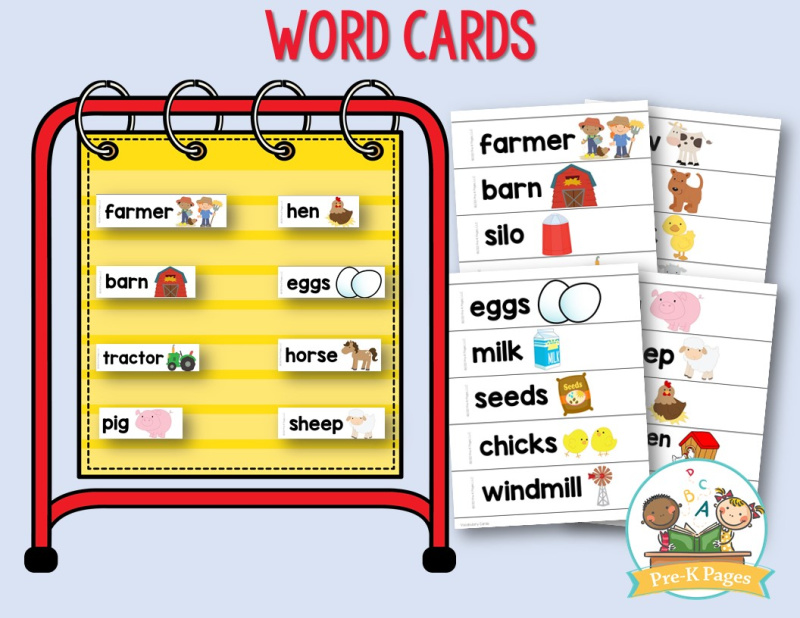 Farm Word Cards
The printable word chart and vocabulary cards are available in both black and white and color. Place the printable word cards in a pocket chart or on a word wall. These cards can be used to help develop vocabulary and can be found in the Ultimate Farm Bundle.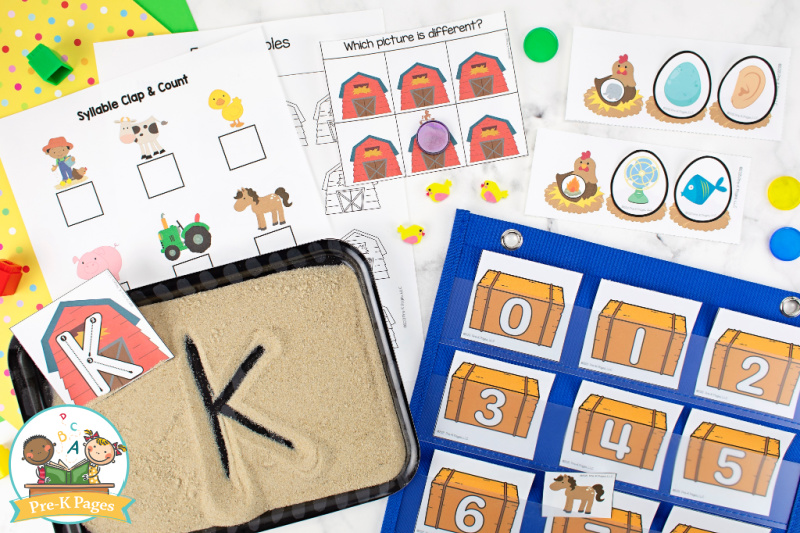 Farm Math Activities
The farm math packet includes 95 pages of fun, hands-on farm themed math activities. Small group activities to help your preschool, pre-k, and kindergarten students meet current early learning standards. Here are the activities and games included in the math packet:
Farm Numeral Identification Game (color + b/w recording sheet)
2 Farm Board Games (color)
Farm Path Game (color)
2 Farm Graphing Activities (color + b/w)
Farm Patterns (color + 3 b/w recording sheets)
Farm Counting Book 1-5 (color + b/w)
Farm Roll and Cover (color, 2 versions)
Farm Numerals in Order Puzzles 1-10 (color)
Milk Sequencing (color + b/w)
Farm Numeral Formation (color)
Farm Animal Feeding Game (color)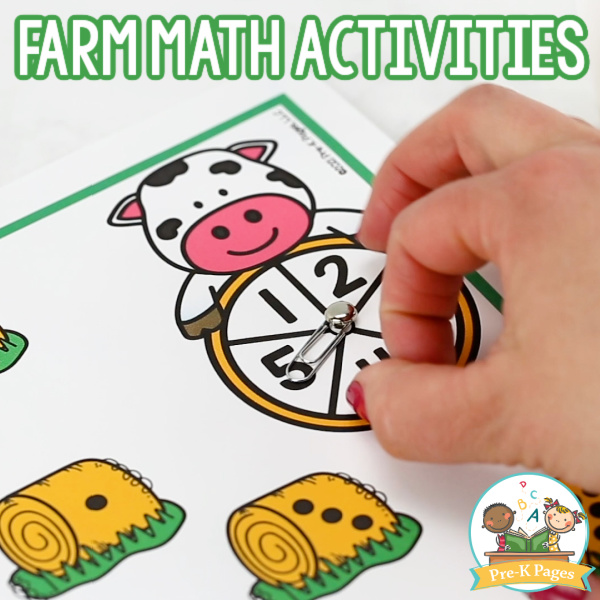 Farm Spinner Activities
The Ultimate Farm Bundle includes 4 different spin and cover games for your little learners to practice number sense, numeral recognition, colors, and shapes.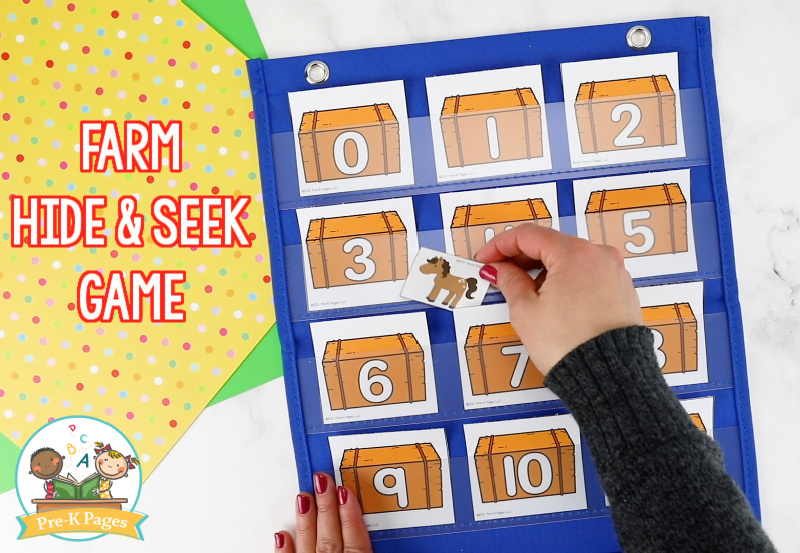 Hide & Seek Numeral Identification Game
Have fun learning to identify numerals while searching for the horse hiding behind the hay!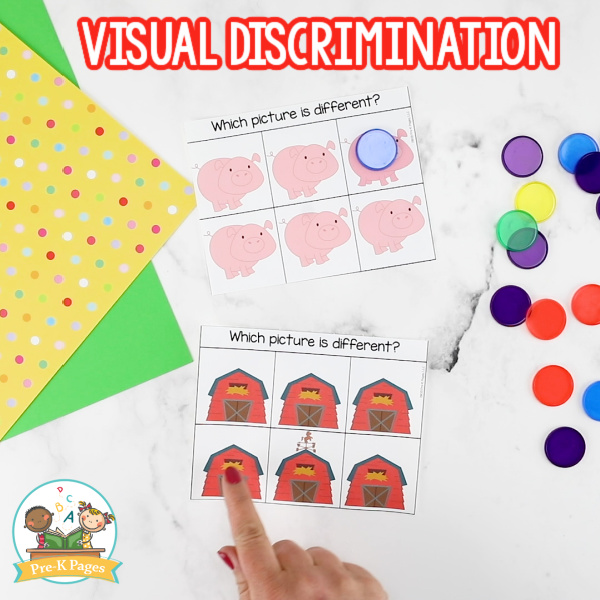 Visual Discrimination
Learning how to identify similarities and differences in pictures is an important skill for young children to learn. Use these printable visual discrimination cards from the Ultimate Farm Bundle for fun practice.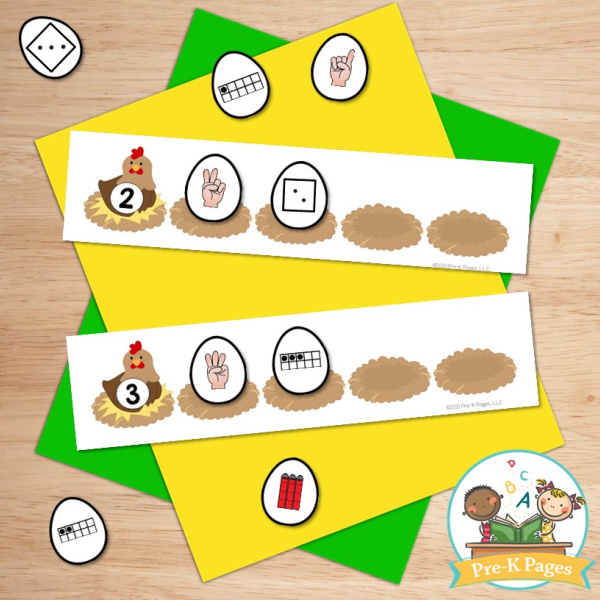 Farm Numeral Representation Activity
Your little learners will be building number sense skills as they sort the eggs into the correct nests.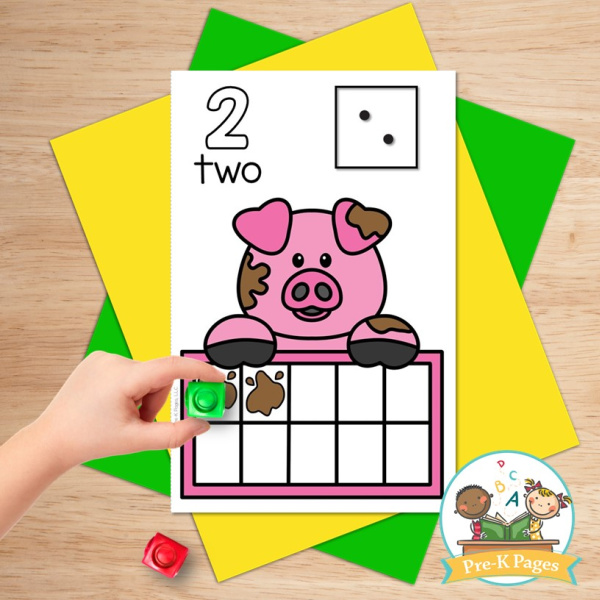 Farm 10 Frames
Use cubes to count the mud splashes in the pig pen in this fun 10 frame activity.

More Farm Ideas
Photo credit at top: © steverts / Dollar Photo Club