This is a super simple spider or Halloween idea for promoting fine motor skills in young children.  This spider web activity for preschoolers is also a fun way to get your kids to exercise the muscles in their hands, fingers, and arms that are necessary for holding a pencil and writing- or fine motor skills.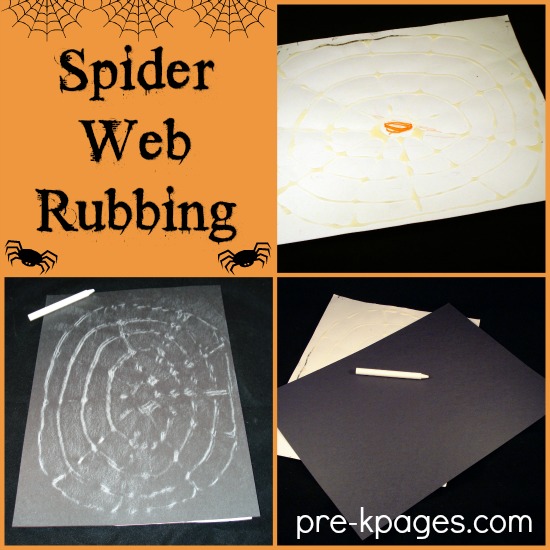 Supplies Needed for Spider Web Activity For Preschoolers
This spider activity for preschoolers is simple to set up with easy to find materials.
Elmer's Liquid Glue
Cardstock
Black Construction Paper
White Crayons (peeled)
I used white cardstock because that is what I had available but you will probably be better off using a different color so your web is more visible.
How to Create the Spider Web Rubbing Template
Squeeze the liquid glue on to the cardstock to create a spider's web template
After the web is dry attach the template to the easel
Place the black paper on top of the web template and secure
Pinch the peeled white crayon between your fingers with the long side flat on the paper
Rub the white crayon back and forth and up and down across the black paper until a spider web appears
Tips for This Spider Web Activity For Preschoolers
I suggest explaining and demonstrating the spider web activity to your preschoolers first. I don't know if you can tell in the picture at the top but I had a few cuties who didn't understand you had to cover the template with a piece of paper 🙂
Of course, this activity could be changed up to go along with almost any theme, I'm thinking turkeys at Thanksgiving, snowmen, hearts- the sky's the limit!
More Halloween Ideas