October is fire prevention month; fire safety is such an important topic to discuss with preschool and kindergarten students.
This week I'm sharing my favorite books and activities for teaching young children about fire safety.
Fire Safety Week
Fire Safety Scavenger Hunt
Go on a fire safety scavenger hunt with your students to identify signs of fire safety and hazards in your school.
Stop Drop and Roll Printable for Fire Safety Week
Act out the sequence of stop, drop, and roll with your students in large group. Follow up using the free stop, drop, and roll printable.
Hot Cold Classification Printable for Fire Safety Week
Have a whole group discussion about items that are hot and cold with your class. Follow up the discussion with a printable classification activity.
Books About Firefighters and Fire Safety
These are my favorite books to build background knowledge about firefighters and fire safety.
Clifford the Firehouse Dog by Norman Bridwell
This classic barely needs any introduction; children everywhere love Clifford the Big Red Dog and his antics!
Fire Engine Man by Andrea Zimmerman and David Clemesha
From the authors of the hit Trashy Town, your young students will relate to this story told from a child's point of view.
Firefighters! Speeding! Spraying! Saving! by Patricia Hubbell
Preschoolers and kindergartners alike will love this enchanting book filled with rhyme and noisy onomatopoeia that encourages them to participate.
The Firefighters Thanksgiving by Maribeth Boelts
Although it has Thanksgiving in the title, this book can lead to a rich discussion about the sacrifices firefighters (and other community helpers) make working around the clock and on holidays.
Firehouse! by Mark Teague
A visual treat from acclaimed children's author/illustrator Mark Teague, your students will enjoy the zany antics of Edward and Judy.
Five Little Firefighters by Thomas Graham
Don't let the title fool you, this is not a book based on a counting rhyme. It is however, a delightfully simple book about a day in the lives of firefighters that features multicultural characters and a female firefighter.
Flashing Fire Engines by Tony Mitton
I love any book that can support a concept using rhyming text! This fun read-aloud is always a class favorite.
I Want to Be a Firefighter by Dan Liebman
The Common Core standards emphasize the importance of non-fiction text. This is a great non-fiction book with colorful photographs that describes the duties of a firefighter with factual text that is easy to understand.
Protecting Your Home: A Book About Firefighters by Ann Owen
I love this Community Helper series by Picture Window Books. The text is informational, yet age-appropriate and the illustrations are large and colorful- perfect for both preschool and kindergarten!
We Work at the Fire Station by Angela Aylmore
Another great non-fiction series by Raintree Sprouts, We Work at the Fire Station features outstanding photographs that capture the attention of the young audience. The index and table of contents make it the perfect book to introduce features of non-fiction text to your students.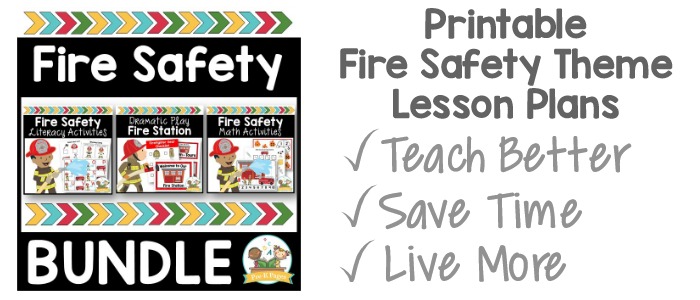 More Fire Safety Ideas