This is a fun and educational pocket chart activity to go along with a gingerbread theme in your pre-k or kindergarten classroom.
This gingerbread poem pocket chart activity uses the children's pictures and names; kids love to look at pictures of themselves and their friends, especially when they're disguised as a gingerbread boy or girl!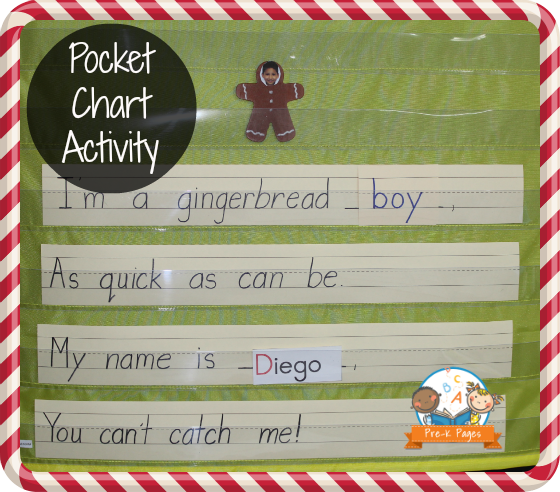 Gingerbread Poem
Using poems in your classroom can help make learning concepts such as name and letter identification, tracking print from left to right, and one-to-one correspondence more fun and engaging for young children. Here's how you can set up this learning activity quickly and easily in your classroom:
Supplies
One gingerbread shape per child (I used craft foam shapes but you could use any type)
Picture of each child
Glue Stick
One name card for each child
Fun pointers
Assembling the Gingerbread Poem Pocket Chart Game
First, I wrote the words to the poem on the sentence strips and placed them in my pocket chart. I left a blank space on the sentence strips for the boy and girl word cards as well as the children's name cards.
Next, I used two different colored markers to write the words "boy" and "girl" on a separate sentence strip and cut them out. Then, I cut out a picture of each child and glued it to a shape.
How to Play the Gingerbread Pocket Chart Activity
First, select a gingerbread shape and place it in the top of the pocket chart.
Next, place the correct boy/girl word card in the chart along with the corresponding name card.
Finally, read the poem aloud while pointing to each word with a fun pointer. After you have introduced the poem to the whole class and modeled how the game is played several times then you can put the chart in a center for the children to practice independently.
Your kids will enjoy this poem after you have read several gingerbread books aloud to the class to pique their interest. Don't miss my top ten list of best Gingerbread books HERE!
More Gingerbread Ideas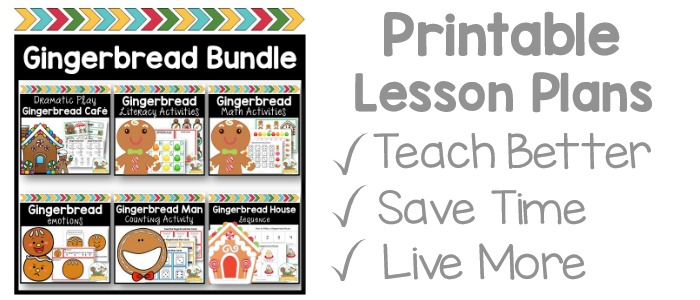 More Gingerbread ideas