Are you sick and tired of being sick and tired?
One of the most difficult aspects of teaching is staying healthy long enough to actually teach.
As teachers, we spend our days in classrooms filled with young children, many of whom are sick frequently due to their immature immune systems.
Some teachers never seem to get sick, while others are sick constantly.
I was sick so often I lived in constant fear of having to call for a sub– until I discovered a few tips and tricks that helped me stay healthy and avoid illness.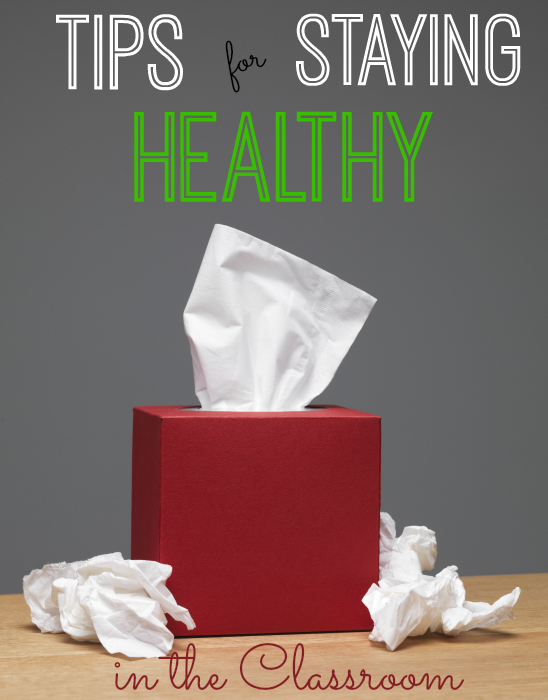 Tips for Staying Healthy in the Classroom
These are some of my favorite tips for staying healthy when you're around kids all day.
Tip #1:
Clean all flat surfaces like tables and desks as well as doorknobs in your classroom daily. If you're allowed to use them, these
disinfecting wipes
are handy.
Tip #2: Wipe down your phone and any other devices you use daily with cleaner or disinfecting wipes. Don't forget to wipe down the keyboard of your computer if you have one in your classroom.
Tip #3:
Never use the same
tissue box
as the students. Keep a special box of tissue just for you- where the kids can't reach.
Tip #4: Teach students to cough in their elbows and not their hands, here's a short video clip to help teach your kids this concept.
Tip #5: Try not to use student pencils, crayons, or scissors etc. But if you do, wash your hands afterwards.
Tip #6: Never touch your face during the day at school, don't rub your eyes, nose, scratch etc. to avoid spreading germs.
Tip #7:
Drink plenty of water daily; proper hydration is crucial to staying healthy. When I implemented a three bottle of water per school day rule I started to have fewer incidents of illness. Here's my favorite
water bottle
.
Tip #8: Sleep is also a crucial part of staying healthy. I can almost guarantee illness if I start staying up too late and not getting enough rest. Here are my top 5 tips for getting a good night's sleep.
Tip #9: De-Stress- listen to relaxation music daily at school during planning times, after school, or at night before bed. I set up a relaxation channel on Pandora that I love!
Tip #10: Wash your hands up to your elbows as soon as you get home from school with hot water and plenty of soap. This will prevent you from bringing any germs home from school to share with your family.
BONUS TIP: Change your clothes when you get home so you don't spread germs from school around your house.
When I am exposed to germs or illness I do the following to boost my immune system:
Diffuse thieves essential oil in my home
Drink hot tea with a blend of essential oils that includes thieves
Wash my hands with foaming hand soap that contains thieves essential oil
More Teaching Tips from Pre-K Pages