Are you experiencing record breaking low temperatures? If so, here's a little hot chocolate fun to warm things up!
These are seven of my favorite hot chocolate ideas for your preschool or kindergarten classroom plus a brand new free printable.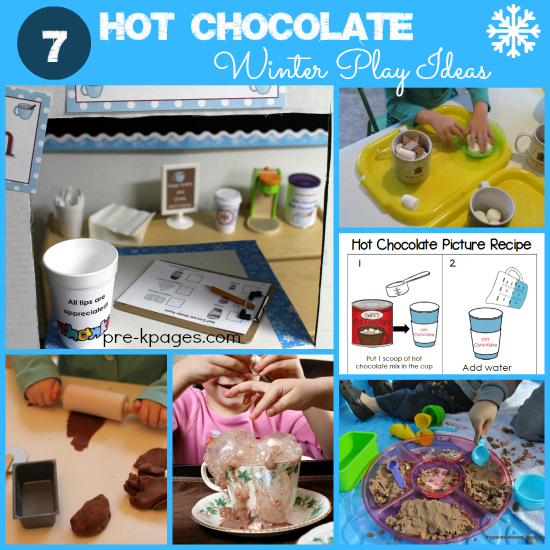 Hot Chocolate Play Ideas
1. See how Deborah warmed things up in her preschool classroom with a super fun hot chocolate play day. Fine motor practice and fun create a recipe for success!
2. Your little ones will have tons of fun with this easy, no-cook hot chocolate play dough recipe from Anna of Imagination Tree. It looks and smells delicious!
3. This super easy hot chocolate snow dough recipe from Jaime of FSPDT doesn't require any cooking!
4. Squeeze in a little science with this exciting hot chocolate science activity for kids from Shaunna of Fantastic Fun and Learning. Just three simple ingredients will elicit squeals of glee from your kids!
5. Keep your kids engaged with this recipe for hot chocolate scented rice from Crystal at Growing a Jeweled Rose. What a great idea for creating a sensory bin!
6. I created this free printable hot chocolate picture recipe for you to use with your dramatic play hot cocoa stand. This picture recipe shows the steps for making pretend instant hot chocolate.
Use crumpled brown paper or cut brown craft foam for the hot chocolate and cotton balls to represent marshmallows.
To use the recipe, print and cut out the pictures, then glue in order on a sheet of paper. Laminate the picture recipe and place it in your dramatic play center, your students will love making their own pretend hot chocolate!
Click on the picture below to download the printable hot chocolate recipe

7. Complete your hot chocolate play experience by offering a taste of the real thing with this easy slow cooker recipe.
More Winter Ideas