Are you looking for a way to engage your preschoolers in conversation? Would you like to help them to think and respond in different ways? Are you looking for ways to help children recognize their names and the names of others? Implement Question of the Day.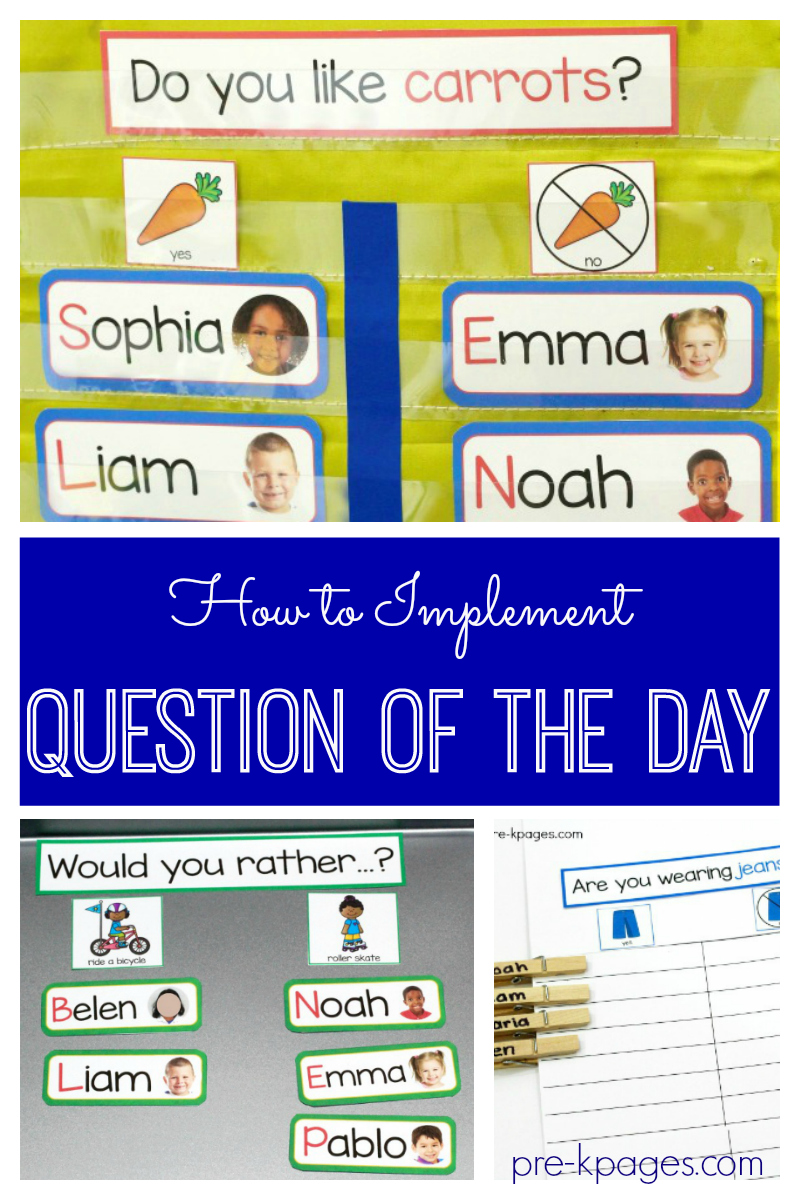 Setting Up Question of the Day
Create a name card for each student. Include a photo on each child's name card. Or print names on clothespins. Print the name on each side so the name will be positions right side up when clipped to either side of the chart.
Choose how you will post the question of the day. You can use a pocket chart, a magnetic surface, or magnet board. (An oil drip pan works well as a large magnet board.) Or post a piece of poster board on a bulletin board (for clipping on clothespins).
You can write the questions on sentence strips with a marker and attach them to the top of the chart. Include the two options: Yes/No or two other options. There are two important things to remember. First, the types of questions you ask are very important. They should be very simple yes or no questions that can be easily illustrated with only one picture. Or a simple questions with two possible options as answers. Second, when displaying your question of the day, you must include a picture cue so the children can "read" the chart independently. If you don't include picture cues, then the print will be meaningless to the students.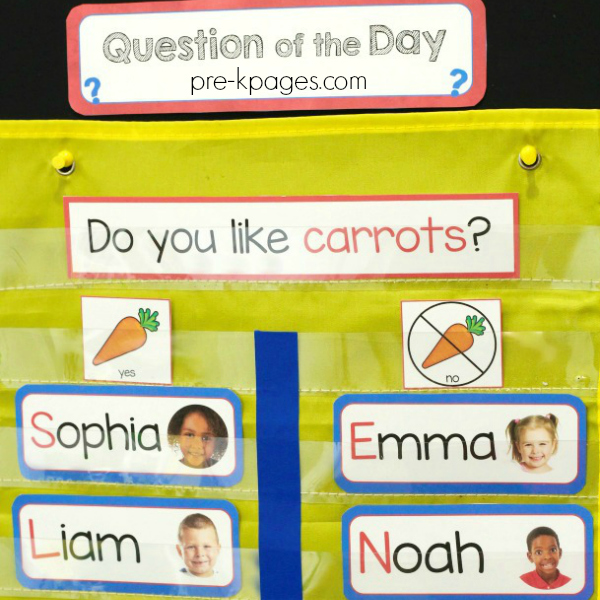 Using Question of the Day
Place your student's name cards or clothespins on a table near the door of the classroom. As students enter the classroom invite them to locate their name card and visit the question of the day chart.
Children read the chart and place their names under the chosen response.
Late, analyze the data together in a whole group discussion. Count the responses for each option. Compare which has more or less than the other. Ask, "How many more yes responses are there?" Your students will develop critical thinking skills and required mathematical concepts in a fun and developmentally appropriate way.
Using a Question of the Day can help your students better understand and use the following mathematical terms:
More Than
Less Than
Equal
How Many
These kits can help you get your Question of the Day implemented quickly.
Question of the Day: Do You Like?
Question of the Day: Are You Wearing?
Question of the Day: Would You Rather?
If you like this teaching tip, check out my membership site, The Teaching Tribe, where teachers just like you are connecting to save time, teach better, and live more.
More Teaching Tips