Let's face it, library pockets are going to be a thing of the past very soon as most libraries now use bar codes to track books. But you can quickly and easily make your own pockets with this super easy, DIY method. These little pockets are perfect for creating your very own classroom jobs chart for your preschool or pre-k class!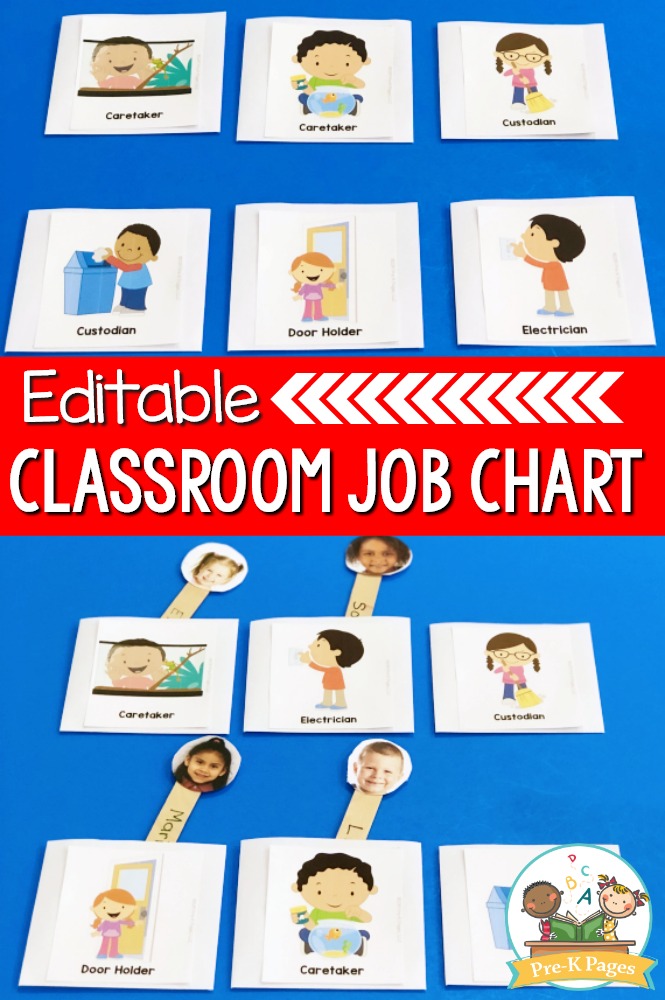 Classroom Jobs Chart
If your school supplies you with library pockets, then you can make your own poster board chart with library pockets in a flash. But I've had difficulty getting the library pockets a few times for various reasons such as requesting them before budget funds were released or the warehouse was out of stock etc.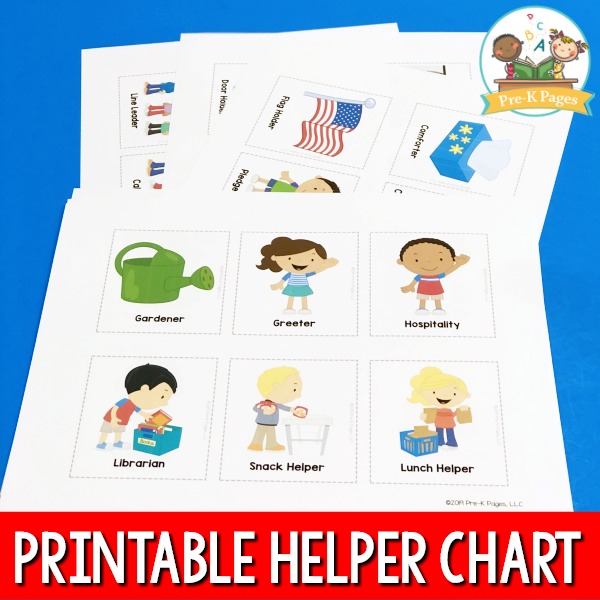 How to Make Library Pockets
One year, when I needed to get my hands on some library pockets quickly, my friend Julie showed me how to make library pockets out of envelopes. I used the pockets to create my own classroom helper chart. First, print the classroom helper job pictures.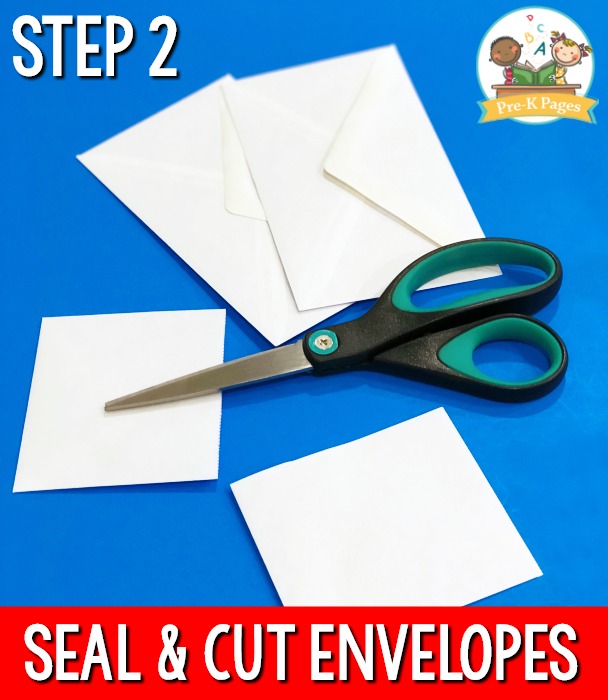 Then, seal the envelopes. I used security envelopes I found at a back-to-school sale. Next, cut the sealed envelopes in half.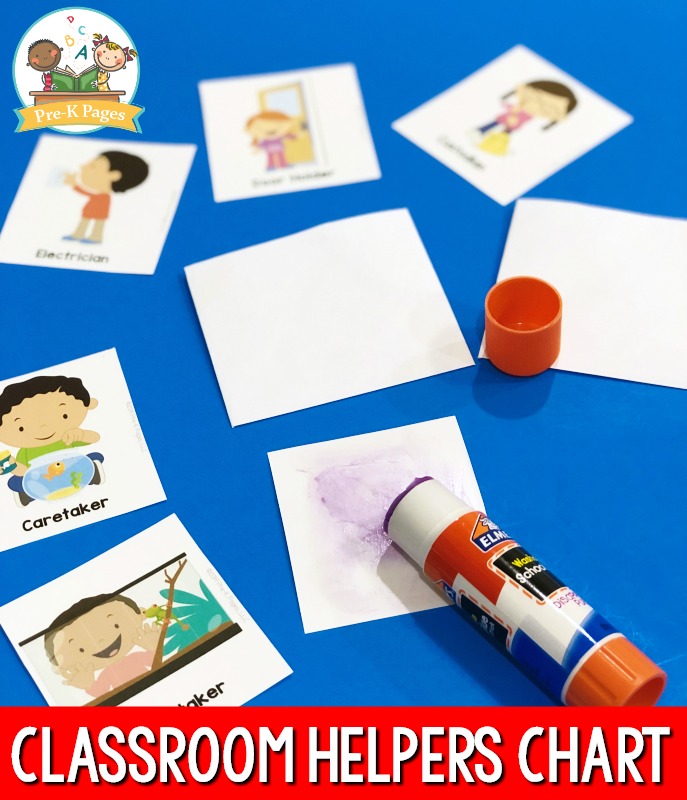 Classroom Helpers Job Chart
Now you'll want to cut out the pictures of the classroom jobs and glue them to the front of each envelope pocket you created.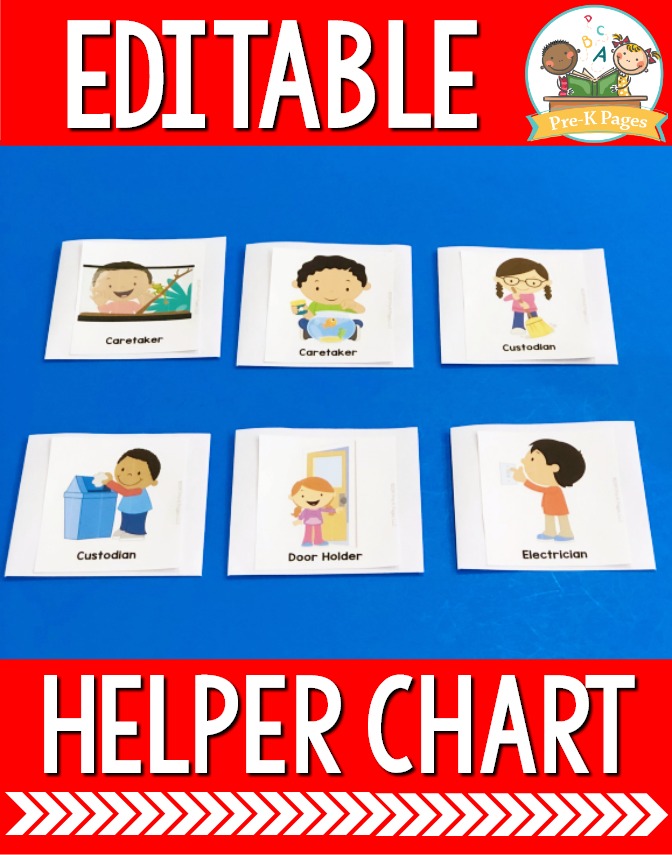 The next step is to glue the pockets to a piece of poster board.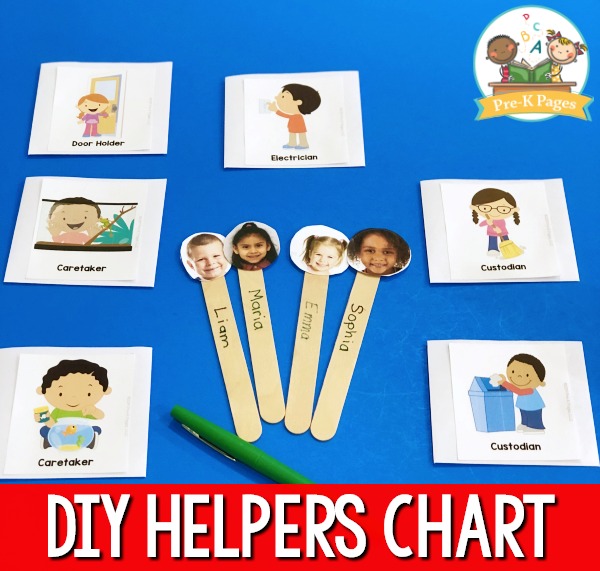 Finally, you'll want to create a name stick for each student in your classroom. Write each student's name on a craft stick with a fine point permanent marker. Then, cut out a small picture of each student and attach the pictures to the craft sticks with glue or tape.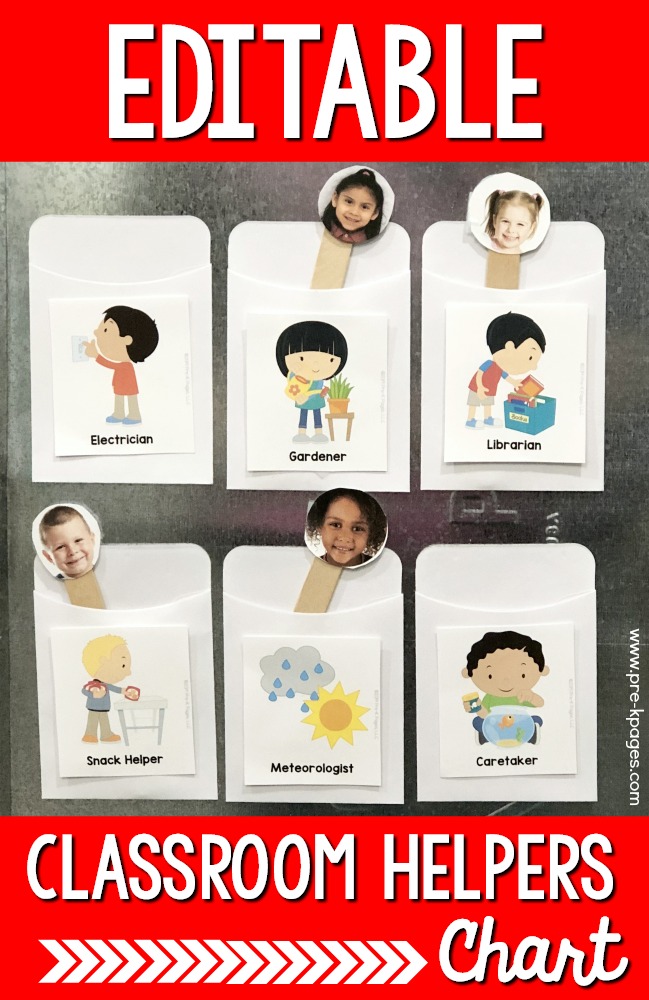 How to Make a Classroom Jobs Chart
Some early childhood programs require a job for each student, but those methods can become overwhelming quickly. This chart is a very simple method of managing your classroom helper jobs that doesn't take up much space or require lots of upkeep.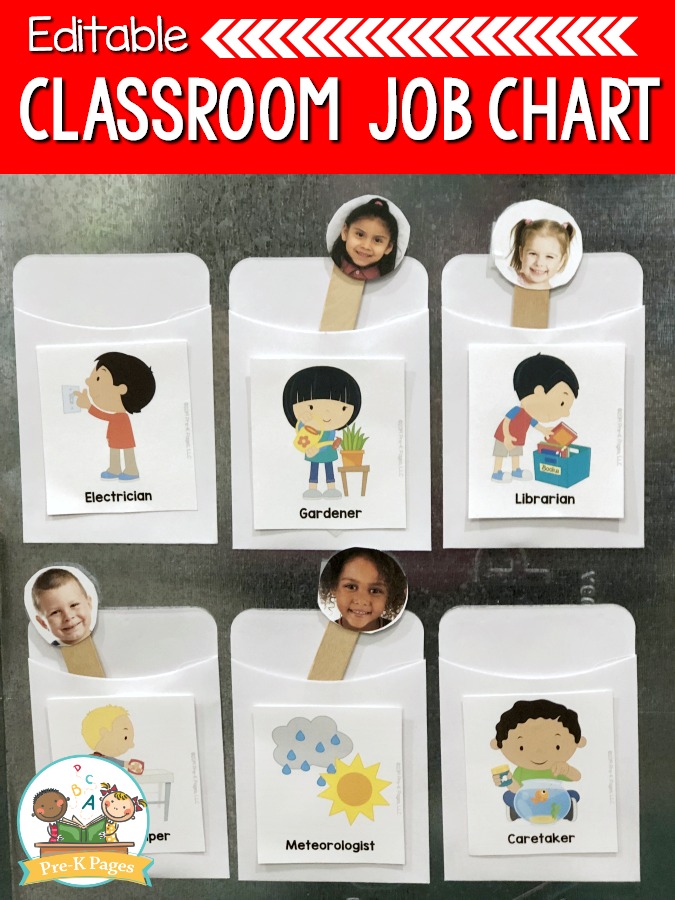 This poster board pocket chart idea will save space and simplify the management of classroom jobs.
In the example above, the library pockets were attached to an automotive oil drip pan with magnetic tape to hold them in place.
You could also use student name cards if you prefer. The most important thing is that each job is accompanied by a picture so students can "read" the chart independently.
The job chart could even be used as part of your "Read and Write Around the Room" center if you have one.
List of Classroom Jobs
List of helper jobs included:
Bathroom Monitor (boy/girl)
Bell Ringer
Line Leader
Caboose
Caretaker (3 types)
Comforter
Computer Technician
Custodian (2 types)
Door Holder
Electrician
Environmentalist
Flag Holder
Pledge Leader
Gardener (2 types)
Greeter
Hospitality
Librarian
Lunch Helper
Materials Monitor
Messenger
Lunch Monitor
Meteorologist
Calendar Helper
Sanitizer Helper
Snack Helper
Folder Passer
Table Washer
Paper Passer
Equipment Manager
Shoe Expert
Drink Monitor
The editable classroom Helper Jobs packet can be found here.
How Does it Work?
1 Download the document and save it to your computer
2 Open the document with the most current version of free Adobe Reader
3 Place your cursor in the editable text fields and start typing your own text
Please note: This document MUST be opened in Adobe Reader to be fully functional. This document WILL NOT be editable if open in preview mode or with with a generic or Apple-brand PDF reader.