If you are looking for a way to curb the chaos at your Easter egg hunt then you're in the right place! I know not everybody is allowed to have egg hunts, but I have found a way to organize fun and educational Easter egg hunts.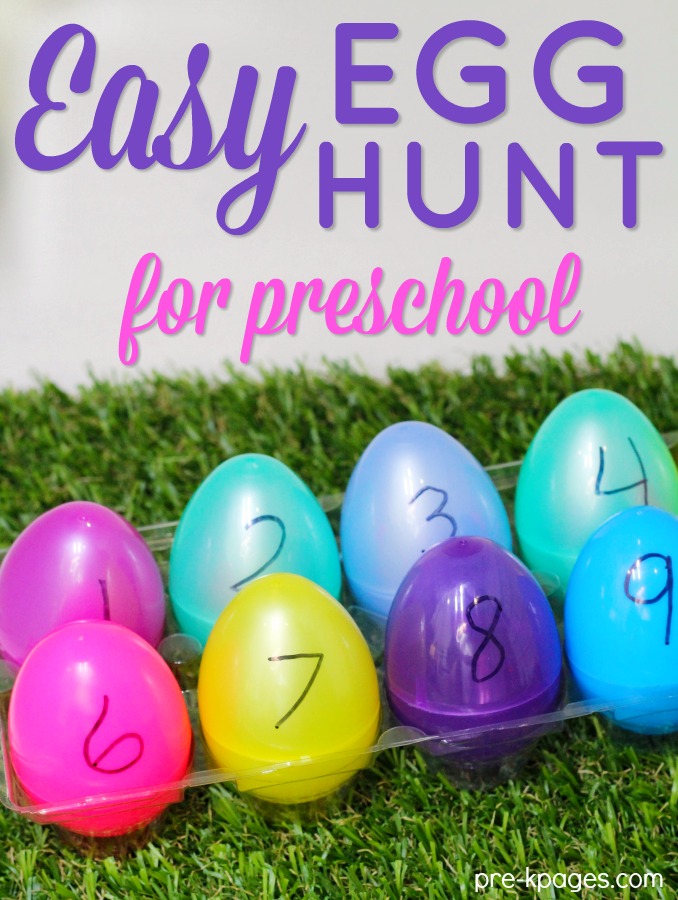 How to Plan an Educational Easter Egg Hunt for Preschool
Here are the supplies you will need to plan for your Easter egg hunt:
Permanent marker
12 plastic eggs per child in your class
One empty egg carton per child in your class
Holiday stickers, tattoos, or other treats to put inside the eggs
Egg Hunt Video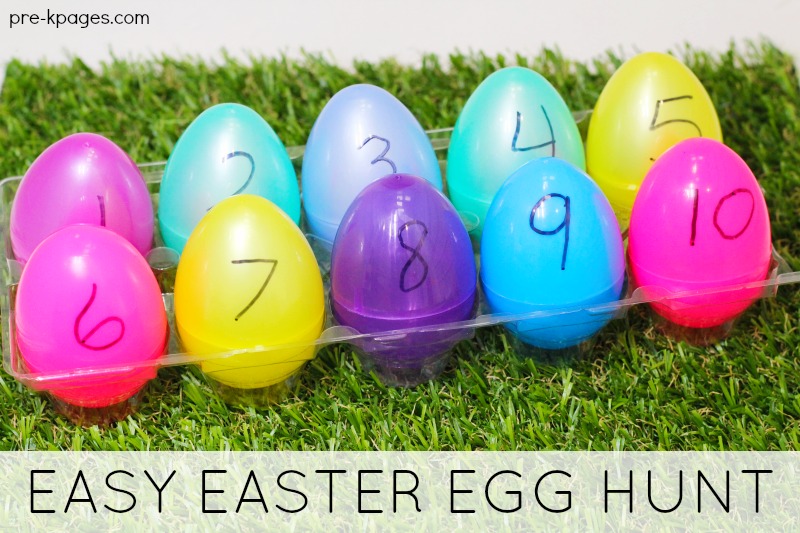 How to Plan an Egg Hunt
Instead of an egg hunt I call it a "Number Hunt" which seems to go over much better with the powers that be. I also conduct the hunt in the classroom during math time if going outdoors is not possible due to weather or scheduling conflicts etc.
Step 1: I ask parents to donate one package of empty, plastic eggs OR one dollar so I can buy the eggs. I also ask parents to send in one empty egg carton. My goal is to get 12 plastic eggs and one egg carton per child.
Step 2: I fill the eggs or enlist a volunteer to fill them, and count the number of children in my class. If I have 22 children I write the number 1 on 22 eggs and place them in one plastic grocery bag just to keep track. Next, I write the number 2 on 22 eggs and put them in another bag and so on until I have 12 plastic bags, each one filled with eggs on which I have written numbers.
Step 3: I write the numbers in the bottom of each egg carton using a permanent marker, see picture above.
Step 4: Finally, on the day of the hunt I hide the eggs around the classroom when the children are out of the room. If your students don't leave the classroom then hide the eggs the night before and have your egg hunt first thing in the morning.
Step 5: Give each child an egg carton and explain that they can only find one egg with the number 1, one egg with the number 2 etc. and each egg they find must go in their egg carton in the spot with the corresponding number. This method eliminates hurt feelings and hoarding of eggs. I have actually had students who found an egg with a number 3, for example, call out "Who needs a number 3?" It's great to watch them work together to find all the eggs!
More Easter Ideas