Center management tips for literacy centers in Preschool, Pre-K, and Kindergarten Classrooms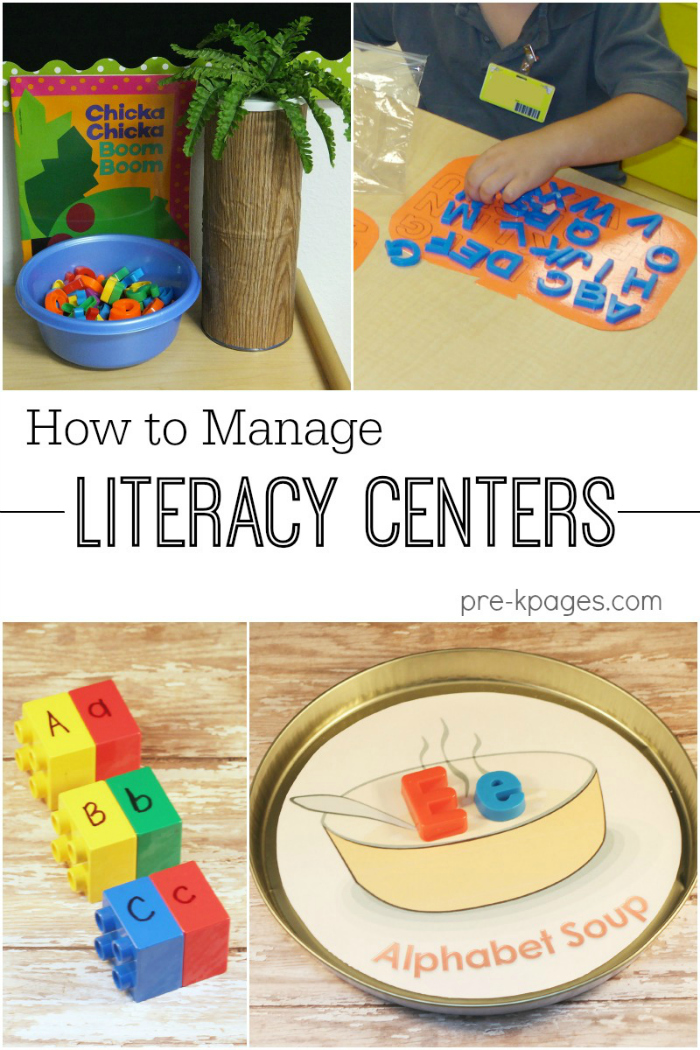 The following is a method of literacy center management that works for me in my classroom. We call our literacy centers "ABC Work."
Please note that different methods of center management work for different teachers, it all depends on what you are most comfortable with and what your program requirements are. There is no one "right way" to manage centers, you must choose what is best for you, your students, and your program.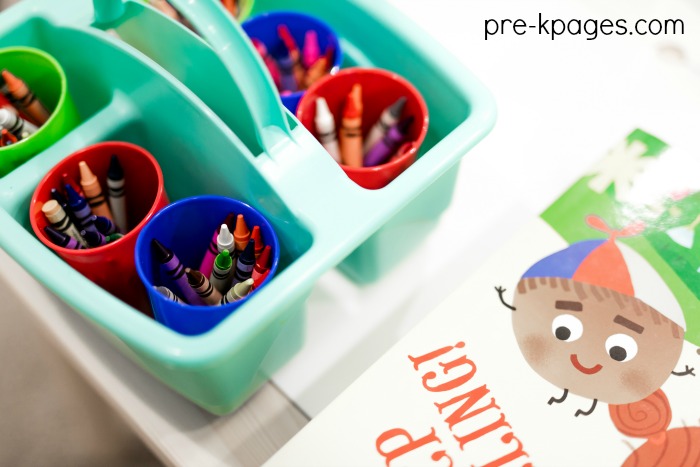 Literacy Center Management
I have 4 tables in my classroom, each table is color coded and seats six. I have red, yellow, blue, and green tables, all table colors are distinguished by the color of the supply caddy. Each student is assigned to a color coded table, that is their "table group" but they are free to choose which chair they will sit in at that table.
For literacy centers, students are grouped by ability levels, this means that the table group assignments also need to be ability grouped. For example, all of the students who can identify only 5 letters or less are assigned to the yellow table, all students who know more than 10 letters are assigned to the red table and so on. You will need to test your students to determine their levels. My color table groups remain the same for math centers.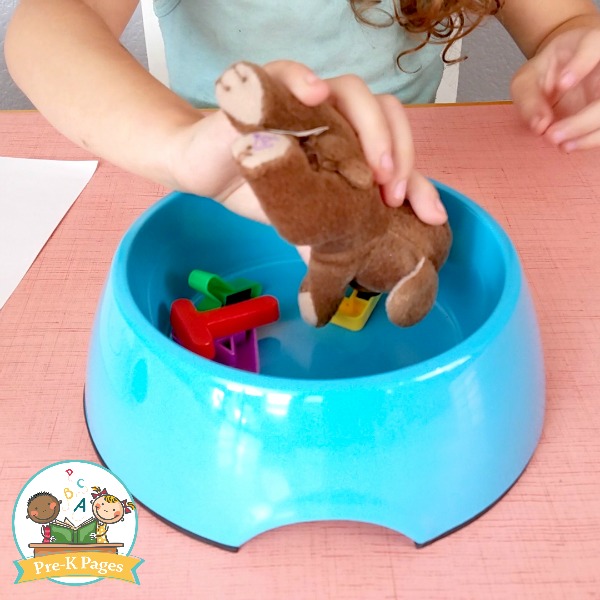 What do the students do at the tables?
Each table has an assigned activity that they must complete each day. The activities all have a hands-on element and are designed to be playful and fun to increase engagement and learning. Once the students have completed their assigned activity, they are free to choose any of the designated literacy areas in the classroom including the literacy center.
There are 4 assigned activities per week, one per table. The students rotate to a different table each day to complete a total of 4 assigned activities per week at literacy centers, Friday is catch-up day or free choice.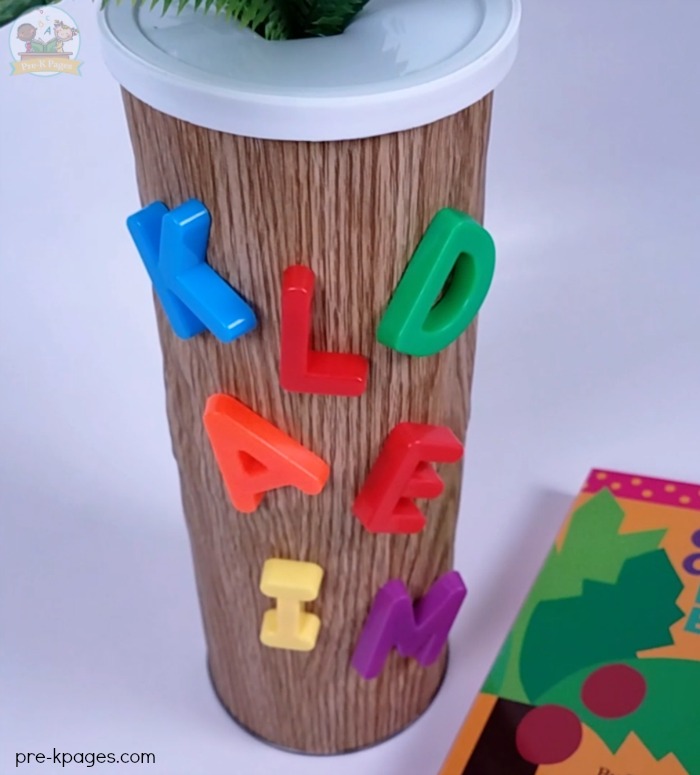 Literacy Center Example
Here is an example of what the rotation might look like:
Monday:
Red group @ red table- Chicka Chicka Boom Boom tree activity
Blue group @ blue table- T-chart magnetic letter sort, upper vs. lowercase letters
Yellow group@ yellow table- curvy vs. straight magnetic letter venn diagram sort
Green group@ green table- Puppy Chow– letter identification game
Tuesday:
Red group @ blue table – T-chart magnetic letter sort, upper vs. lowercase letters
Blue group @ yellow table- curvy vs. straight magnetic letter sort venn diagram sort
Yellow group @ green table- Puppy Chow– letter identification game
Green group @ red table- Chicka Chicka Boom Boom tree
And so on…
What does the teacher do during literacy centers?
I work with one group and supervise the other, while my assistant supervises the other two groups. If I am working with a group that is still learning letters and they have the Puppy Chow game, I might have them examine each letter they pull out of their dog food bowl and then try to match it to a letter mat, then say the letter name etc. While I am working with that group I am watching my other group closely as they sort the curvy and straight letters. My assistant is on the other side of the room sitting with one group and watching the other closely and interacting with the students just like I am.
How long is your literacy center block?
Our schedule allows for 20-30 minutes of independent literacy practice each day. Of course, in the beginning of the year it's much shorter due to limited attention spans, but usually ends up at about 20-30 minutes by the end of the year. Click HERE to see our daily schedule.
What types of activities do you have in your literacy center?
To see more pictures and read explanations about what items are kept in our literacy center click HERE.
How do you organize the weekly activities?
Pictured above you can see my Literacy and Math Center organization crate. I have hanging files inside the crate, one red, yellow, blue, and green. Each folder matches the color of one of our tables and is placed inside a hanging file folder in the crate. Inside each folder I put the assigned activity for the week.
Using the example above again, I would put the t-charts in the blue folder with a bag of magnetic letters, the venn diagrams in the yellow folder with a bag of magnetic letters etc. If the items we are using for an assigned task are too large to fit in a folder I simply write the name of the item(s) and stick a post-it note inside the folder to remind myself, my assistant, or any subs exactly what we are doing at each table and what materials are needed. Every Friday I take out the assigned activities from the week and replace them with the materials necessary for next week's centers.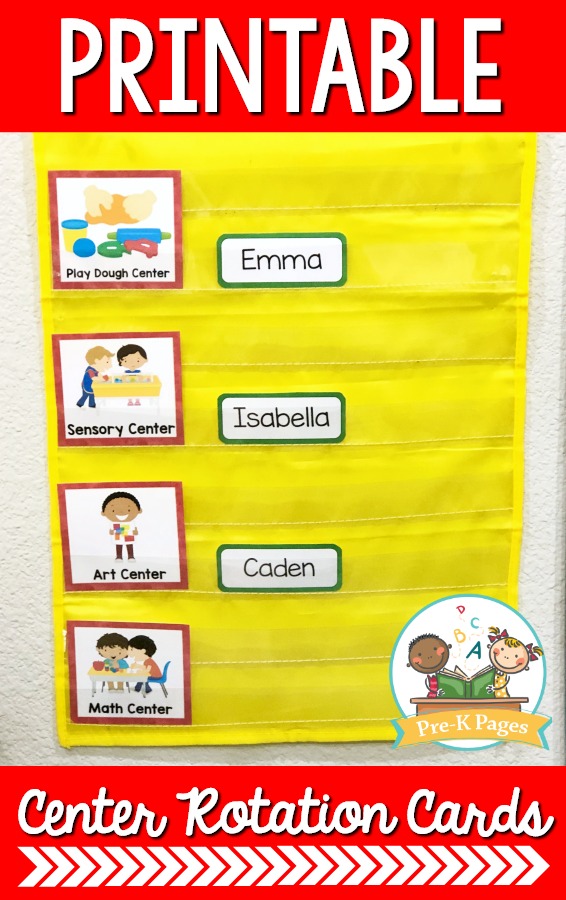 Center Rotation Chart
How do you keep track of who goes where each day? You can see a picture of the pocket charts and cards I use to create a visual representation of where students should go for literacy, math, and choice centers. I have four pocket charts, one red, one yellow, one green, and one blue. The cards pictured above are part of my Center Rotation System Packet.
The border around the student name cards match the color coding of the tables. Next, the name cards are placed in each pocket chart to indicate the table they are to visit for literacy centers. For example, if Emma, Luis, Sophia, Aiden, and Isabella are all in the blue group, I place their name cards in the blue pocket chart on Monday indicating that they are to visit the blue table for literacy centers. Then, on Tuesday I move their name cards to the right and place them into the next pocket chart. For example the blue color group would go to the blue table on Monday, then the red table on Tuesday, the green table on Wednesday, and the yellow table on Thursday. Fridays are free choice.
You can see some of our most popular alphabet activities for literacy centers HERE.
More Teaching Tips from Pre-K Pages