Math center management tips for Pre-K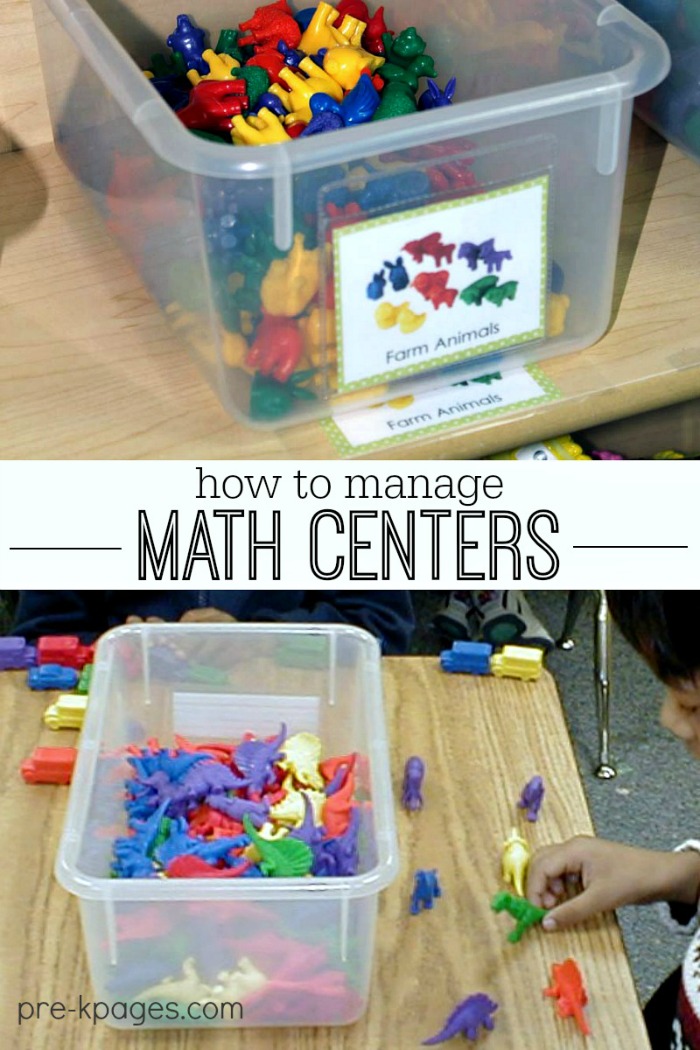 Looking for math center materials and set-up help? Visit the Math Center page!
How to Manage Math Centers
Many teachers have "literacy centers", but not as many seem to have math centers. Young children should have just as much time for exploring math concepts as they do for literacy each day.
The following is a method of math center management that has worked for me in my public school Pre-K classroom. Please note that different methods work for different teachers and programs. There is no one "right way" to manage math centers, you must choose what is best for you, your students, and your program.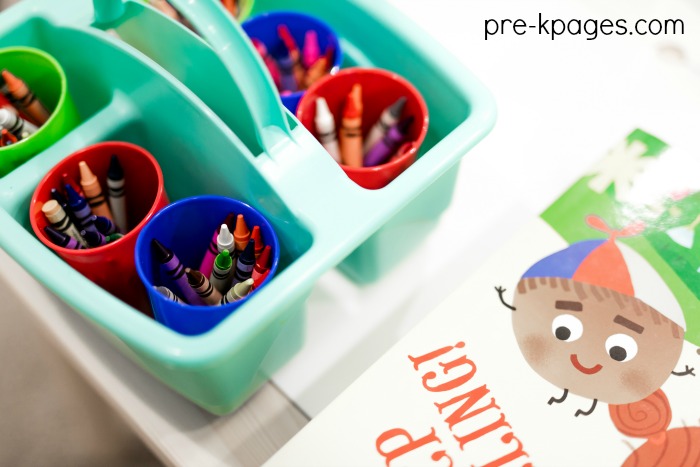 I have 4 tables in my classroom, each table is color coded and seats six. I have a red, yellow, blue, and green supply caddy on each table. All table colors are distinguished by the color of the supply caddy. Each student is assigned a seat at a color coded table, that is their "table group".
Our math time each day is organized into a "Math Workshop", which is similar to the Reading and Writing Workshop approach. The sequence of our Math Workshop is as follows:
Math Mini-Lesson: Whole group math lesson including math read-aloud and lesson from our math curriculum.
Independent Practice: Students go to their table groups and explore math concepts with manipulatives.
Math Share: Students gather in large group to discuss what they learned about the math concept that they practiced at their tables.
What do the students do during Independent Practice?
Each table has one assigned math activity that they must complete each day. Once the students have completed their assigned activity they are free to choose any of the materials available in the math center (see picture of math center above) and explore freely. There are 4 assigned activities per week, one per table. The students rotate to a different table each day to complete a total of 4 assigned activities per week at literacy centers, Friday is catch-up day or free choice.
Example Math Center Rotation
Here is an example of what the math center rotation might look like:
Monday:
Red group @ red table- sorting w/thematic manipulatives
Blue group @ blue table- patterning w/thematic manipulatives
Yellow group@ yellow table- one-to-one correspondence ducks in a pond
Green group@ green table- Number 5 activity
Tuesday:
Red group @ blue table – patterning w/thematic manipulatives
Blue group @ yellow table- one-to-one correspondence ducks in a pond
Yellow group @ green table- Number 5 activity
Green group @ red table- sorting w/thematic manipulatives
And so on…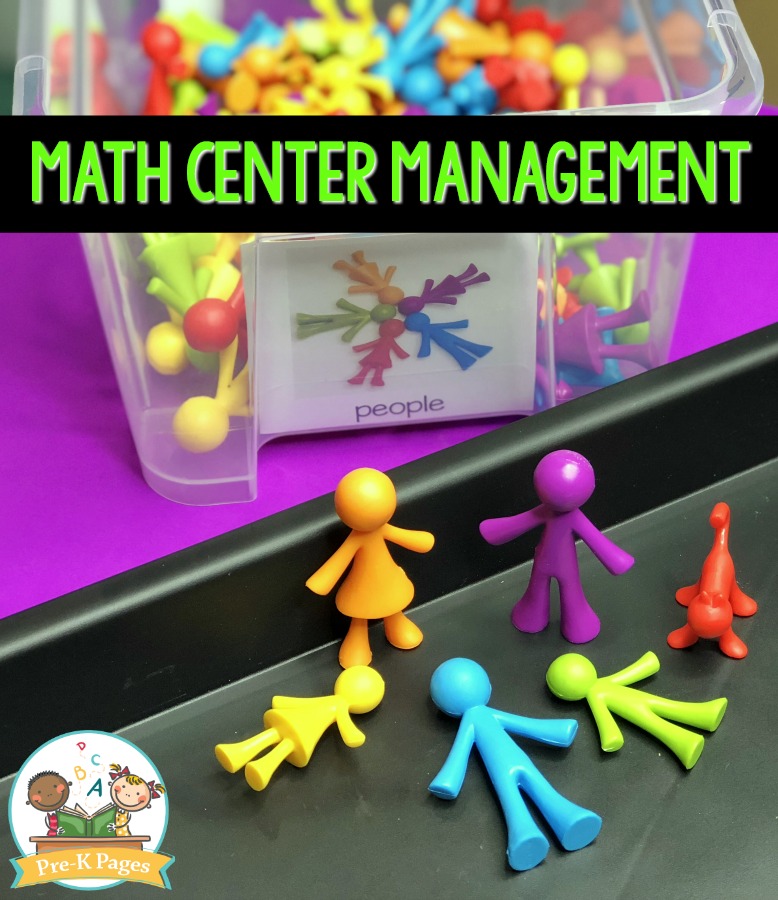 What does the teacher do during math centers?
I work with one group and supervise the other while my assistant supervises the other two groups. If I am working with my lowest group and they have the one-to-one duck pond activity I would have them count the numbers on the dice with their finger while counting out loud, then count each duck they put in the pond out loud etc.
While I am working with that group I am watching my other group closely as they are sorting with thematic manipulatives. My assistant is on the other side of the room sitting with one group and watching the other closely and interacting with the students just like I am.
How many minutes is Independent Practice?
Our math centers are usually 20 minutes long by the end of the year, but may start out at the beginning of the year with only 10 minutes due to short attention spans.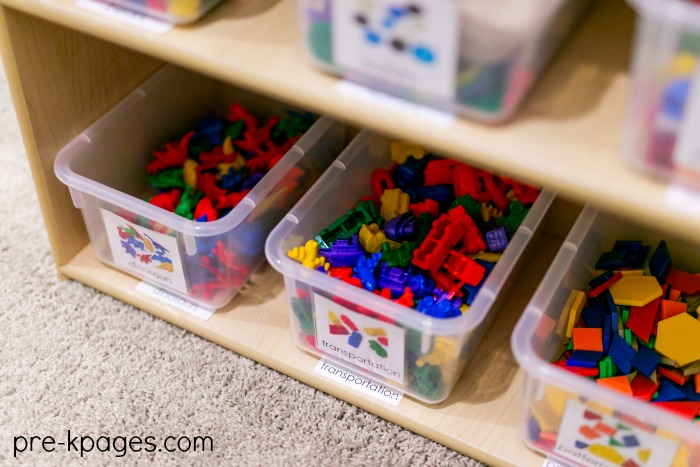 What activities and materials do you have in your math center?
You can see pictures of and read explanations about what items are kept in the math center HERE.
How do you organize your math activities?
Pictured above you can see my Literacy and Math Center organization crate. I have hanging files inside the crate, one red, yellow, blue, and green. Each folder matches the color of one of our tables and is placed inside a hanging file folder in the crate. Inside each folder I put the assigned activity for the week. Using the example above again, I would put the thematic erasers for the sorting activity in the red folder, the materials for the number 5 activity in the green folder and so on.
If the items we are using for an assigned task are too large to fit in a folder I simply write the name of the item(s) and stick a post-it note inside the folder to remind myself, my assistant, or any subs exactly what we are doing at each table and what materials are needed. Every Friday I take out the assigned activities from the week and replace them with the materials necessary for next week's centers.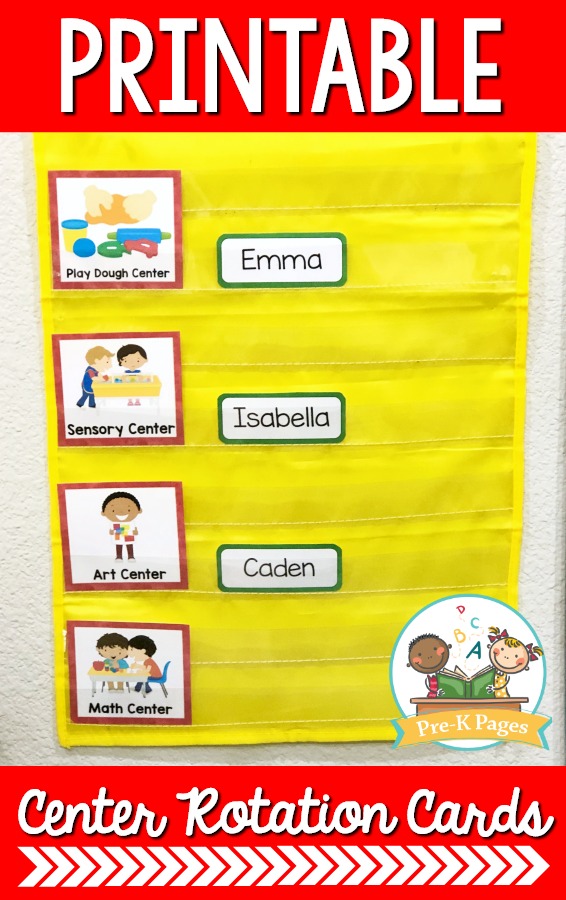 How do you know which students go to which tables each day?
You can see a picture of the pocket charts and cards I use to create a visual representation of where students should go for literacy, math, and choice centers. I have four pocket charts, one red, one yellow, one green, and one blue. The cards pictured above are part of my Center Rotation System Packet.
The colors of the pocket charts match the color coding of the tables. Next, I have name cards with student's pictures that are placed in each pocket chart to indicate the table they are to visit for math centers. For example, if Emma, Luis, Sophia, Aiden, and Isabella are all in the blue group, I place their name cards in the blue pocket chart on Monday indicating that they are to visit the blue table for math centers. Then, on Tuesday I move their name cards to the right and place them into the next pocket chart. For example the blue color group would go to the blue table on Monday, then the red table on Tuesday, the green table on Wednesday, and the yellow table on Thursday. Fridays are free choice.
More Teaching Tips from Pre-K Pages