Mother's Day ideas for preschool, pre-k, and kindergarten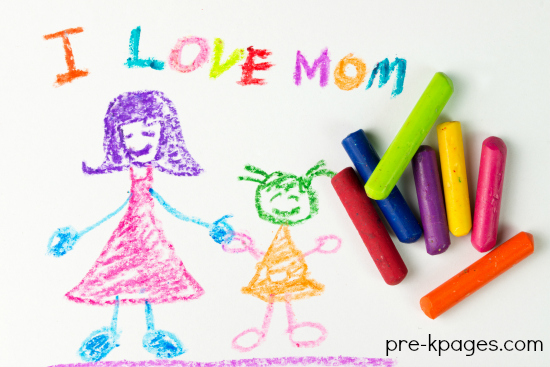 Mother's Day Books
Mother's Day Activities
Teapot
Materials: one tea bag per child, colored construction paper, copy of tea pot picture, glue, scissors, doilies or coffee filters, poem
If you teach in a multicultural setting make sure the tea is decaffeinated as caffeine is prohibited in many religions.
Copy a tea pot pattern on colored construction paper and have students cut it out or pre-cut it for them if they are too young. Have the children glue the tea pot to a white paper doily or coffee filter. Next, cut out a heart shape and glue to the front of the tea pot leaving the top of the heart without glue so you can insert the tea bag later. Last, copy a poem on white paper, cut, and glue to front of tea pot. The poem can be found here.
*Note: The tea bag is not pictured in the photo above
Coffee Filter Flowers
Materials: white, basket style coffee filters, washable Crayola markers, spray bottle of water, green pipe cleaners (chenille stems), newspaper
This is a super simple and easy Mother's Day project. First, cover your tables with newspaper as the markers and water will bleed through. Next, have students color the white coffee filters with the Crayola markers. When finished, lightly spray the coffee filters with water. When dry, fold the coffee filters in quarters and wrap a pipe cleaner around the pointed end. Unfold the "petals" gently and fluff to make it look more flower like.
Handprint Mother's Day Card
Materials: tempera paint, construction paper, one copy of the poem per child, glue stick, pencil
Fold sheets of 9×12 construction paper in half and glue a poem inside the card. Next, paint each child's hand and make a handprint on the front of the card. When dry, have each child sign their name to the inside of their card. A poem can be found here.
Bath Salts
Materials: 1 glass or metal mixing bowl, Epsom salt, food coloring, sea salt (rock salt or coarse salt will work too), glycerin, fragrance oil (vanilla, citrus, peppermint etc), one sandwich bag per child
RECIPE: Makes 3 cups of bath salts.
2 cups Epsom salt per child
1 cup sea salt per child
Food coloring
1/4 teaspoon glycerin per child
Essential oil of your choice (citrus, peppermint etc)
It's better if you do this on a day with low humidity, the salt will absorb moisture from the air. Combine both salts in bowl and mix well. Add a few drops of food coloring and mix well. Add glycerin and essential oil (7-8 drops) and mix well. Put bath salts into the Ziploc bags and seal well. Make a gift tag with instructions to use 1/3 to 1/2 cups in the bathtub.
Flower Pot Photo Frame


Materials: 1 plain, white, small (smallest size) Dixie cup per child OR tiny clay flower pots if you have the funds, plaster of Paris, tongue depressors, craft foam- various colors, one picture of each child- head shot, glue, permanent marker, scissors, cardstock, green Easter grass, Foohy gel markers (only if you use clay pots)
Step 1: Use your Ellison die-cut to cut flower shapes with the craft foam.
Step 2: Glue the child's picture to the center of the flower.
Step 3: Write the child's name and the year on the tongue depressor with a Sharpie marker- this will be the stem of the flower.
Step 4: When the flower is dry glue the tongue depressor "stem" on and let dry.
Step 5: mix the plaster of paris and pour into the Dixie cups or clay pots, place the "flowers" in the pots to dry.
Step 6: When the plaster is dry pour a little glue around the top of plaster and press the green Easter grass down.
Step 7: If you used clay pots you can have your students decorate the pots with Foohy gel markers. These work really well on the clay pots and look terrific.
Mother's Day Tea
Have your students create an invitation inviting their moms or another special person in their life to tea. Read an appropriate book to the group, then serve snacks and punch or juice. You could also provide each mom/special person with a coffee filter corsage (see directions for coffee filter flowers above).
Mother's Day Resources