Preschool, Pre-K, and Kindergarten tips for celebrating diversity in the classroom.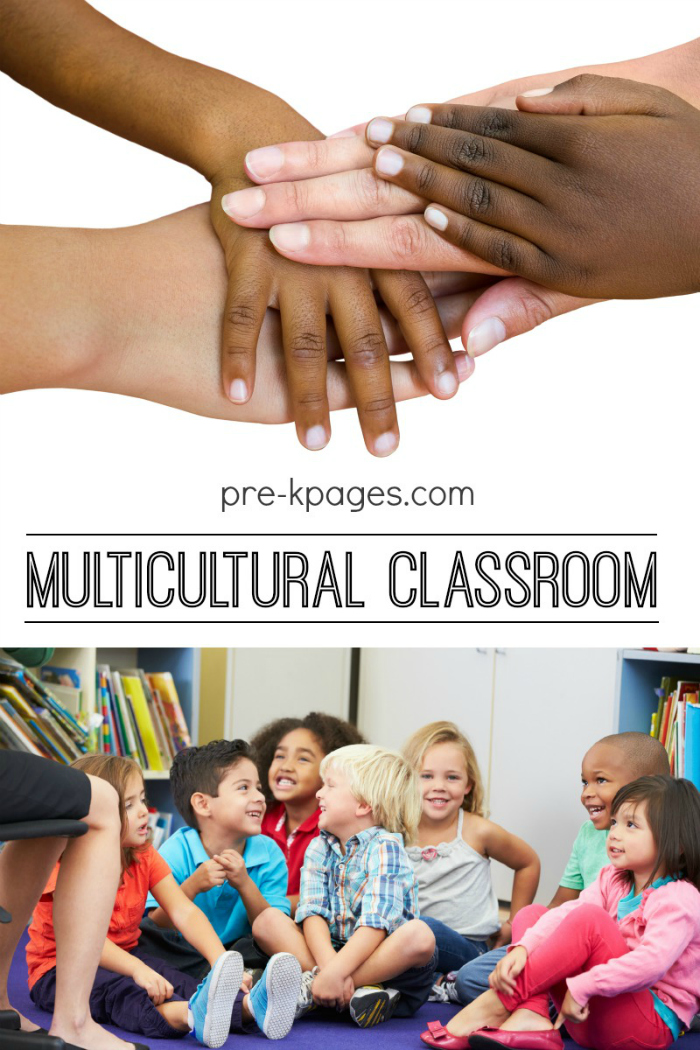 Diversity in the Classroom
What is a diverse classroom?
A diverse classroom is one in which both the students and the teacher are accepting of all people, regardless of their race, culture, or religion. This acceptance is evidenced by the books that are read aloud, the discussions that are had, and any activities or lessons that are taught.
Diverse Picture Books
Teaching Diversity
What is the best way to ensure your classroom embraces diversity?
Making a conscious effort to read more picture books that feature diverse characters aloud to your students is one way to include more diversity in your classroom. Also be sure to include picture books in your classroom library that feature diverse characters as much as possible.
Studying Christmas Around the World is not considered diverse, it is exclusive. When one culture, religion, or minority group is signaled out as being different, attention is being called to these differences instead of calling attention to the similarities.
When diversity, or "Christmas Around the World," is taught as a separate unit, it is confined to one or two weeks of our students lives and will have little, if any impact on their understanding and acceptance of other cultures or religions in the long run. As a rule of thumb, steer clear of Christmas Around the World and focus instead on incorporating diverse literature into your daily routine. Use those "teachable moments" to discuss similarities as they arise during your large group time.

Diverse Students
Is it necessary to have diverse students to teach diversity in the classroom?
No. This is a common misconception, in fact, if you have a homogenous classroom is it especially important to emphasize diversity because the only exposure your students may get to other cultures is through the activities, picture books, and lessons you provide them with.

Importance of Diversity
Why is diversity so important in the classroom?
Diversity is important because the world is changing every day. We must learn to accept and get along with people of all cultures, races, and religions in order to become productive citizens of the world. It is our job as teachers to prepare our students for the real world, and the real world is one which is very diverse.
We, as professional educators, have the opportunity to demonstrate for our students the importance of love and acceptance NOW, even if it is not being taught at home. Chances are, by the time your students reach the real world, it will be a much more diverse place than it is now – and we need to prepare them for that.


What can I do to make my classroom more diverse?
Provide books in the classroom library that feature children of many different skin tones and cultures. You can find many of our favorite picture books here.
Choose to display pictures or artwork on your classroom walls that feature a wide variety of diverse children.
Discuss similarities and differences between cultures with your students openly, but emphasize the similarities.
Provide students with paint, paper, and crayons that represent diverse skin tones as often as possible. Allow students to choose the color of paint, paper, or crayons they want to use.
Communicate regularly with a class in a different country via Skype.
Read diverse picture books to your class often.
If you discuss one holiday in class, be sure to discuss them all. For example, instead of focusing only on Christmas, make sure to cover and give equal time to Hanukkah and Kwanzaa too. Make sure to discuss the Lunar New Year, Ramadan, and Diwalii, when the time comes too.
Classroom Photos

Above is our What a Wonderful World bulletin board that we make on the very first day of school. I give each child a multicultural person shape and they decorate it with crayons. I invite them to choose their skin color. We place the little paper children around the world holding hands to show that we are all friends. The earth was made by cutting and pasting large blue and green sheets of butcher paper together and laminating. This display stays up all year. Above the display you can see a banner that reads "We Are All Americans".
Diverse Resources
More Teaching Tips from Pre-K Pages