Number and Counting Skills for Preschool, Pre-K, and Kindergarten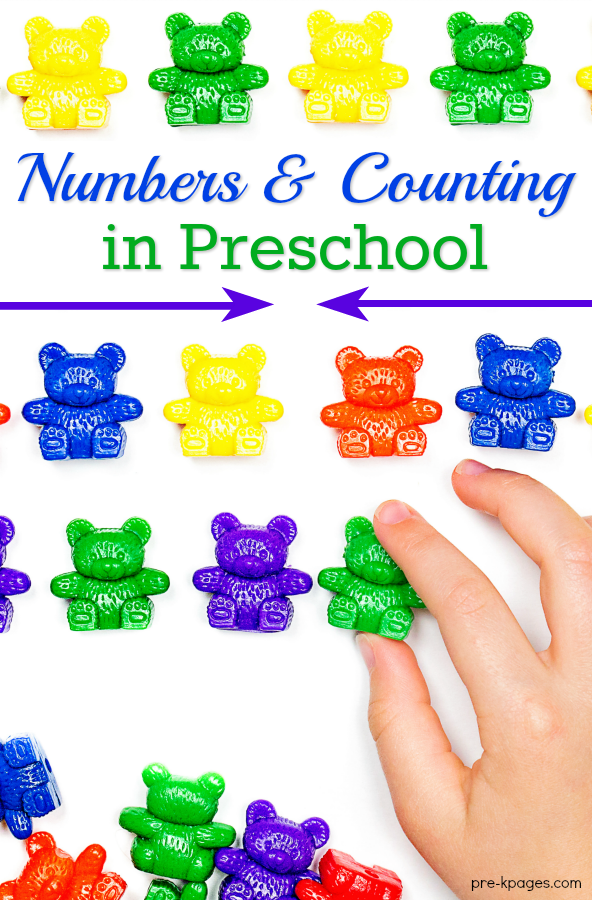 Numbers and Counting
Activities and information about teaching number identification and counting skills in preschool, pre-k, or kindergarten classrooms.
Number Books
Number and Counting Activities for Preschool
Using Music to Teach Number Recognition
We routinely use songs to help reinforce number identification. I have used HeidiSongs Jumpin' Numbers vol. 1 and vol. 2 DVD's with great success in my classroom. These DVD's are so effective because they use a multi-sensory approach which adds a visual and movement to each number song so the students see the number, sing the song, and move all at the same time. These things combined provide a more meaningful experience that promotes retention of the number(s) being taught.
Number Books
In the classroom library we have a book box containing number books.
Number Activities
Sandpaper Number Rubbings

Materials: sandpaper, glue, die-cut machine, heavy cardstock, regular paper, crayons
Buy inexpensive sandpaper at the Dollar Store and cut numerals on it with the die-cut machine. If you don't have access to a die-cut machine you can trace the numerals on the sandpaper and cut out with scissors. Next, glue the numerals to heavy cardstock paper. I keep a set of these numbers in my math center and the children cover the numbers with paper and make number rubbings using the side of a peeled crayon. They also love to just trace the numbers with their fingers, it's great for tactile learners.
Ziploc Quilt Game Board

Learn how to make your own Ziploc quilt game board to practice number identification and counting HERE.
Penguin Counting Game

Learn how to play this fun, hands-on penguin counting game HERE.
Printable Dot Counting Book

This free, printable 1-5 dot counting book pictured above is available here.
The free, printable 6-10 dot counting book is available on the blog here.
Glue Numbers

Learn how to make tactile number cards with glue that will help your students learn and retain numbers. Directions can be found on the blog HERE.
Fishing for Numbers Game Freebie

You can download the Fishing for Numbers Game printable HERE. It includes the directions for making your own magnetic fishing poles, fish templates, and recording sheet.
Play Dough Number Mats
Materials: paper, computer printer, playdough
Print out large numerals 0-10 on your printer and laminate. Put these "play dough mats" in your play dough center and show your students how to roll out snakes and place them on the mats to make numbers. This is good practice for both number recognition and fine motor skills. You can find printable play dough mats HERE
Thematic Math Activities
I have many thematic math activities on the individual Theme Pages.
Math Resources
More Math Ideas from Pre-K Pages