Organization and storage tips for Preschool, Pre-K, and Kindergarten teachers.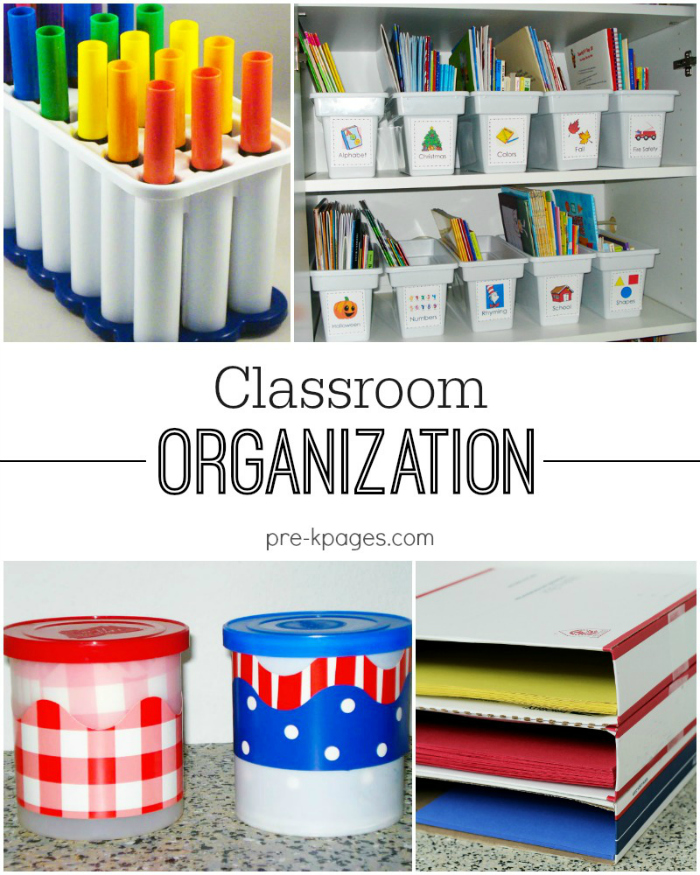 Classroom Organization
If there was an organizational pageant I would definitely be crowned queen! To many I may seem crazy, but organizing is my passion and I thoroughly enjoy it. A question that I am often asked is how do I store/organize all of my teaching "stuff" that I have accumulated over the years so I thought I would share a few tips with you here.
Storage Solution
In the picture above you can see how I store all of my dramatic play props and materials for my professional development sessions. I purchased the PVC storage shelf pictured above from Amazon.
>
Unit/Theme Storage
The picture above shows all of the theme storage tubs in my garage. Each tub represents a theme; some themes have two tubs. I store everything from puzzles and manipulatives to story props and books inside the tubs. This picture shows only some of my boxes, I have another tower of these in another corner of the garage. I purchased my tubs from Target, they are Sterlite brand, the largest clear tubs that they sell, you can usually find them on sale two or three times a year.
File/Paper Storage
I went digital in 2015 and it was the best thing that ever happened to me! Read more about how you can get rid of all those papers HERE.
Desktop Storage

I love things that are cheap, yet functional and this dish drainer turned file organizer certainly fits the bill. I can quickly and easily put papers in the correct folders instead of just throwing them into a big pile on my desk.
Storing and Organizing Cards

Store and organize your flash cards and card games using a soap dish from the dollar store. Label the soap dishes on the outside and stack on a shelf or place in a basket for quick and easy access.
Magnetic Letter Storage
To keep magnetic letters organized and sorted I store them in this plastic nuts and bolts organizer. Each drawer is labeled with a letter so students know where to find letters and where to put them away. Creating activities for Letter Work time is a breeze when your letters are organized.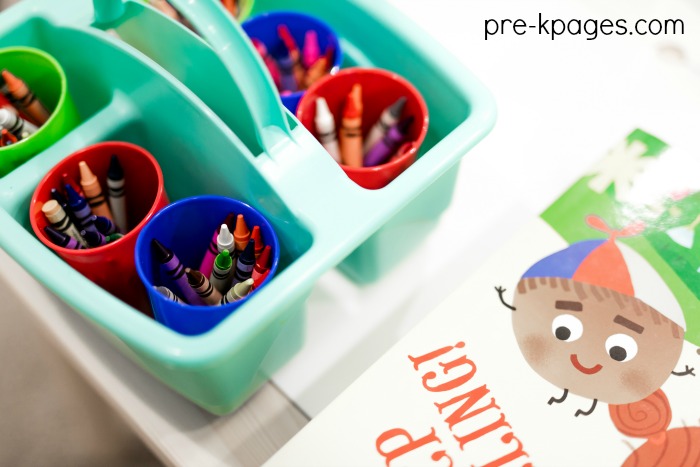 Student Supply Storage
Student supplies are housed in a caddy on every table, each table has a designated color. There is a cup with crayons and a pencil for each student at the table. Students share the supplies, the cups are not labeled with student names. This method cuts down on transition time, students can sit at the table and begin working immediately instead of traveling all over the room collecting supplies.
Organizing Markers
Organize the markers in your writing center with this ice cube tray designed to make ice cubes for water bottles. No more digging for markers!
Alphabet Stamps
Use ice cube trays to organize and store your alphabet stamps. Write the letter in the bottom of each space with a Sharpie. The students will then have to match the correct stamps to the correct space whenever they use the stamps, fun and educational at the same time!
Sticker Storage
Using a binder to organize your stickers will save you oodles of time. You will need a three ring binder, clear page protectors, a pen or marker, and cardstock. Place a sheet of cardstock in each page protector; on each piece of cardstock write the name of the sticker type (stars, smileys, sports etc). The cardstock will help your pages stand up instead of flopping over and spilling the stickers out. When you need a particular sticker just pick up the binder and turn to the correct page, no more digging and hunting for hours!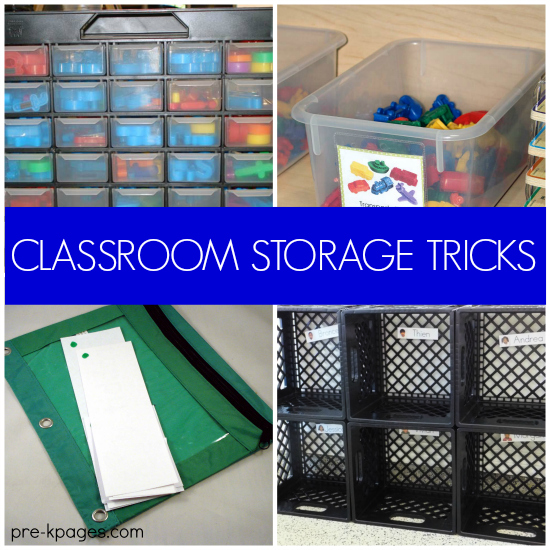 20 Classroom Storage Tricks
More classroom storage tricks.
Organizing Resources
More Teaching Tips from Pre-K Pages