A flannel board , or felt board is an important part of any early childhood classroom.
One of the biggest benefits of having and using a flannel board is the opportunity it provides for oral language development.
At the flannel board, students can re-tell nursery rhymes, fairy tales, and other popular stories.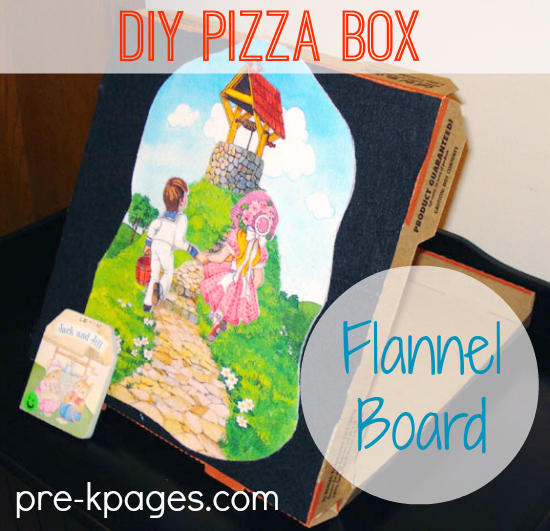 Flannel Boards in Preschool
I was very fortunate to have a beautiful, free standing easel with flannel on one side and a magnetic dry erase board on the other.
While being very pretty and expensive, the large easel does have its drawbacks. The flannel board easel is very tall which obstructs your view when you are trying to monitor all the students in the classroom.
It is also very narrow making it difficult for two students to stand side-by-side and play. I prefer that my students use the flannel board in pairs because of the social interaction and oral language opportunities it offers.
Another problem I encountered with the flannel board easel was that it was difficult to offer the students a variety of different flannel stories to choose from.
When I tried to hang storage bags from the side of the easel the story pieces were quickly mixed-up and became a huge mess.
DIY Pizza Box Flannel Board
The pizza box felt board has solved all of my problems -except how to get rid of the giant flannel board. It's one of my 40+ teaching hacks that are easy to implement and make teaching a bit easier!
Now students can select a box and sit down on the carpet to re-tell their favorite stories.
The re-telling center is much more popular now than ever before because I can offer more choices to the students.
Creating your own individual pizza box flannel boards is super simple! I have included the supplies you will need below.
Supplies Needed
Flannel/felt from craft store
Pizza Boxes- ask your local pizza parlor for unused boxes, most are happy to donate
Optional: Computer labels
How to Make a Pizza Box Fannel Board
First, cut your felt to fit the front of the pizza box and use the glue gun to adhere the flannel to the front of the box.
Flannel stories can be stored inside the box. The name of each story can be typed on a computer label and attached to the side of the boxes.
Store several boxes on a shelf and allow students to choose their favorites.