Playdough Center for Pre-K, Preschool, and Kindergarten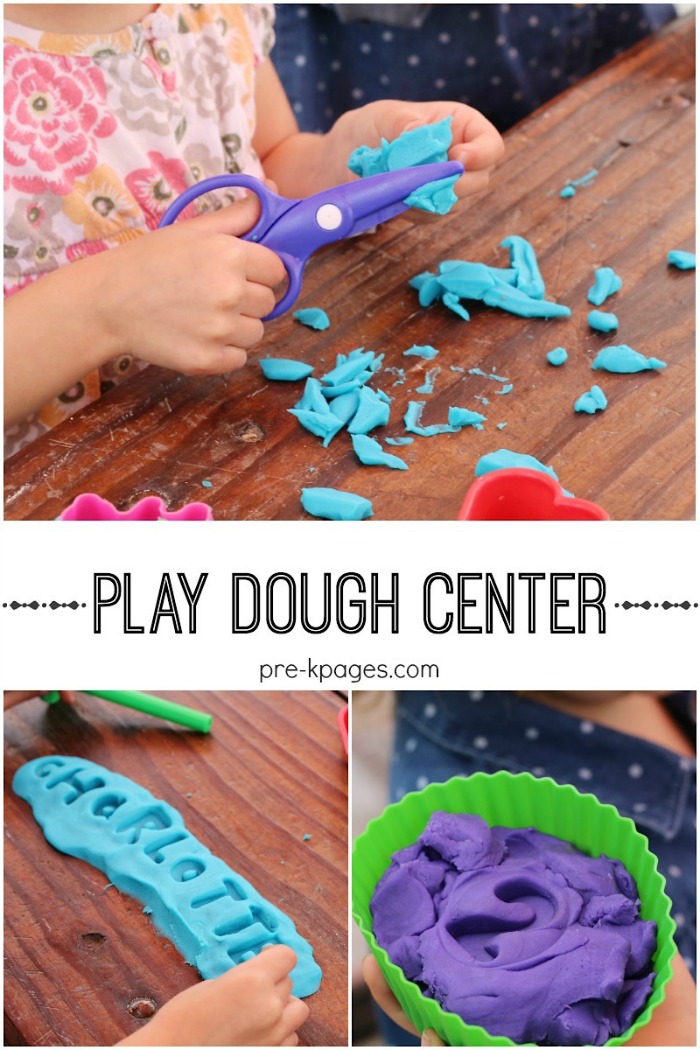 Play Dough Center
How to set up a playdough Center in your preschool, pre-k, Head Start or kindergarten classroom.
Organizing a Play Dough Center
The picture above shows how the play dough center is organized. There is a tub for each type of tool and they are clearly labeled with pictures and words. Materials are available on a counter so students can stand. Tasks like rolling lend themselves well to a standing position.
Young children don't have much upper body strength and they usually end up standing or kneeling when they play with dough even if chairs are provided because this position allows them a better angle at which to roll and manipulate the dough.
Homemade Playdough Recipes
You can always make your own playdough to use in your playdough center. This is the BEST DIY homemade playdough recipe that I use all the time.
More recipes:
Play Dough Resources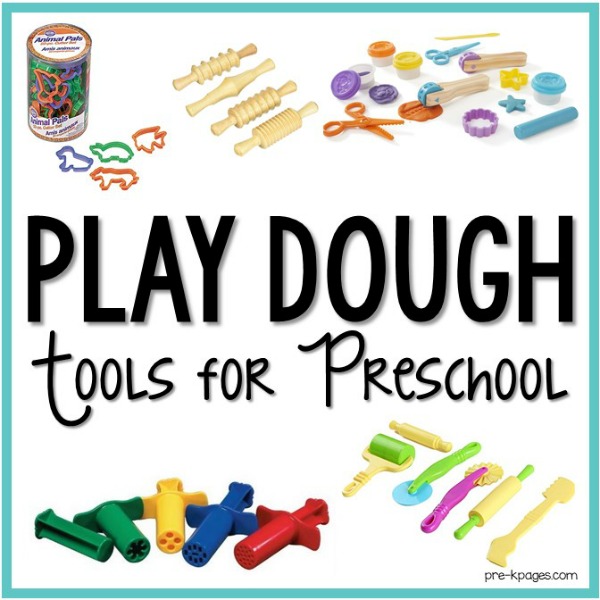 The Best Play Dough Tools
1. Textured Rolling Pins
2. Dough Extruders
3. Plastic Dough Scissors
4. Dough Tools
5. Cookie Cutters
6. Alphabet Dough Stampers
What materials do you keep in your play dough center?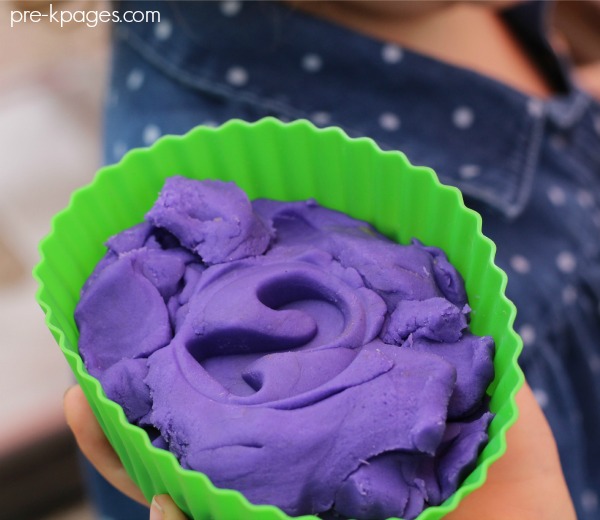 Dough Stampers
Check out how this child used dough stampers to stamp numbers in cupcakes- what fun! The silicone cupcake liners are from the dollar store.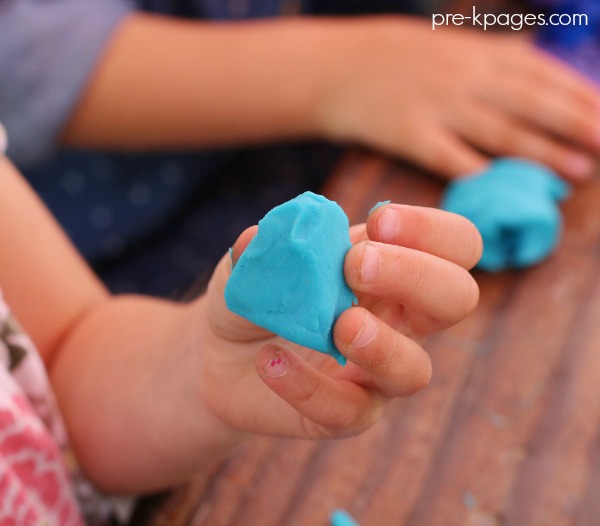 This little one is having fun with cookie cutters in the play dough center!
Play Dough Names
Your kids will be learning and having fun while stamping their names in play dough with these alphabet dough stampers!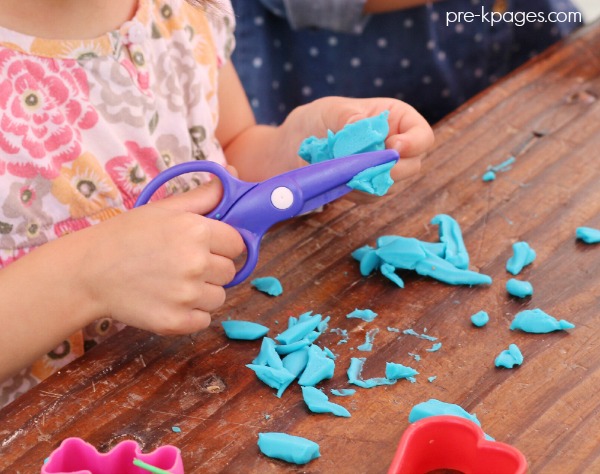 Cutting Play Dough
Using scissors to cut play dough is excellent cutting practice! These plastic dough scissors are perfect for cutting dough and won't rust like metal blades will.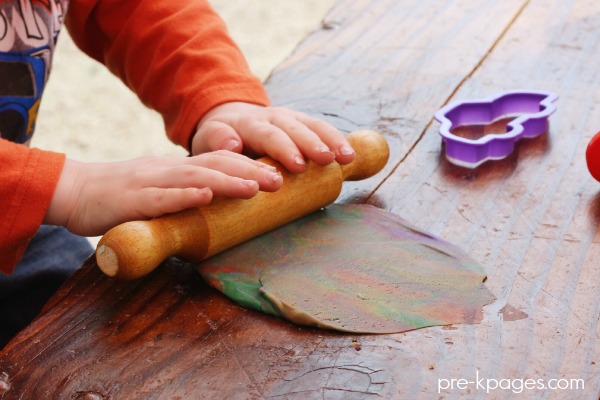 Rolling Play Dough
These sturdy, wooden rolling pins are perfect for exercising and strengthening the muscles of the hands, wrists, and shoulders needed for holding and writing with pencils and crayons!
Watch the Video
If your kids like to use play dough in the classroom then check out all my free, printable play dough counting mats.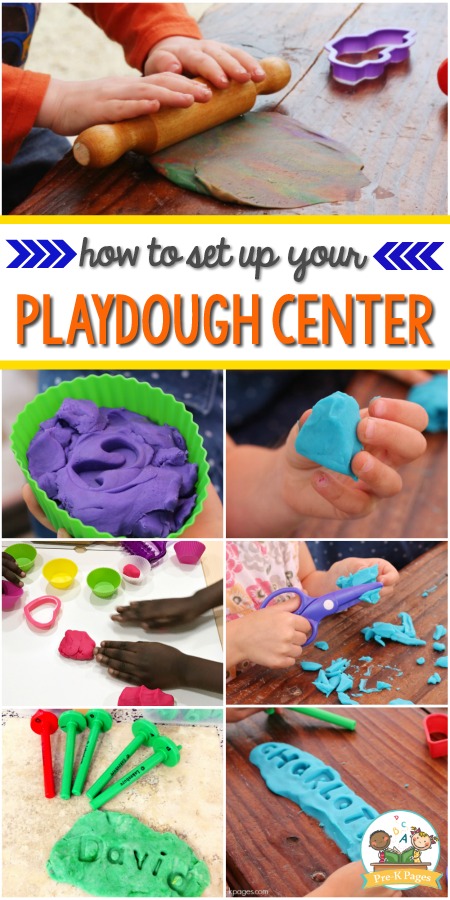 The Teaching Trailblazers
Having a play dough station available daily in your classroom is awesome! But let's face it, play dough can't make you a better teacher. The best place to discuss teaching best practices and get the support you need is in the Teaching Trailblazers. We have many printable lessons and on-demand video trainings to help you become the best teacher you can be! If you want to get on the waiting list for the Teaching Trailblazers, do it soon so you don't miss the next open enrollment period!
Preschool Learning Center
Have you always dreamed of setting up amazing, self-directed preschool learning center for your classroom…but feel like something is missing? How do you know which centers you need? What should you put in them?
Center Essentials Guide
Get your ultimate, step-by-step guide for setting up centers HERE
More Center Ideas from Pre-K Pages