I like to change my dramatic play center every few weeks to keep it fresh and exciting; not to mention the many academic benefits that are associated with play. One of the dramatic play themes that young children enjoy is Post Office play.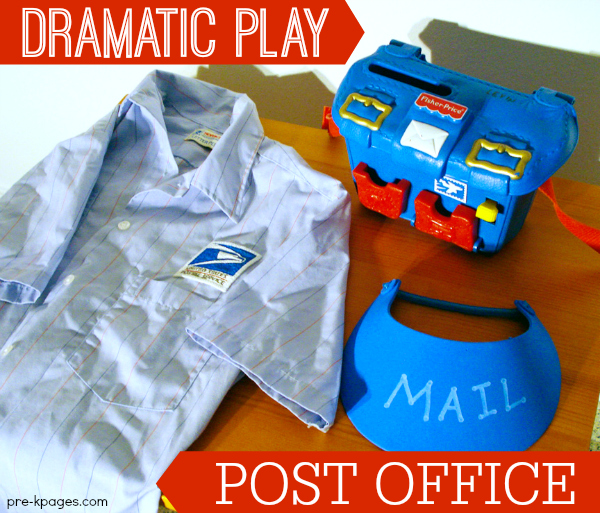 Dramatic Play Post Office Theme
The Post Office theme is very popular at this time of the year because Valentine's Day provides a natural opportunity to discuss mail. I have created a free printable Valentine card for your students to use in the post office center, keep reading to get your copy.
Post Office Pretend Play Props
Above, you can see some of the props in my Post Office center. I found the official USPS uniform shirt at a thrift shop. The Fisher Price mail bag was a garage sale find and the blue visor was fifty cents at the craft store. I used a paint pen to write the word "mail" on the visor.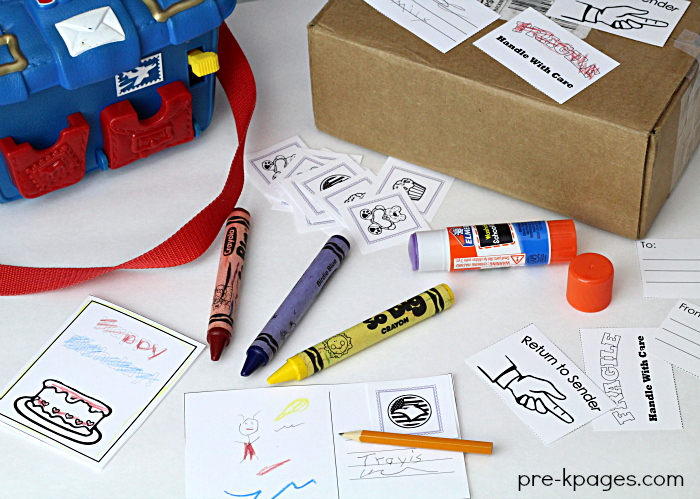 Make Your Own Mail Bag for Dramatic Play
You can make your own mail bag by writing the word mail on a fabric bag with craft paint. I found the little blue bags pictured above at my local craft store; they were three for a dollar.

One of my favorite books to introduce a mail/post office theme is Delivering Your Mail by Ann Owens. There is an entire series of these books and they are all very appropriate for young children with wonderful illustrations and a single line of text on each page.
Free Printable Valentine Card

To use the card cut around the outside, then fold first on the horizontal fold, then again on the vertical fold.
You can learn more about our dramatic play Post Office and download the 30 page printable kit here.