Do your students need help remaining on task in your play dough center? Sometimes, just adding a few picture cues or task cards can increase engagement in a learning center.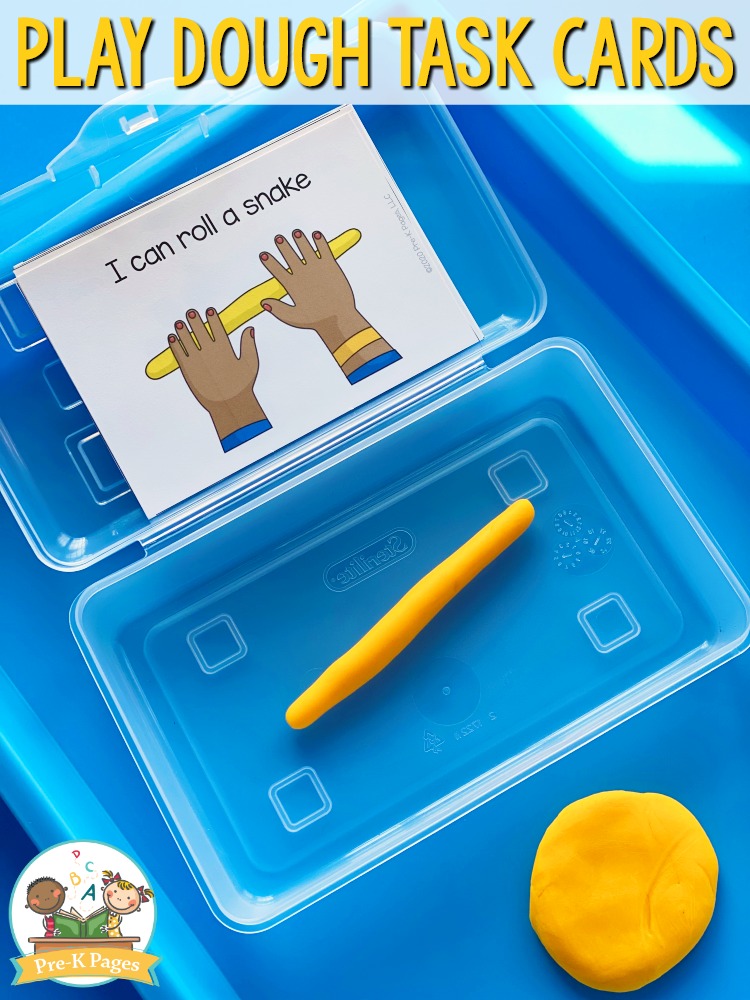 You can use these printable "I Can" task cards to help your students stay on task in the play dough center. While you don't want to stifle your student's creativity, in the beginning of the school year the play dough center can be a free for all if you're not careful.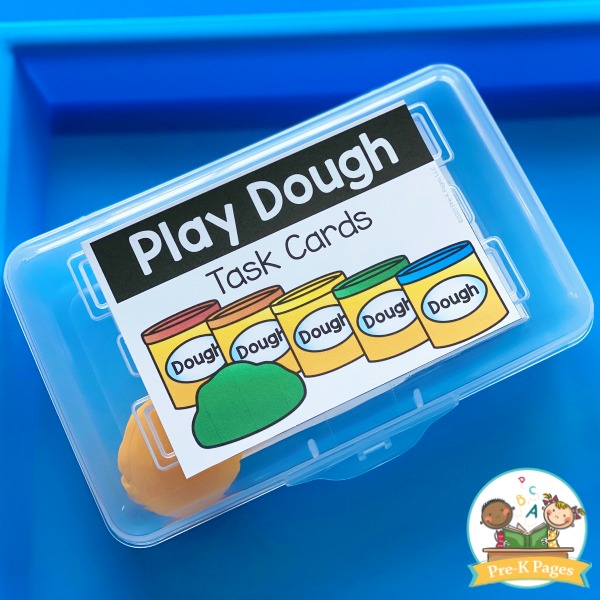 Play Dough Task Cards
Using task cards can be especially helpful if your students have not had any prior experience with play dough. They're also helpful if you need to provide evidence that early learning standards are being supported in your play dough center.
Each card has a picture of a task along with an "I can" statement. Students can look at the pictures as a reminder of the different ways to use the dough.
There is also a task card cover and an instruction page in case you would like to place the cards inside a task box for independent use.
Another idea is to select some of the pictures, cut, and glue to a page to create a poster for your play dough center.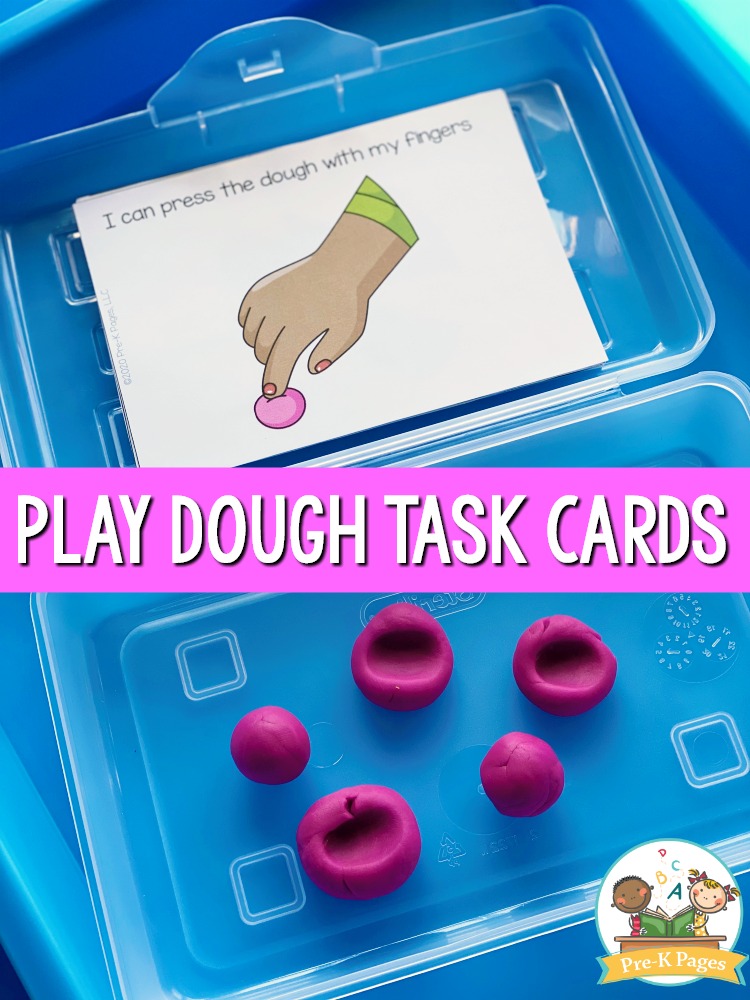 I Can Play Dough Task Cards
The play dough tasks included are:
Make a small ball
Make a large ball
Roll a snake
Cut the dough with a knife
Knead the dough
Flatten the dough with my hands
Flatten the dough with a rolling pin
Use cookie cutters
Pinch the dough with my fingers
Press the dough with my fingers
You can print the cards, laminate, cut, and place them in a task box or your play dough center. Choose the cards that best your needs and those of your students.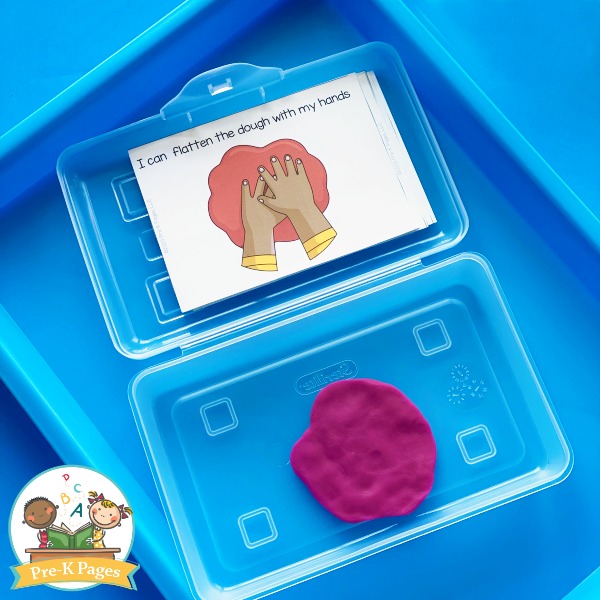 Ideas for Playing with Play Dough
Use Cookie Cutters: Add fun and creativity, spark imaginative play
Spell Your Name: Alphabet knowledge and name recognition
Make People: Develop oral language skills (children lend voice to people)
Roll Snakes: Develop fine motor skills and palmar arch in hand. Skills necessary for holding a pencil.
Roll the Dough: Using rolling pins allows children to practice their coordination skills and exercises the muscles in the shoulders and arms necessary for writing on flat surfaces
Cut Dough: Develop fine motor skills in hand. The dough provides a thick, stable medium which makes cutting easier and provides children with successful opportunities to practice cutting with scissors.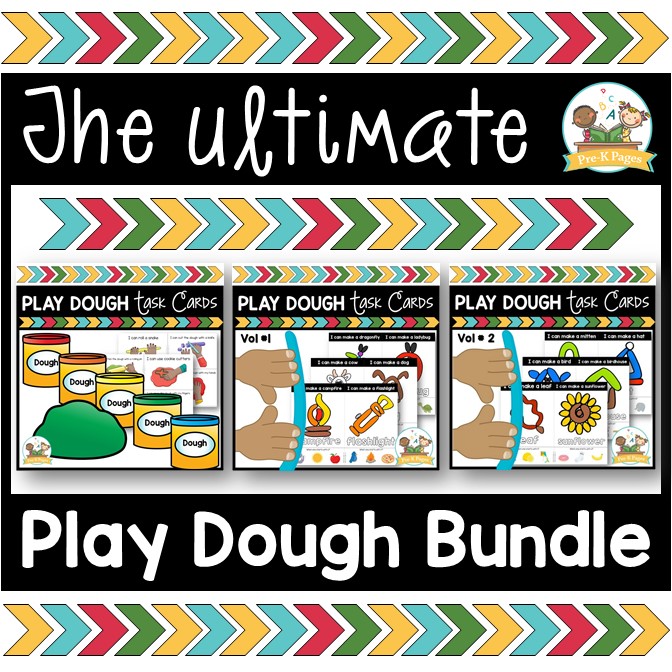 You can find these cards, and much more in my big bundle of play dough task cards you can use for the entire year.
More Learning Center Ideas from Pre-K Pages