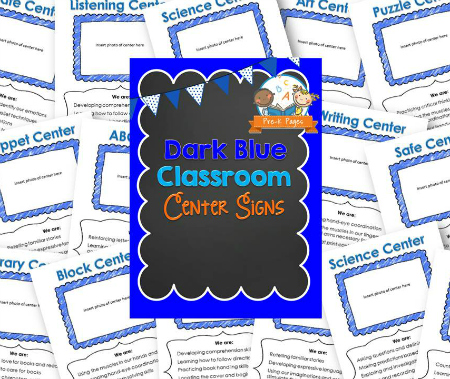 15 different center signs in PowerPoint format so you can easily insert your own pictures.
Plus, 4 blank pages so you can create your own personalized center signs!
What are Center Signs?
Center signs are displayed in each center in the classroom as a way to keep parents, administrators, and other adults informed of what students are learning in each center.
Displaying a photograph on each sign can help young children locate the centers.
Using photographs provides students with an example of what the center looks like when it is clean, looking at the pictures can help children learn how to clean-up appropriately.
Each sign has a "we are" statement followed by skills the children are learning in that particular center.
Purpose of Using Center Signs
As professional educators we often forget that not everybody knows and understands the value of play and the importance of using centers in the early childhood classroom.
The addition of center signs in your classroom can help educate visitors, parents, paraprofessionals, substitutes, administrators, and volunteers.
What's Included?
The signs included in each packet are:
ABC Center
Art Center
Block Center
Computer Center
Dramatic Play Center
Library Center
Listening Center
Math Center
Playdough Center
Puppet Center
Puzzle Center
Safe Center
Sand and Water Center
Science Center
Writing Center