Whatever happened to your magic wand?
That sprinkle of sparkle that enchanted your students, where they hung on every word you said?
Their little eyes glued to your smiling face as you explained how to wash their hands. How to stand in line. How to lower the lid.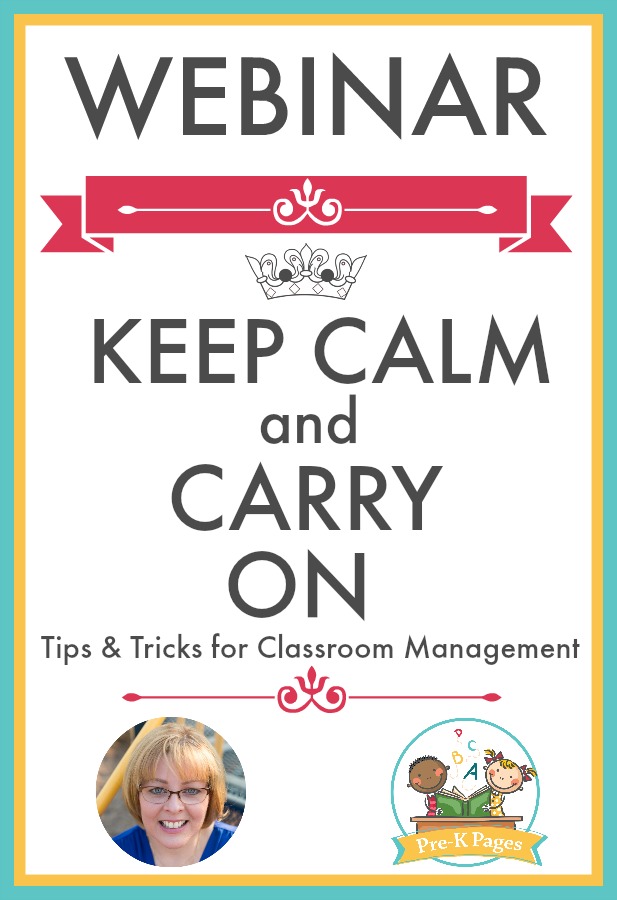 News Flash: Your magic wand is now smashed to pieces on the floor.
Because by March, the natives have taken over your classroom, and chaos rules the day.
Hitting. Pushing. Interrupting.
Sharing? What's that?
And cleaning up…Is completely out the window.
Listen, sweet teacher, if you're not careful, you'll throw out your "Teacher Voice" for something that will GET THESE KIDS TO LISTEN. (no guilt, ladies, no guilt.)
You know why? Because…
The problem with classroom management is that it NEVER sleeps.
And little mistakes you make early on can spell disaster by the end of the school year.
But on the other hand… what if you started things off right?
If you put systems in place to get those kiddos dancing to your music?
You'll know that next week – and EVERY week after that – will be better than this one.
Introducing…
Keep Calm and Carry On: Tips and Tricks for Classroom Management
A one-hour training to help you calm the chaos in your classroom without being a dictator, and without sucking out any of the joy!
After this 60-minute training, you'll have kids who can't wait to come to school…because they (finally) respect you, and you can give them the classroom they need. And with that great classroom management in place, your kids are free — and inspired — to learn.
In a nutshell?
You'll rule less and teach more.
THE DETAILS:
You'll learn how to:
Create a safe environment (it's not what you think!)
Provide opportunities for kids to develop self-regulation skills naturally throughout the day
How to establish ROCK SOLID procedures and routines that work!
Create an action plan to get started
Sound good?
When will this webinar take place?
Good news! You can watch the replay right now!
Special Bonus
During the webinar, attendees will also receive instructions for accessing a special bonus bundle of printables from Pre-K Pages worth $10. The resources included in the bonus bundle are:
You'll also get a certificate of attendance and the printable webinar handout.
What Attendees Are Saying…
"This webinar was a game changer for me!" Robyn M.
"I feel like I'm ready to start fresh next year with a clean slate and a new attitude!" Ashley P.
"This made so much sense to me! I've always struggled with classroom management but now I feel like I have a solid plan to help me make changes I want." Linda R.
"Maybe this old dog CAN learn some new tricks! After 27 years in the classroom I'm going to try some of these ideas next year!" Jennifer S.
Here's how it works
Step 1: Add the webinar ticket to your shopping cart, indicate the number of tickets you would like to purchase, then checkout and pay for your ticket(s). Reminder, one ticket per viewer is required.
Step 2: After a successful transaction, you will be able to access your webinar, certificate, handout, and freebies immediately.
Step 3: You will also receive a receipt via email for your purchase.
Need more than one certificate for groups? No problem, just print multiple copies.
What you need to watch the webinar
Computer, tablet, or smartphone
Strong internet connection
Speakers or earbuds so you can hear the webinar