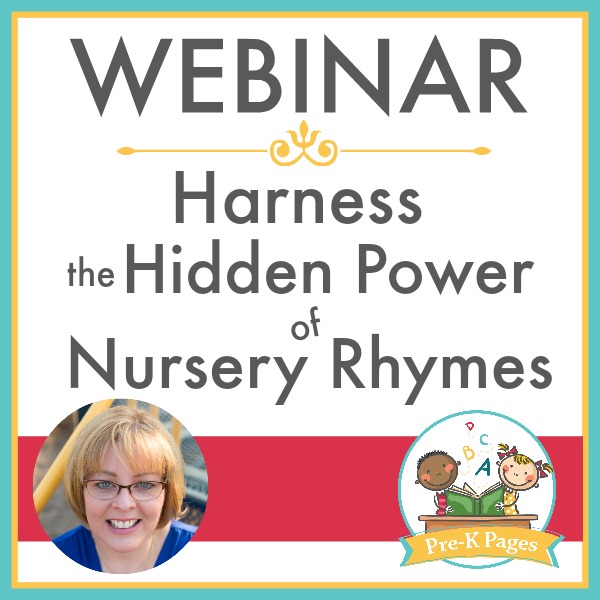 [WEBINAR] Harness the Hidden Power of Nursery Rhymes
Did you know that phonological awareness skills are one of the strongest predictors of future reading success?
Do your kids struggle with phonological awareness skills? I know they do, because my kids did too!
But is the very thought of adding even one more thing to your already jam-packed day so overwhelming it makes you want to scream?
Yep. I thought so.
I'll be sharing 4 simple steps to turn your kids into phonological awareness rockstars!
You'll learn how to:
Infuse your classroom centers with nursery rhymes
Use nursery rhymes in your small group literacy and math activities
How to get parents to help you teach phonological awareness skills
Create an action plan to get started
Sound good?
When will this event take place?
Good news! You can watch the replay right now!
Special Bonus
During the webinar, attendees will also receive instructions for accessing a special bonus bundle of four nursery rhyme packets from Pre-K Pages worth $32. The nursery rhyme packets included in the bonus bundle are:
Humpty Dumpty (including exclusive center lesson plans!)
Hickory Dickory Dock
Hey Diddle Diddle
Mary Had a Little Lamb
You'll also get a certificate of attendance and the printable webinar handout.
Here's how it works
Step 1: Add the webinar ticket to your shopping cart, indicate the number of tickets you would like to purchase, then checkout and pay for your ticket(s). Reminder, one ticket per viewer is required.
Step 2: After a successful transaction, you will be able to access your webinar immediately.
Step 3: You will also receive a receipt via email for your purchase.
Step 4: During the webinar, you will be given instructions for accessing your free bonus printables, the webinar handout, and certificate.
Need more than one certificate for groups? No problem, just print multiple copies.
What Attendees Are Saying
Rachel S: "One of the best webinars! Awesome ideas! I am inspired!"
Cayce: "I'm going to recommend this to my fellow preschool teachers. So excited about what I learned!"
Joyce: "I am so glad I decided to watch!"
Patricia: "This is so great. I'm in love."
Elizabeth: "I'm blown away!"
Peggy: "I am so pumped!"
Cindi: "I have been teaching early childhood for 30 years…finally I have found a kindred spirit!"
What you need to watch the webinar
1. Computer, tablet, or smartphone
2. Strong internet connection
3. Speakers or earbuds so you can hear the webinar