The hidden goal of teaching pre-k math
Imagine just a few years from now, when that quiet, sometimes overlooked pre-k student of yours is 10 years old.
In math, she'll be working with fractions…equations…long division.
How will she feel about math when she's 10?
Frustrated? Like a failure?
Will she be crying at the kitchen table, hunched over her homework, muttering I hate math to herself?
Or will she explore new math ideas with excitement, seeing them as mysteries to unravel, mountains she can climb, and enjoying a beautiful view where the mathematical world makes sense?
It turns out, how she feels about math when she's 10 is largely up to YOU.
Yes, right now. As early as pre-k.
Here's the truth:
The way you teach math now to your 3- to 5-year-olds will have a direct impact on whether they feel like math superstars—or math failures—in later elementary school and beyond.
That's because pre-k math is SO much more than just counting and shapes.
The hidden goal of Pre-K math is for every one of your students to learn how to think in math. Seeing not just numbers, but patterns and relationships between physical objects all around them.
A tall order?
You bet.
But it's easier than you might think.
GOOD NEWS:
The best way for your students to learn how to think mathematically doesn't require worksheets, endless chanting, drills, or tears.
Their very best learning happens while your students play.
ENTER: The Ultimate Pre-K Math Bundle
A collection of done-for-you math kits that encourage exploration, play, and help every child see the world mathematically.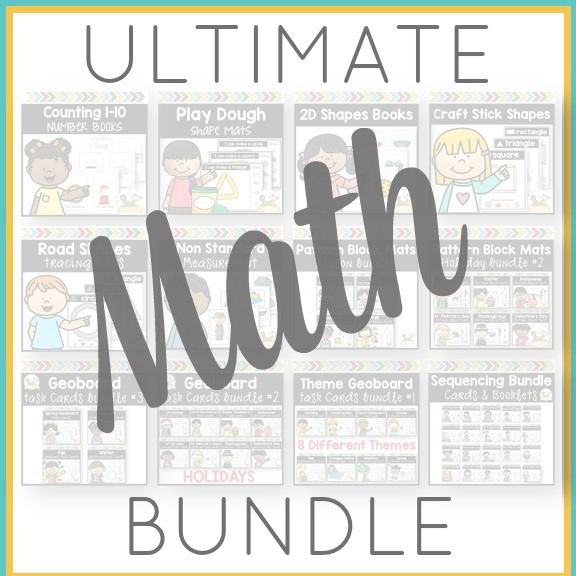 What's inside the Ultimate Pre-K Math Bundle?
The ultimate Pre-K math bundle includes 12 of our best-selling research-based math resource collections!
Your students will learn…
One to One Correspondence skills—Ever asked a preschooler to start counting orally? Maybe it went something like this "1, 2, 6, 3, twelveteen… did you know my grandpa only has 12 teeth?!" Time to fix that, hmmm? Our fun, hands-on dice games help kids develop this important skill, from beginner to advanced! But the best part: In small groups, or in centers, they think they're just having fun!
Subitizing—One of the most overlooked math skills for Pre-K, subitizing can be the key to unlocking mathematical thinking! In a nutshell, you're teaching your students to recognize quantities without having to count each individual item. Subitizing is an important precursor to adding and subtracting…but most teachers don't even know it needs to be taught! You do, though, since you have the Ultimate Pre-K Math Bundle. Just lead a small group in a themed subitizing activity, and you'll be teaching one of the most important math skills there is!
Measurement—If your students are too young to understand inches…feet…centimeters… Never fear! They can still build foundational skills for measurement in ways that make sense for 3- to 5-year olds. We've put together fun hands-on activities that allow your students to measure seasonal and everyday objects with Unifix cubes, teddy bear counters, pom-poms…or even dollar store erasers! The sky's the limit as your kids explore measurement in creative ways. And if they're ready for paper rulers? We've included those, too.
Sequencing—What order do things happen in, and how long does each step take? Our sequencing activities help your students make sense of the real world—and develop foundational skills they'll need to tell time, and to be more successful when reading sequences of letters! As a skill, sequencing needs constant reinforcement all year long in creative, engaging ways. No worries—we've got you covered!
Shapes aren't a unit of study; they're a skill. In order for kids to recognize shapes (and notice them in everyday life!) they need to be reinforced again and again, in many different ways. Luckily, our themed and seasonal hands-on shape activities can be used all year long…and bonus! They're great for helping your students develop fine motor coordination to boot!
Patterns—Kids learn best by doing…because touching and manipulating 3-D objects helps them retain information and concepts more easily. The bad news? It can take months or even an entire school year for preschoolers to achieve mastery of patterning. But the good news? With the Ultimate Pre-K Math Bundle, you'll be able to easily give your students patterning practice, all year long.
Numeral identification—Ah, the icing on the cake. Nope, this is not a basic skill; it's something that comes together quickly and easily once your students have built the mathematical foundation through all of the other games!
Each activity is designed to be used for small groups and centers—so no matter whether your students are on the fast track or taking a slower pace (or anywhere in between!), you'll be able to reach every student right where they are.
Activities in this bundle include:
Play dough shape mats • craft stick shape mats • take-home easy reading shape books • road shape tracing mats for toy cars • themed geoboard explorations • seasons geoboard explorations • holiday geoboard explorations • take-home easy reading counting books • sequencing activity cards + folded booklets • themed measurement fun • holiday pattern block mats • seasons pattern block mats • subitizing games • one-to-one correspondence games • patterns unit
In short?
You'll have everything you need for a full year of research-based, hands-on mathematical explorations and play.
Get the Ultimate Pre-K Math Bundle
When your students are 10 years old, they won't be crying over math homework at the kitchen table.
Not your kids.
Instead, they'll be multiplying, dividing, and manipulating numbers…decimals…fractions…
…as if it's nothing more than a game.
Everyone will think they're brilliant—an entire class full of 4th grade math geniuses.
But you and their parents will know the truth:
They have YOU to thank for it.