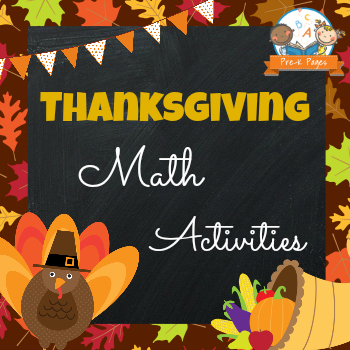 53 pages of fun, hands-on Thanksgiving math activities to prepare your pre-k and kindergarten students to meet early learning standards.
The skills addressed in this packet include the following:
*Counting
*Number Recognition
*Fine Motor Skills
*One-to-One Correspondence
*Graphing
*Patterning
*Sorting
What you get
Counting Pumpkin Play Dough Counting Mats (Color)
Gobble! Gobble! Number Identification Game (includes both color and black and white versions)
Over the River Board Game (Color)
Turkey Roll and Stamp (black and white)
Thanksgiving Friendship Mix Graph (black and white)
Thanksgiving Patterns (Color)
Friendship Mix Sorting (one black and white, one color)
Turkey Counting Book (Black and white)
53 pages of instant hands-on math learning made fun for your students!
Additional materials needed: small manipulatives like unifix cubes or similar to use with board game, bingo dot markers or crayons, play dough