What if you could do whatever you want on Sunday nights?
Would you…
Cuddle up with your partner by the fire
Play board games as a family
Read an extra three chapters of that page-turning novel, or binge watch Gilmore Girls reruns?
Here's the truth: You don't have to spend every Sunday night scrambling to put together lesson plans.
That's because with Pre-K Pages' Ultimate Pre-K Lesson Plan Bundle, you have everything you need to be the BEST teacher in your center or school. Already done FOR you.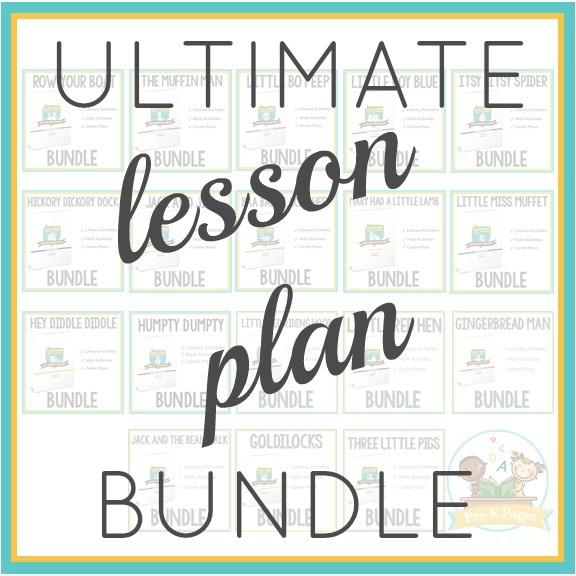 Our Fairy Tale and Nursery Rhyme themed lesson plans + ready-to-print activities are:
Research-based: So you can show your director you're using a spiraling curriculum that helps your students retain critical information and skills in their long-term memory. (Your performance reviews? GLOWING!)
Differentiated: Finally, you'll be able to help every student in your classroom using the same materials. Nobody gets left behind, and even your most advanced learners are extending what they know! That's because these hands-on activities can be used with your whole class, 1:1, or in small groups!
Creative and Engaging: We believe in the power of PLAY to enhance kids' learning and support their social/emotional development. When your students are absorbed in hands-on learning fun, you won't have to remind them to stay on-task or stop crawling around under the tables, pretending to be the Paw Patrol Pups. Hands-on learning activities mean kids get more done, with fewer management hassles for you!
Pre-Planned and Ready to Teach…for a Full Year: No more donating your late nights or weekends (unpaid) to your classroom—you'll be able to be fully present with your family at home. That's because we've mapped out 18 units (12 nursery rhymes + 6 fairy tales) with step-by-step plans, to cover a full year of literacy and math instruction!
Perfect for 3 to 5 year olds. With 20 years in the classroom, Pre-K Pages' creator Vanessa Levin knows preschoolers. They're a bundle of sweetness and spice, soaked in a 5 Hour Energy drink! Movement, hands-on activities, and play are a MUST to keep your students engaged. And with these lesson plans, you won't have to sacrifice quality, research-based literacy + math education to keep those kids (and their parents) happy.
Designed for New Teachers and Seasoned Veterans Alike. It's simple: good teaching is good teaching. Whether you're a veteran teacher of 30 years or fresh out of teacher training, you know the importance of bringing your A-game to your students. We've simply applied best practices to developing activities + step-by-step lesson plans FOR you…so you can give your kids (and your family) more of what ONLY you can give: yourself.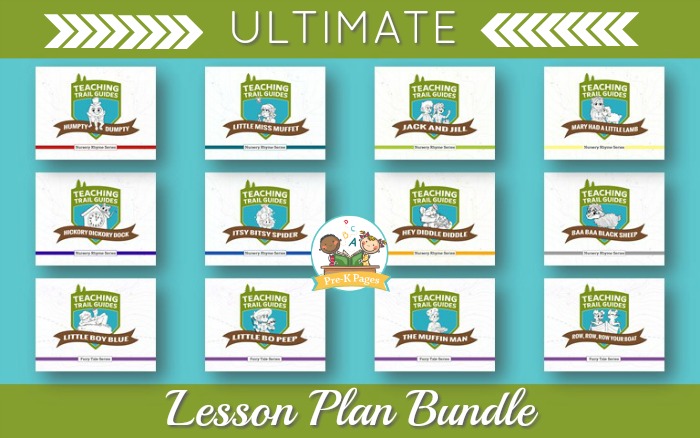 What's Inside?
The Ultimate Pre-K Lesson Plan Bundle includes math + literacy small group activities, printable lesson planning guides, and learning center resources for 12 nursery rhyme units + 6 fairy tale units!
These include:
Humpty Dumpty • Little Miss Muffet • Jack and Jill • Mary Had a Little Lamb • Hickory Dickory Dock • Itsy Bitsy Spider • Hey Diddle, Diddle • Baa Baa Black Sheep • Little Boy Blue • Little Bo Peep • Row, Row, Row Your Boat • Muffin Man • Jack and the Beanstalk • Three Little Pigs • Gingerbread Man • Goldilocks and the Three Bears • The Little Red Hen • Little Red Riding Hood
Each Fairy Tale or Nursery Rhyme is designed to be taught for one or two weeks so your students will be immersed in playful learning that supports their development across all domains—all year long.
"The children are making connections and learning new skills."
I like your fairy tale packets because I can extend and enrich the fairy tales with math and literacy skills. The children absorb so much more when they can make connections and learn new skills in the context of a favorite story.

Paula Kephart
PreK3
"I'm less stressed – everybody is happy!"
I'm new to Pre-K this year and it's VERY different from 2nd grade, I don't know what I would have done without these fairy tale plans and activities. My kids love the activities and I'm less stressed – everybody is happy!

Sana
Pre-K Teacher
Get the Ultimate Pre-K Lesson Plan Bundle
Show up in your classroom each day more confident, totally prepared, and ready to pour into your students. And when the school day ends? Leave that heavy bag behind.
It's time to take your nights and weekends back—for family and for yourself.