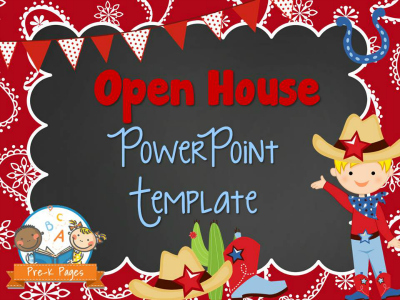 A ready made Western Theme PowerPoint template for your open house specifically for preschool, pre-k, and kindergarten.
Want a video preview of this product? Take the tour here!
Based on my many years of experience as a classroom teacher I created this presentation you can personalize to show parents at your open house, back-to-school, meet the teacher or parent night event. Having a prepared presentation will help make the beginning of the year less stressful for you, your students, and their parents.
What you get:
29 slide templates with text headings PLUS 4 blank template pages without headings.
What you CAN do with this template:
*Duplicate the 4 blank template slides that are included so you can have as many as you like.
*Reorder the slides to meet your needs and delete those you don't need.
*Insert text boxes and type your own text to personalize the presentation for your classroom.
What you CAN'T do with this template
Change or move the images embedded in the slide template. This is to comply with copyright terms of the graphic artists.
Slide Titles
Meet the Teacher
Contact Information
Start Time
End Time
Drop Off
Pick Up
After School Care
Breakfast Procedures
Tardy Policy
Attendance Policy
Lunch Procedures
Meal Payment Procedures
Weekly Folder
Daily Folder
Homework Policy
Report Card Schedule
Grading Policy
Absence Procedures
Dress Code
Backpack Suggestions
Extra Clothes
Transportation Procedures
School Supplies
Birthday Policy
Classroom Rules
School Rules
Helping the Teacher
Helping My Child
** Note to Purchaser: You cannot change the layout or template of the document. This file is offered in PowerPoint format to allow you to easily add text to each slide for personalization. Please make sure you can add text in your version of PowerPoint and you don't have a Read-Only version. If you do not have PowerPoint or do not know how to use PowerPoint please do not purchase this product. **