I can't believe October is almost here! Visiting the pumpkin patch is a fun field trip many preschool and kindergarten classes take every year.
One of my earliest school memories is scooping out a pumpkin in kindergarten, then roasting and eating the seeds. Perhaps this is a vivid memory because I ate too many pumpkin seeds and as they say… what happens in kindergarten stays in kindergarten!
Pumpkin Patch Pretend Play
To celebrate the fall season I created a new pumpkin patch dramatic play kit. This kit includes printable props to help you easily create a pumpkin theme in your dramatic play center. The 38 page printable packet contains Open and closed signs, a pumpkin patch sign, picture cards and much more.
How to Set Up a Pumpkin Patch Pretend Play Area
First, I stocked up on pumpkins and gourds at my local grocery store. Then I made a quick stop at the dollar store for some fall flowers and grabbed the scarecrow and hay bale for 40 percent off at my favorite craft store. Mission Pumpkin Patch accomplished!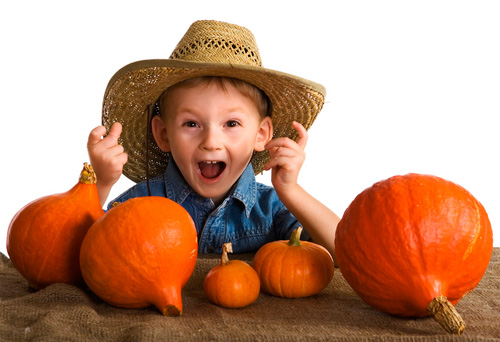 Photo Credit: Larisa Lofitskaya
Your students will have a blast as they pick the perfect pumpkin, sort the pumpkins by attribute, and measure and weigh their pumpkins.
There's also a menu for creating a pumpkin cafe where students can take orders and exchange money to support the development of math, oral language, literacy and writing skills. Check out my pumpkin pie in a cup recipe too, it's delicious!
Books About Pumpkins
Here are my 10 favorite books about pumpkins to build background knowledge
Pumpkin Circle: The Story of a Garden by George Levenson

From Seed to Pumpkin by Wendy Pfeffer

It's Pumpkin Time by Zoe Hall

Pumpkin Jack by Will Hubbell

Pumpkin Pumpkin by Jeanne Titherington

Pumpkin Soup by Helen Cooper

The Runaway Pumpkin by Kevin Lewis

Seed, Sprout, Pumpkin Pie by Jill Esbaum

Too Many Pumpkins by Linda White

The Very Best Pumpkin by Mark Kimball Moulton

To read more about this dramatic play kit visit the Pumpkin Patch page.

More Halloween Ideas