Are you looking for an educational and fun way to celebrate Thanksgiving in your classroom? This simple recipe for no-bake pumpkin pie in a cup is super quick and easy to make! You can use this free printable picture sequencing activity I created to add an educational aspect to this activity, keep reading to grab your copy.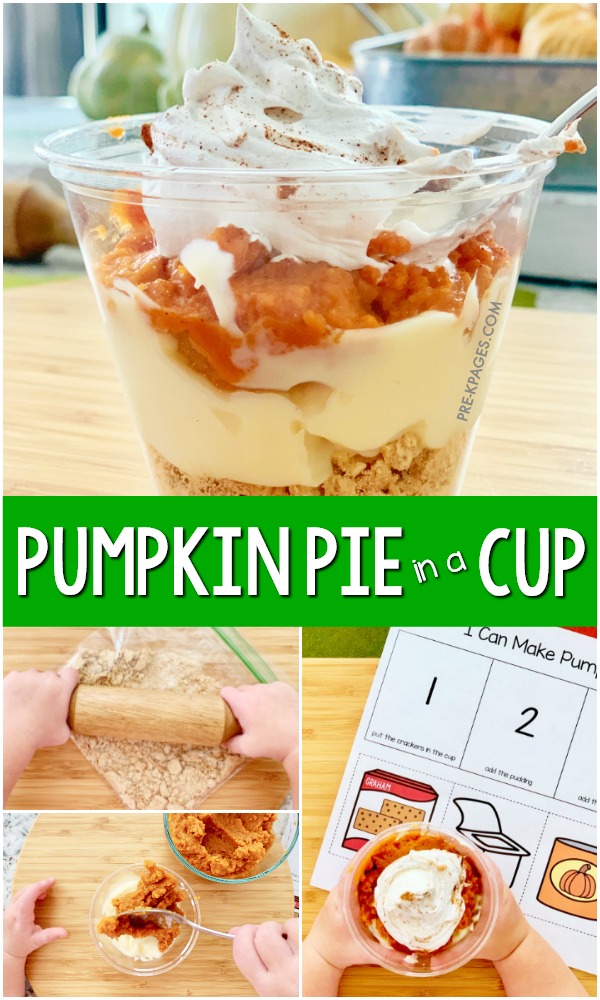 Pumpkin Pie in a Cup Recipe
Let's face it, trying to make learning fun and educational at the same time can be challenging. You may even feel like there's not enough room in your schedule for fun anymore.
But what if you could combine good old-fashioned fun with academic learning at the same time? That's exactly what you'll get when you try this classic pumpkin pie in a cup recipe in your classroom!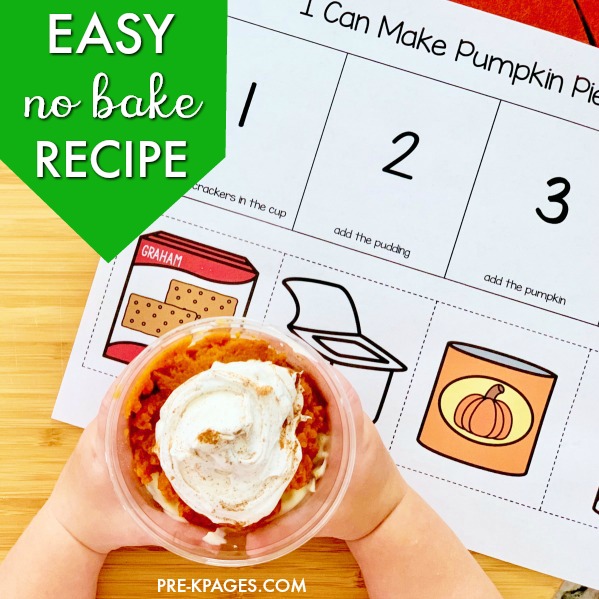 When your little learners are making their mini no-bake pies they're learning important academic skills like following directions, sequencing, and ordinal numbers. They're also learning about measurement as they scoop, pour, and mix ingredients, all while developing fine motor skills at the very same time.
And don't even get me started on the opportunities for rich oral language development your kids will experience as they make their very own pies.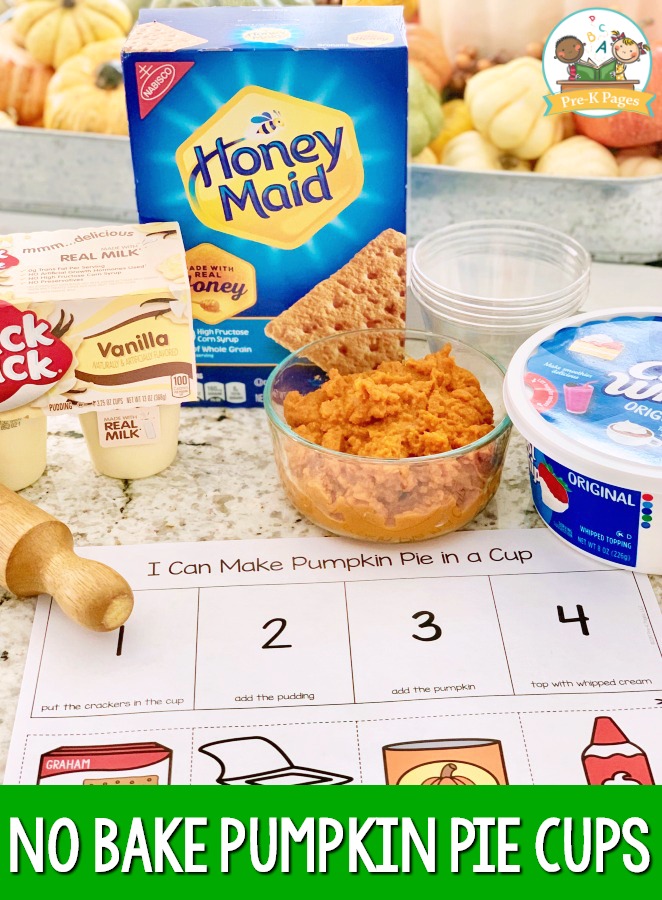 No Bake Pumpkin Pudding Cup Ingredients
Now that you know the educational value of using simple recipes in the classroom, you can start gathering your ingredients. Here's what you'll need:
1 vanilla pudding cup per child
2 graham crackers per child
2 tablespoons of pumpkin pie mix per child
Whipped cream
Cinnamon
You'll also need one each of the following for each child in your class: a clear plastic cup, a spoon, and a zip top plastic sandwich bag.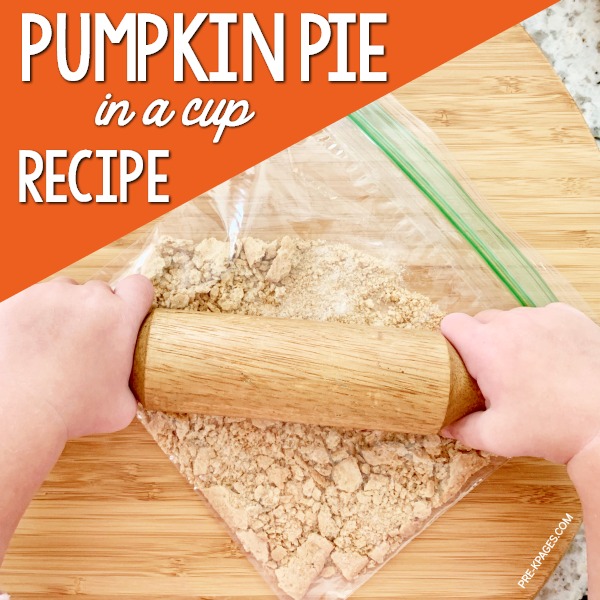 Easy Pumpkin Pie in a Cup Recipe
Start by giving each of your students 2 graham crackers in a zip top plastic sandwich bag. You can use cinnamon graham crackers if you want to give your mini-pumpkin pie snacks a bit of extra flavor.
Next, secure the top of the bag to contain the crumbs and invite your students crush the graham crackers inside the bag.
Then, invite students to sprinkle the crushed graham cracker crumbs into the bottom of their clear cups.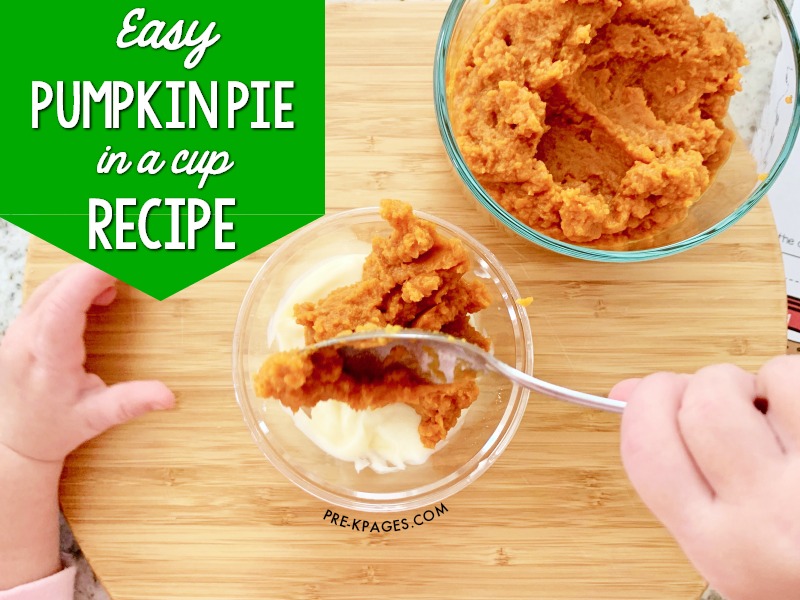 Pumpkin Pie for a Thanksgiving Celebration
Now you can use a spoon to scoop the vanilla pudding on top of your crushed graham crackers.
To transform this simple snack into pumpkin pie, invite your students to add two tablespoons of pumpkin pie filling to their cups. Invite them to use their spoons to mix the pudding and the pie filling together.
Finally, you can invite your kids to add a squirt or dollop of whipped cream to the top of their creations and sprinkle with cinnamon.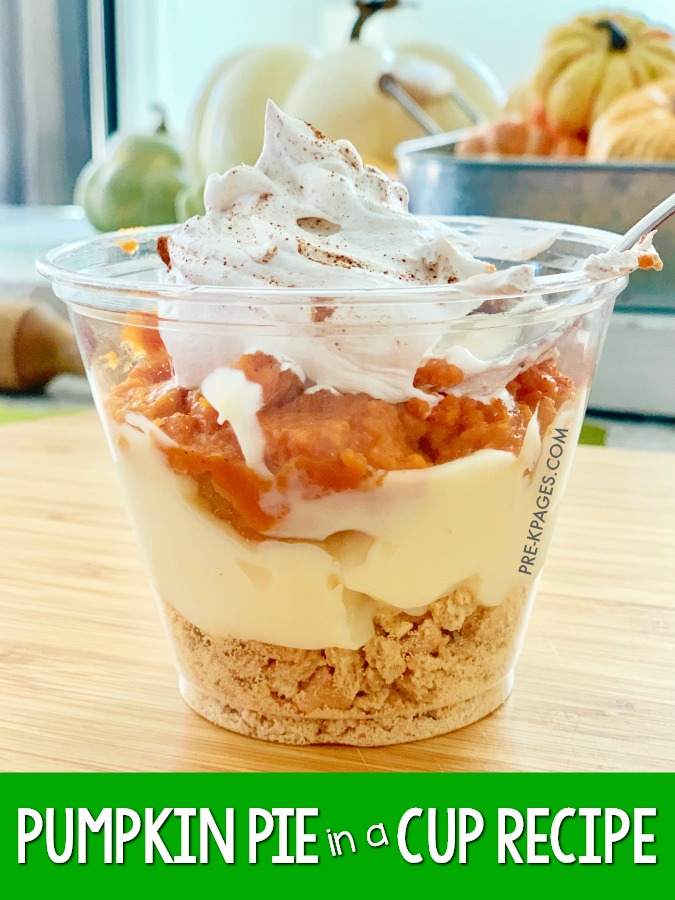 Pumpkin Pie in a Cup Printable
I used to buy a pumpkin pie for my class each year at Thanksgiving, we would taste it and graph who liked it. But only a few of my students would actually taste it and most of them wouldn't even touch it on a dare.
When I switched to this fun recipe they gobbled it up and even asked for more! When your kids are involved in the process of making these tasty treats, they'll be much more engaged and willing to taste it than if you were to just serve it to them.

If you liked this simple, kid-friendly recipe you can check out my best ideas and tips for cooking with preschoolers here.
This recipe isn't just for kids, I've also made it for adults and it was a big hit! If you're making these cups for adults and you want to get fancy, then you can sprinkle any remaining crushed graham crackers on top.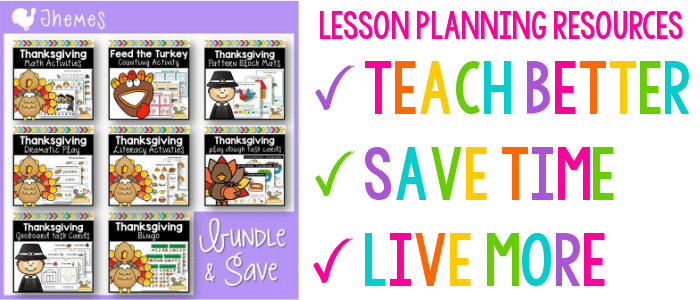 More Thanksgiving Ideas