I shared this recipe for easy Thanksgiving pumpkin pie in a cup on my Facebook page last week and there was a lot of interest so I added some pictures and a printable recipe for you.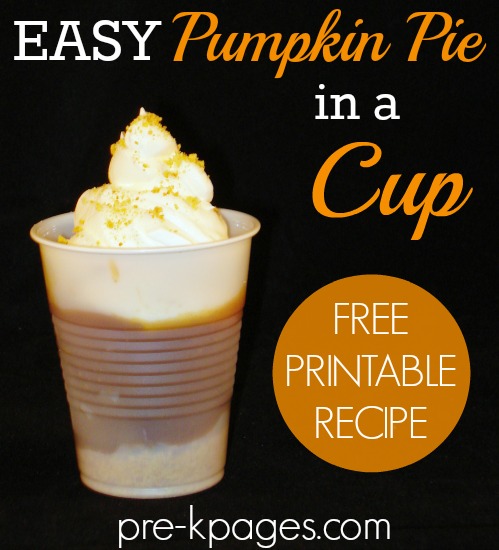 Pumpkin Pie in a Cup Recipe
In the kitchen world I'm known as "she who burns slice and bake cookies" so this recipe must be really easy! I recently made these for an adult gathering and they were a hit with the "big kids" too.
Related post: Ideas and Tips for Cooking with Preschoolers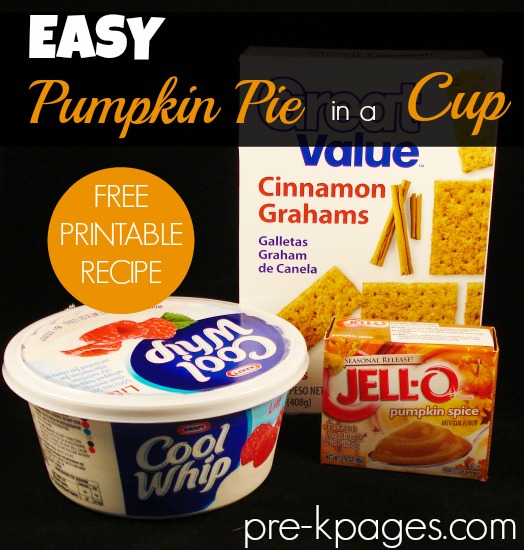 Ingredients for Pumpkin Pie in a Cup
You only need 4 ingredients:
Milk
2 packages of Pumpkin Spice Jell-O instant pudding
2 containers of Cool Whip
Graham Crackers

Click on the picture above to download the printable pumpkin pie in a cup recipe.
How to Make Pumpkin Pie in a Cup
This recipe makes enough for one class of about 20 students if you use 3 oz cups. I found the Pumpkin Spice Jell-O at Wal-Mart.
Prepare both packages of Jell-O according to the directions on the box and mix in one container of thawed Cool Whip. Place the Jell-O in the refrigerator to cool.
If you can't find Pumpkin Spice Jell-O at your store you can also make this recipe by mixing vanilla pudding with canned pumpkin.
Graham Cracker Crust
While the Jell-O is cooling put your graham crackers in a Ziploc bag and crush them with a rolling pin or spoon. Here's a quick tip for filling the cups, put them in a muffin pan to keep them upright and transport them safely.
Sprinkle the bottom of each cup with a layer of crushed graham crackers. I used cinnamon graham crackers because they were sold out of the generic regular graham crackers and I liked it because it gave it a little extra sweetness.
Then spoon the chilled pudding into the cups leaving enough room at the top for the Cool Whip.
Pumpkin Pie Topping
Next, take one container of thawed Cool Whip and scoop it into a gallon size Ziploc bag.
Squeeze all the Cool Whip towards one of the bottom corners, then snip off the end to create a pastry bag.
Squeeze the bag and squirt the Cool Whip on top of each cup. When finished, sprinkle the remaining crushed graham crackers on top of your mini pumpkin pies and pat yourself on the back because they look so awesome!
Great for Class Parties!
I used to buy a pumpkin pie for my class each year and we would taste it and graph who liked it, but only a few of my students would actually taste it and most of them wouldn't even touch it.
When I switched to this fun recipe several years ago they gobbled it up and asked for more. Plus it is so much easier to pass out cups to an angry mob your students compared to cutting and serving a pie.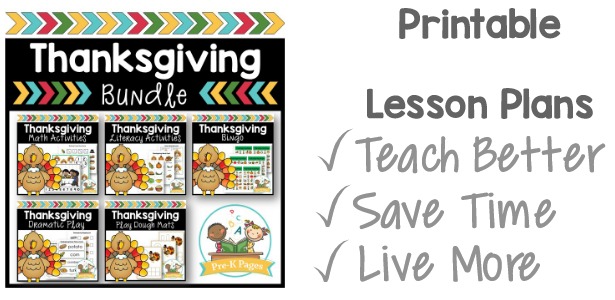 More Thanksgiving Ideas