These scented discovery bottles are perfect for the science center in your preschool or kindergarten classroom!
I love anything that can promote free exploration and inquiry and this idea is "just right" for young children, as Goldilocks would say.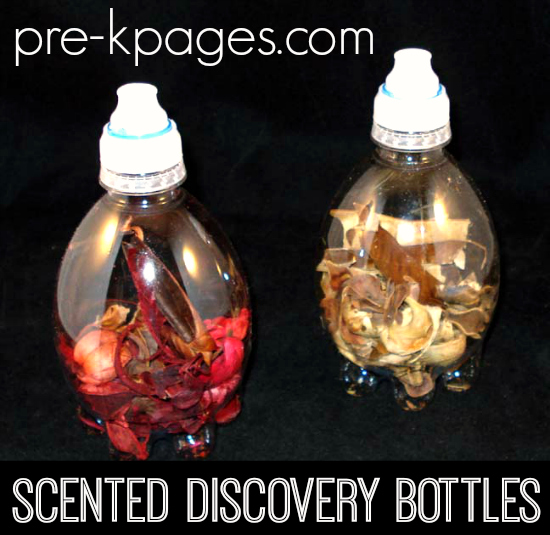 Science Scented Discovery Bottles
I made these scented discovery bottles for my science center using Ozarka Aqua Pod bottles with sports caps. This brand of water might be called Poland Spring in your area.
To my knowledge they don't make Aqua Pod bottles with sports caps so I swapped out the lids from some other Ozarka bottles I had and they fit perfectly.
I like the Aqua Pod bottles because they are small and fit nicely in the hands of young children, their round shape also encourages squeezing.
Scented Discovery Bottle Supplies
Aqua Pod water bottles
Sports caps/lids from other bottles
Variety of different potpourri
Hot glue gun
How to Make Scented Discovery Bottles
To make your own scented discovery bottles start by filling empty bottles with different types of potpourri from the dollar store.
You can also add scented extracts like peppermint to cotton balls and place them inside the bottles to create more scents.
Another great idea is to use flavored tea bags. The tea bags hold their scent for a long time and are nicely contained within the bottles.
Secure the lids with hot glue or permanent glue.
How Scented Discovery Bottles Work
When a child squeezes the bottle the scent is released through the top of the sports cap and children can use their sense of smell to identify the different fragrances inside.
You can find many other Discovery Bottle recipes at Dr. Jean's website.
The book Sniff, Sniff: A Book About Smell
is the perfect read aloud to introduce the topic of smell to young children.
More Science Ideas