This science texture board is perfect for the science center in your preschool or kindergarten classroom!
Young children will enjoy exploring their sense of touch with this easy to make texture board.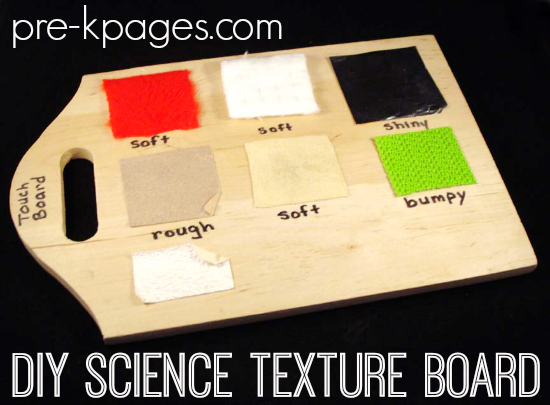 DIY Science Texture Board
I made this texture board for my science center using a wood cutting board from the dollar store. Next, I cut out squares of items that had unique textures and glued them to the board using E6000 glue. I have mentioned E6000 glue before, it is the best product I have found to permanently adhere any types of materials.
Science Texture Board Supplies
Here are the supplies I used to create my texture board, but you may have others on hand that work even better.
Fur
Cotton Square
Tin Foil
Sandpaper
Chamois
Placemat
Textured Wallpaper Sample
The book Soft and Smooth, Rough and Bumpy: A Book about Touch
is the perfect read aloud to introduce the topic of textures to young children.
The texture board also promotes inquiry and vocabulary development. Ask the children questions about the textures and encourage them to use descriptive words in their answers to support vocabulary development.
I like how Karen at Prekinders has questions posted in her science center so I created this printable sign below to go with the texture board.
Click on the picture below to download the free texture sign

More Science Ideas