Assessment forms for Preschool, Pre-K, and Kindergarten Kids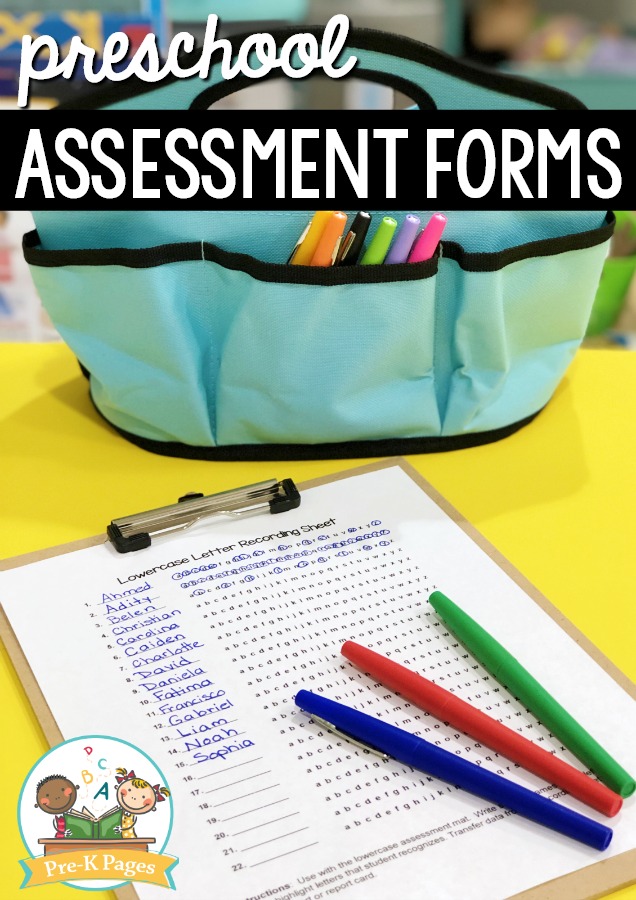 What is assessment?
Preschool and Pre-K assessment is a critical component of the teaching process, it's not something that should be done just because we "have to."
Research has shown that assessment drives instruction. Teachers should assess what their students know so they will better understand what they need to teach.
How to Rock Assessments Like a BOSS!
Watch this video above to learn 3 strategies that successful teachers use to rock assessments like a boss! You can download the webinar certificate and handout HERE.
Assessing our students will keep us from teaching concepts that have already been mastered and wasting valuable time.
Assessment allows the teacher to teach critical skills that must be mastered now in order for students to be successful later.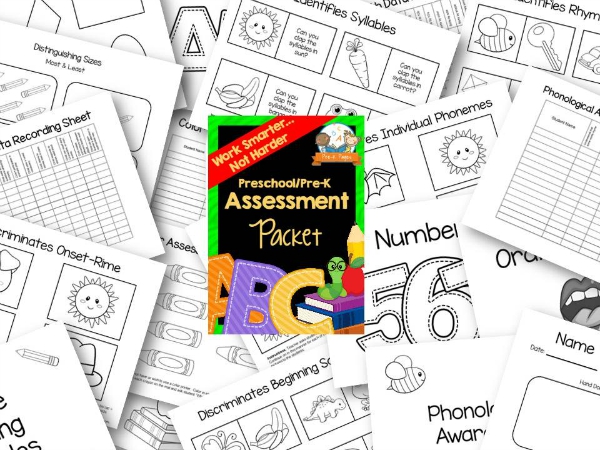 Preschool and Pre-K Assessment
Planning for, preparing, and assessing students can be overwhelming and stressful. Teachers often have many questions about assessments such as:
What skills should I be assessing?
How do you organize assessments?
Where can I find teacher-tested, teacher-created assessments?
What should I do with the information I have collected?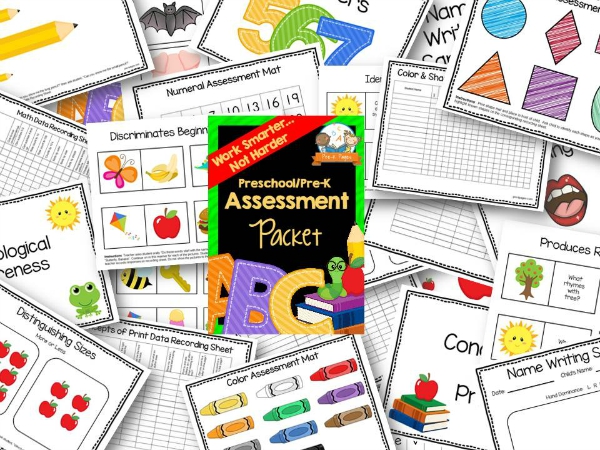 Preschool and Pre-K Assessment Tools
Based on my many years of experience in the classroom and the questions above I have created a 161 page packet of assessment tools and forms that will help you not only assess your students but organize your data. The 161 page Student Assessment Forms Packet will help you:
Save time by providing you with the tools and forms necessary to assess your students
Identify trends in your data or gaps in student learning that will help you determine what skills to focus on
Organize your assessments so you can fill out your report cards quickly

Want to see a video preview of this product? Click here!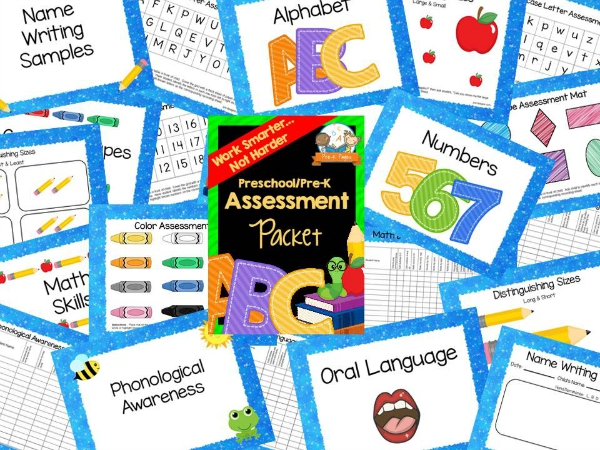 Printable Preschool and Pre-K Assessment Forms
The 161 page printable Student Assessment Packet includes the following forms:
Uppercase Letter Assessment Mat and Recording Sheet
Lowercase Letter Assessment Mat and Recording Sheet
Number Assessment Mat and Recording Sheet (numbers 0-20)
Shape and Color Assessment Mats and Recording Sheet
Math Assessment Recording Sheet (sorting, rote counting to 100, counting by 10's, patterning, one-to-one correspondence, subitizing, positional words & more)
Concepts of Print Assessment Recording Sheet (left-to-right directionality, one-to-one correspondence and more)
Oral Language and Listening Assessment Recording Sheet
Phonological Awareness Assessment Recording sheet and Mats
Name Writing Samples
6 cover pages to choose from to place in the front of your assessment binder
Divider pages for each assessment section
Detailed instructions for each assessment section- perfect for new teachers!
Preschool Assessment Packet with Black Doodle Borders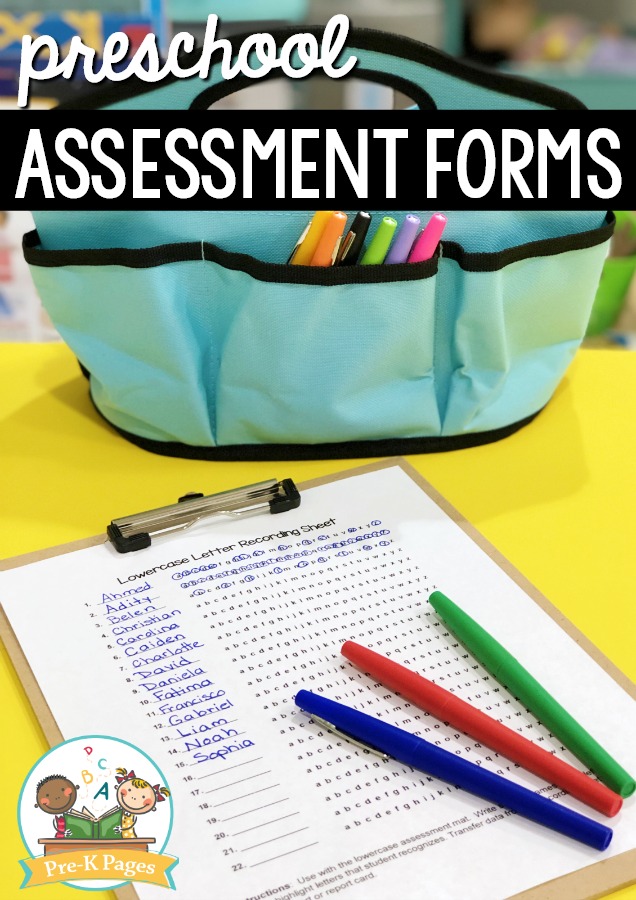 This packet contains 3 different assessment form styles for you to choose from:
Ink saver black and white version (53 pages)
Cute black and white doodle borders (55 pages)
Bright blue borders (53 pages)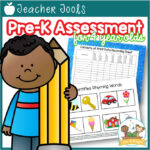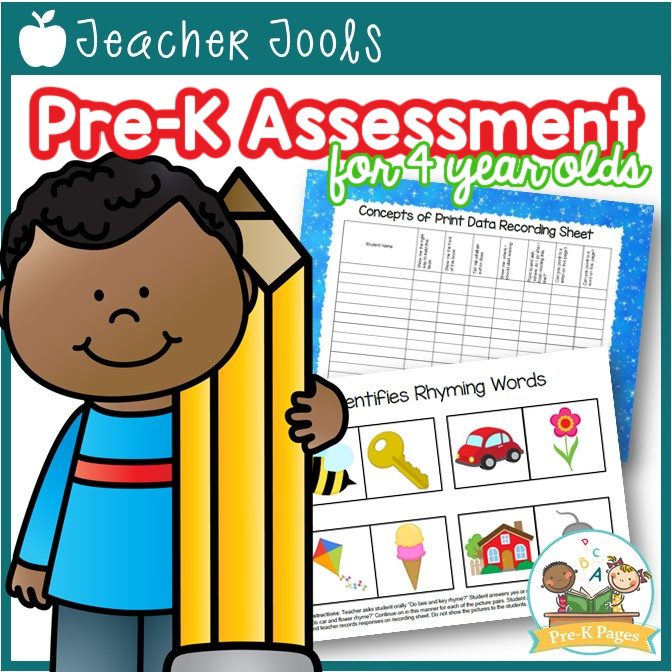 161 page printable Student Assessment Packet to help you organize and streamline your student assessments in Pre-K. Contains 3 different styles- choose your favorite!
You can find the Pre-K Report Card HERE and the Pre-K Progress Report HERE.
Please read the Product FAQ's before you make a purchase. All products are digital downloads sent via email, nothing will be sent via postal mail.
ESGI: Educational Software for Guiding Instruction
Looking for something more flexible and functional? Something you can customize to meet your specific needs? You're definitely going to want to check out ESGI!

Click HERE to try ESGI free for 60 days and use promo code PREKPAGES to save $40 off your first year!
But wait, there's even more good news! Now you can get all of the Pre-K Pages assessments on ESGI! That's right, everything that is included in the printable assessment packet is now available on ESGI!
ESGI has tons of awesome features to make your job as a preschool, pre-k, or kindergarten teacher easier, like printable parent letters in English and Spanish, printable flash cards individual to each student, and the ability to create your very own, custom tests!
Take back your instructional time and reduce your time spent testing by simplifying and streamlining the process with ESGI!