Subitizing Skills in Preschool, Pre-K, and Kindergarten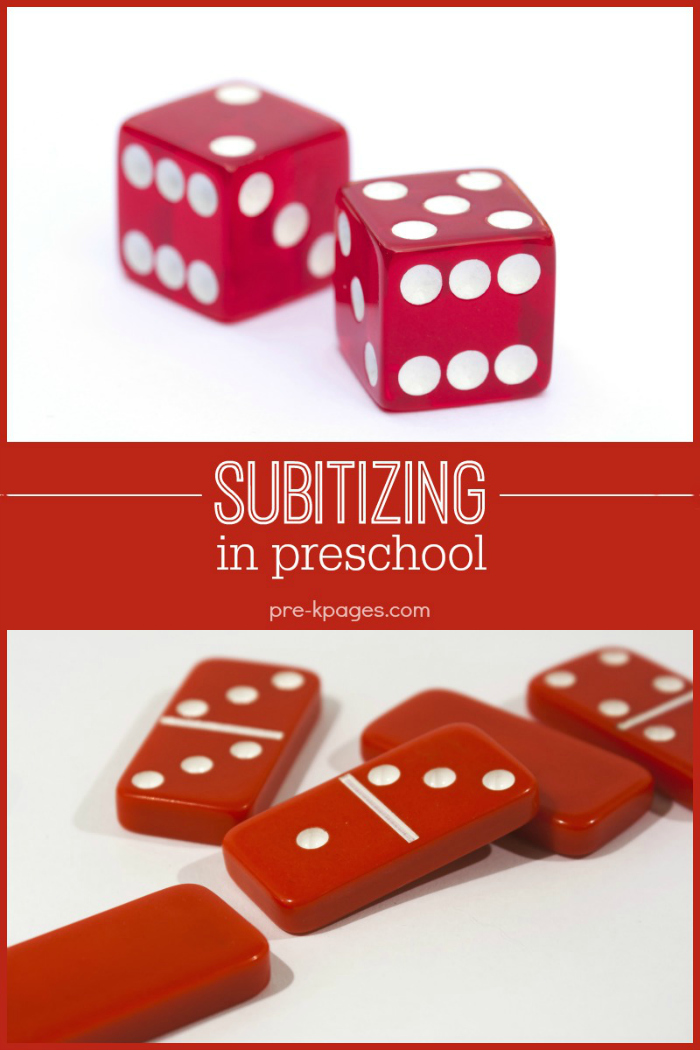 Subitizing
Activities and ideas for teaching the math concept of subitizing to young children in your preschool, pre-k, or kindergarten classroom.
What is Subitizing?
The ability to subitize is an important part of developing a strong mathematical foundation.
There are two components of subitizing; conceptual and perceptual. Perceptual subitizing is the instant visual recognition of a pattern such as the dots on a die. Conceptual subitizing is recognizing smaller groups and adding them together, such as two dots plus two dots equals four dots.
Understanding "how many" without counting will help children:
Count on from a known patterned set
Combine numbers from sets
Develop mathematical fluency
Subitizing Activities
One of the games I use to practice subitizing is Quick Images from the math program Investigations. In this game you show cards with dot patterns quickly to the students in large group. The students have to identify how many dots they see without counting and hold up the corresponding number of fingers. This is a great game but it gets old when you play it all the time so I decided to make it thematic to spice things up.
Subitizing with Pumpkins

The pumpkins pictured above and the turkeys pictured below are small shapes purchased from the teacher store. I added magnetic tape to the back of the cards. When playing Quick Images with the students in large group I turn a magnetic cookie tray towards myself and arrange a few shapes on the tray, then I turn the tray towards the students briefly and they hold up the corresponding number of fingers.
Subitizing with Turkeys

Subitizing with Snowmen

The snowman and heart playing cards are from the Target Dollar Spot.
Subitizing with Hearts

Subitizing with Rubber Ducks


This free printable for subitizing with rubber ducks can be found on the blog HERE.
Another way to incorporate subitizing skills into your daily routine is to play math games using dice. You can find lots of thematic math games using dice on the individual theme pages.
Math Resources
Disclosure: Pre-K Pages is a participating member of the Amazon Services LLC Associates Program.
More Math Ideas from Pre-K Pages