Here is my absolute favorite craft for Valentine's Day in preschool or kindergarten classrooms.  This Valentine photo frame craft activity!
These Sweetheart photo frame magnets are a huge hit with parents, they simply adore them!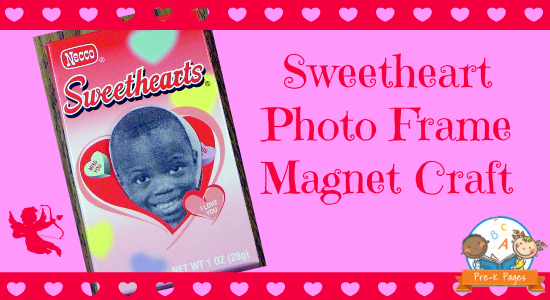 Sweetheart Photo Frame Magnet Craft Activity
I made this little video tutorial that shows you how quick and easy it is to make one.
I hope you find it helpful!
Sweetheart Photo Frame Video Tutorial
Sweetheart Photo Frame Supplies
Here's what you will need to get started:
Small picture of each child
Tape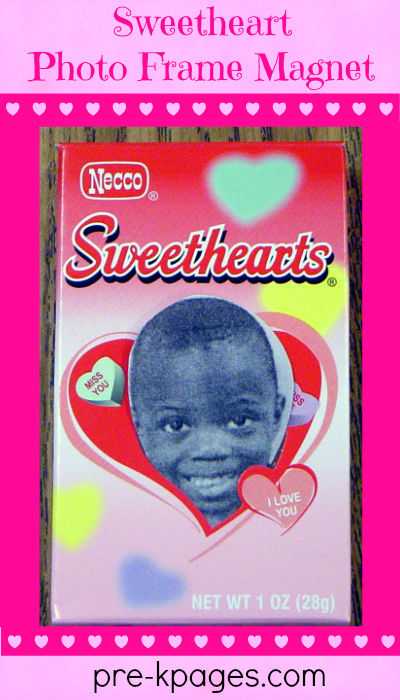 Sweetheart Photo Frame Directions
First, collect one Sweetheart candy box per child in your classroom.
Next, print or cut out one small picture of each child- small enough to fit on the front of the box.
Then, attach the pictures of the children to the boxes with tape. If your boxes don't have a heart shaped cutout on the front, just cut the pictures into a heart shape and attach to the front of the box- it's still just as adorable!
After you have attached the pictures to the boxes, secure the top and bottom of each box closed with tape.
Finally, attach one or two pieces of magnet tape to the back of the box.
That's it, easy peasy! Now your magnets are ready to be sent home with your little ones to be admired!
More Activities For Valentine's Day
You might like to follow up this activity in your classroom with Valentine's day decorating cookies activity.
You could also incorporate songs into the holiday. You can sing Valentine songs during circle time, transitions, or whenever your kids just need to refocus and get their wiggles out!
There are so many activities that you can incorporate into your classroom for Valentine's Day! You can incorporate the holiday into your math activity literacy activity or use books to celebrate Valentine's Day!
A light table activity is also a great way to center the lesson around Valentine's Day. When your kids are picking up and manipulating the plastic hearts on the light table they'll be engaging in sensory play and developing those important fine motor skills too!
And no preschool Valentine's Day theme would be complete without a Valentine play dough activity. Playing with play dough is a great way for kids to practice their fine motor skills in a fun, hands-on way. The simple act of pressing chenille stems, beads, cookie cutters into dough has so many benefits for young children.
Your pre-K or kindergarten students could also work on their sight words during the holiday as well.  Using Valentine card sight words is a  highly engaging and fun activity can help your pre-k or kindergarten students get even more excited to practice their sight words.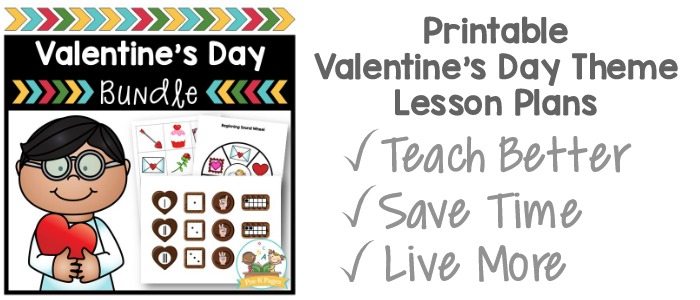 More Valentine's Day Ideas