Being an early childhood teacher means you wear many hats; sometimes those hats can include teaching manners. Today I'm going to share some of my best tips for teaching preschool rules to young children at home or in the classroom.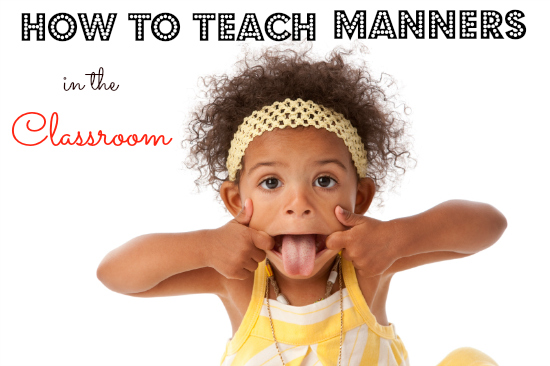 Teaching Manners in Preschool
Over the years I've had my fair share of parents say the following:
He's all yours!
She's been kicked out of 4 daycares!
You fix 'em!
Good luck, you'll need it!
What's the latest I can pick him up?
What's the earliest I can drop her off?
Challenging Students or Challenging Behaviors?
There are some students who push and shove others, can never wait their turn, mistreat the materials in the classroom and generally create chaos wherever they go. These students aren't challenging, but they may have challenging behaviors.
Instead of cringing or applying for a job at Wal-Mart I have always enjoyed these students because if it weren't for them my job would be boring.
Rome wasn't built in a day and slow and steady wins the race, these are two of the philosophies I subscribe to when dealing with challenging behaviors.
How to Teach Manners in the Classroom
When it comes to teaching manners in the classroom, start by role playing different please and thank you scenarios.
Sit in a circle with the children and practice passing an item around the circle as each child says the following phrases: "Please pass the ____" and "Thank you"
Play this game several times the first few weeks of school but you also need to reinforce the skill throughout the day and the year.
I might say "Remember your manners during center time, how do we ask for something?"
Reinforcing Good Manners
Whenever you notice your students need a little reminder about how to use good manners, stop and play a quick game to reinforce the skill.
If you want your students to wait for a turn, make a game out of it and play that game with them frequently until they learn how to do it. Then be sure you reinforce it frequently as well.
There are many games that support the development of self-regulation, or waiting for turn such as Red Light, Green Light, Freeze, and Duck, Duck, Goose.
If you make learning the skill fun and turn it into a game your year will go more smoothly.
How do you teach manners in your classroom?
If you like this teaching tip, check out my membership site, The Teaching Tribe, where teachers just like you are connecting to save time, teach better, and live more.
More Teaching Tips
More Teaching Tips