The #1 Community Where Pre-K & Kindergarten Teachers
Go to Teach Better, Save Time, and Live More
"Exhausted, Totally Alone, And At My Wit's End
In The Classroom..."
Dear Fellow Teacher:
Those are three things I promise to never let you feel again.
You work too hard. Care too much. And deserve more than to struggle or feel alone at work.
Unfortunately, that's how the majority of teachers feel every day.
Maybe you're like other teachers who spend days, weeks, or months creating lesson plans…
Only to finish realizing you need to keep prepping for the weeks ahead…
It takes up your time.
Work becomes your life.
And you end up sitting down and wondering when you'll catch a break.
You want to be with your loved ones.
You want to be with your friends.
You want to be happier, by spending more time doing things you love…
But teaching takes over and you exhaust yourself.
Even worse…
No one REALLY understands what you're going through.
You don't have a community of pre-k or kindergarten teachers who actually empathize with you.
No one to vent to, express yourself with, learn from, and to feel that sense of community we all need as humans.
For a long time, I felt the same way…
And I knew other teachers did, too.
We all wanted a place to go to improve our teaching skills, share resources, and interact with other teachers who understand us...
...So, I created a place for pre-k and kindergarten teachers
to truly belong & grow as professional educators…
The #1 Community Where Pre-K & Kindergarten Teachers
Get the Resources, Tools, And Support They Need To Thrive
Teach Better · Save Time · Live More
If you're looking for a community where you can uplevel your teaching skills, discover done-for-you lesson plans for every theme, have every teaching-related question answered, and connect with like-minded passionate teachers like yourself…
….then you've come to the right place!
Here's what you need to know:
For the last 6 years, Teaching Trailblazers (formerly The Teaching Tribe) has been the go-to place for pre-k and kindergarten teachers to improve their teaching and give themselves back the time they deserve.
The moment you join, you're given instant access to resources made specifically to help you teach better, save time, and make the biggest impact on your students — while never sacrificing your happiness or sanity.
Teachers who joined "Trailblazers" have gone from being worried, stressed, alone, and always scrambling to get things done…
….to finally feeling free, more confident, and always ready to teach weeks and months ahead of schedule.
And when you consider everything you get in Teaching Trailblazers, you'll understand why.
Without Teaching Trailblazers I would have to choose either work, family, or sanity. Because of the resources you've provided, I can have a balance of all three!

Ellen Kellogg

Preschool Teacher, Trailblazers Member
Here's Why Teachers Love Being In Teaching Trailblazers—
See What's Inside
Professional Development Masterclasses: On-Demand Video Trainings w/ 24/7 Replay Access
Discover the latest teaching "best practices" covering everything you need to thrive in the classroom, including classroom management, time-saving tricks, social-emotional learning, special education strategies, core content areas, and so much more!
Leave each session feeling empowered and inspired to solve the problems in your classroom, right away. Our best tips and tricks will make your job easier and help you get your after-school life back. It's PD in Your PJ's! More than 50 classes and expert trainings available, with more added every month! ($600 Value)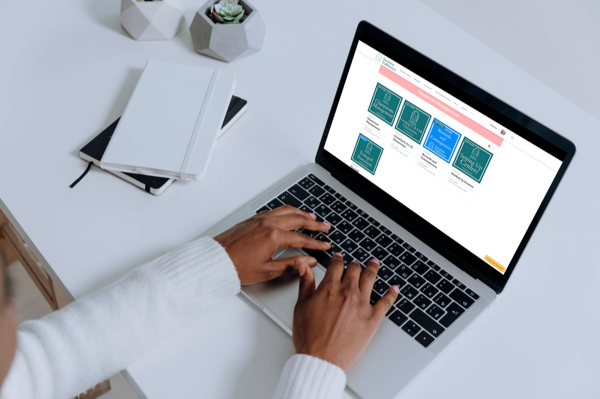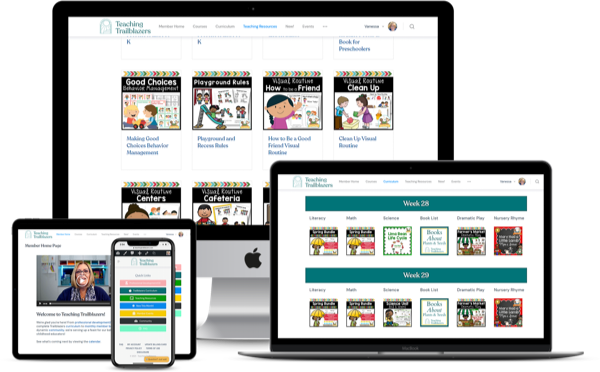 The Complete Teaching Trailblazers Curriculum
100s of printable teacher resources — including 365 days of done-for-you lesson plans + instructional guides. Total access to every lesson plan, unit study, and classroom resource from Pre-K Pages — including fairy tales, nursery rhymes, seasonal activities, dramatic play kits, and more! Plus, get our entire library of daily Take Home Lesson Plans For Distance Teaching — Only for Teaching Trailblazer Members!
Soar to Success Summit: Premium Access
Get the on-demand virtual first-row experience to the #1 online event for preschool and kindergarten teachers, Pre-K Page's Soar To Success Summit 2021: Educating the Whole Child: The Hidden Power of Social Emotional Learning!
Learn the practical and life-changing methods to help you create a bigger impact on the lives of your students. From songs and games that teach emotion, developing empathy in young learners, to teaching resilience, you'll discover how to teach your class beyond just the books! After viewing this Summit, you'll have the confidence and clarity you need to teach students to be great human beings!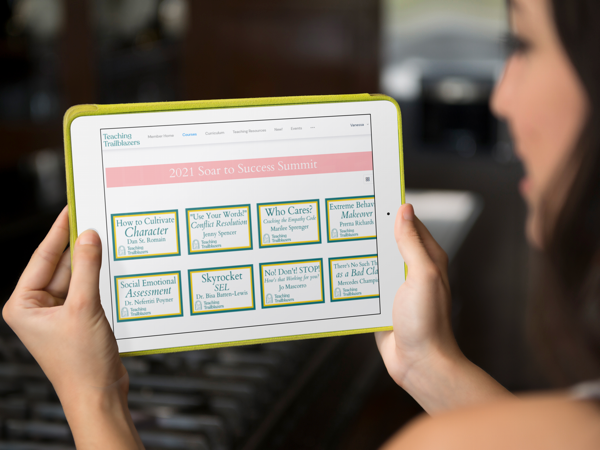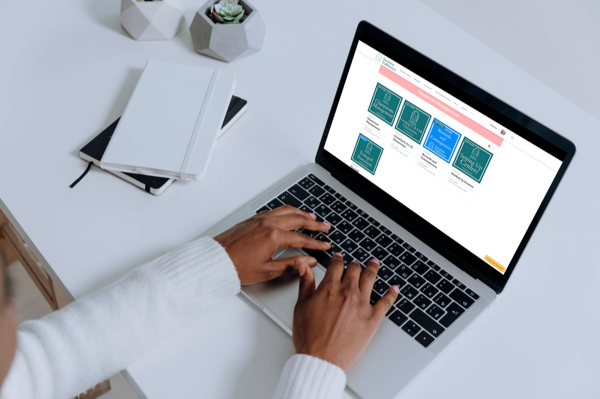 24/7 Support From Our Mentors + Community Of Pre-K & Kindergarten Teachers
Join a family of passionate and caring teachers + mentors who want to see you succeed. You're joining a true fellowship of professional educators you can always count on to help you, support, inspire, and empower you to be the best educator you can be.
Monthly Office Hours
Get all of your teacher questions answered by experienced teachers. Ask me (Vanessa) or any of our expert mentors anything you're struggling with or want to improve, and we'll guide you to clear answers so you can teach more effectively and efficiently.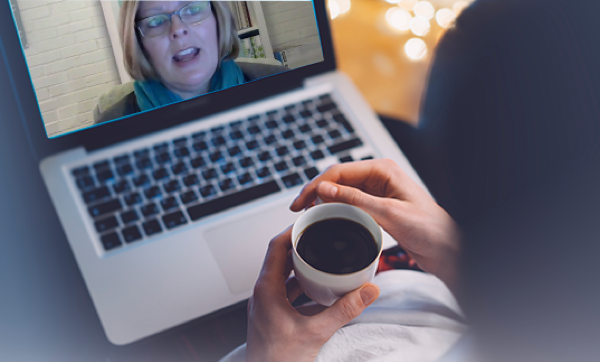 Here's What Members Are Saying...
I teach Kindergarten but find many of your ideas and resources applicable to my students (especially the first half of the year). It will definitely be helpful during the current situation as many students may need some "catch up" time. Even in my 25th year of teaching I am looking to incorporate new things and become a better teacher.

Katherine M.

Kindergarten Teacher, Trailblazers Member
I love the professional development trainings, there are at least 5 new things you will take away from each one. It may be a new attitude, a lesson, a plan, a download, a new way to do something, or even a spark of brilliance you picked up from another attendee in the comments. What a great community.

Dorothy B.

Preschool Teacher, Trailblazers Member
I was super excited to find the Trailblazers curriculum. Having a scope and sequence tied to Common Core (Next Gen Standards are closely aligned which NY has implemented) gives me direction. Having a tried and true framework is a relief!

Teaching Trailblazers has saved me so much time each week. I knew what I was required to teach, but Trailblazers provides materials and pacing to make it work.

Jocelyn S.

Pre-K Teacher, Trailblazers Member
Who is the Perfect Fit For Teaching Trailblazers?
If You Feel Overwhelmed & Overworked...
Discover the time-saving teaching hacks so many teachers use to save hours, days, even weeks of planning — plus, get 365+ days of done-for-you lesson plans — making your lessons and activities ready the moment you join!
If You're Not Confident With Your Lesson Plans + Activities...
No worries, each of our plans are backed by science, proven by research to engage and educate your students effectively. You'll LOVE seeing your students learn and your students will love every activity you share with them!
If You're Feeling Alone In Your Work...
We're ready to welcome you with open arms! You're joining 1000s of teachers, just like yourself, who finally have a "home" to connect with, learn from, and grow together.
If You Want to Teach Better, Save Time, and Have a Life...
Then you'll enjoy our trainings, done-for-you lesson plans and close mentorship that frees up your time and helps you make a bigger impact on your students' learning.
More of What Members Are Saying...
I was really stressed when I found out I was teaching 4 and 5's and knew nothing about it! I found a couple of articles on Google, but not much. The Teaching Trailblazers community is priceless, then when you add all of your great teaching resources (including the complete curriculum), it's a must have!

Astra S.

Pre-K Teacher, Trailblazers Member
I've been a Pre-K teacher for 14 years. I love the versatility of all the materials in Teaching Trailblazers — it's so easy and user friendly. I can print an activity, laminate it, and it's good to go. I love getting the video updates, too, with suggestions and ideas to see what other teachers are doing. Trailblazers teaches us better ways to work with young children.

Beatrice G.

Pre-K Teacher, Trailblazers Member
I joined because of the resources and professional development... but the best benefit is getting to talk to other Pre-K teachers and hear what they're doing! Coming from a small school, I don't get that on a daily basis and I can in Teaching Trailblazers. I just wish I'd found it sooner!

Kasey T.

Head Start Teacher, Trailblazers Member
What's Inside Membership?
Inside your monthly membership to Teaching Trailblazers, you'll get:
•A vibrant community of new and veteran teachers to collaborate with- get the support and encouragement you need
•On-demand professional development trainings to keep your classroom moving forward … just sit back, relax, and enjoy on your own time. It's PD in Your PJ's™!
•Full online access – watch, or connect from any device with an internet connection
100% Satisfaction Guarantee
Our #1 priority here at Teaching Trailblazers is your happiness. Which means we stand by our members 100%, no matter what. If you have a problem, we will solve it. Just reach out to our Customer Care Team. We're here for you. Happiness. Guaranteed.
Thank you so much for the wonderful job everyone does at Teaching Trailblazers! My combined 3K/4K preschool program is amazing because of everything I have learned here. Vanessa Levin, you are so positive and I love listening to you share everything you do to help make my teaching top-notch!

So proud to be a Trailblazers Member!!

Pamela W.

Pre-K Teacher, Trailblazers Member
My experience with Teaching Trailblazers has allowed me to work smarter not harder. The vast amount of resources that are already created for you make teaching any topic fun and engaging for students! I love that there are always new ideas coming out too!

Emily C.

Preschool Teacher, Trailblazers Member
You've Got Questions, We've Got Answers!
What happens after I sign up?
After checking out, you'll receive detailed instructions in your email inbox that explain exactly how to log into the Teaching Trailblazers membership website. When you log in to the site, you'll have access to absolutely everything, right away. As new content is added to membership, we'll send you a note in your inbox to let you know what's new so you don't miss a thing!
How do I access the resources in membership?
All resources are digital, delivered through a private membership site. When you log in to the site, you'll be able to watch all recorded video trainings and live events, download and print any PDF guides/certificates of attendance (for Clock Hours!), and ask questions in the community. You won't have to wait for the mailman – since everything is digital, you'll get instant access to everything in membership.
How often is new content added to membership?
We're constantly adding value to the membership site: Every single month you'll get exclusive, new members-only content.
What forms of payment do you accept?
You can pay for your membership with your credit card. Monthly and annual payments are made automatically through the payment provider you choose at checkout. We also accept funding through Donors Choose.
Can I write a Donors Choose grant to pay for the cost of membership?
Absolutely! You can read more about how the Donors Choose process works HERE.
Can I earn clock hours for watching the video trainings?
Yes! You'll receive a certificate of attendance for each professional development training you watch. Visit the CEU Information page to learn more about what you need to earn CEUs.
When will I be billed?
We offer two billing options, monthly or annual. If you choose the monthly billing option, you'll be automatically billed for your continued membership in Teaching Trailblazers each month – so you can keep access to all the awesome resources, tools, and teaching community with zero interruption. OR you can choose the annual membership billing option and get 2 months of membership free!
How can I get my school to pay for my membership?
It's easy! Just print our informational brochure, or send your administrator to this link HERE.
Do you accept purchase orders?
Absolutely! We accept purchase orders year round for annual membership. Visit the Purchase Order page to get started now.
Can I share a subscription with my friend?
No. Each subscription is for one teacher only. Sharing of subscriptions is strictly prohibited. Your subscription includes more than 50 hours of trainings with certificates of attendance, monthly opportunities for Q&A from experts, and a community to ask and answer questions. This is an incredible offer at an unbelievably low price.
Can I pause my membership in the summer?
Membership is more active in the summer because teachers love to use our resources to help plan and prepare for the upcoming school year. Therefore, we do not offer the option to pause membership in the summer.
How much does it cost?
You'll pay just $39 per month or SAVE $78 on annual membership! See specifics below.
What about…
Got a question that wasn't answered here? Email us at customercare@pre-kpages.com and we'll be happy to answer it for you!
Here's What Members Are Saying...
Honestly, when I heard about Teaching Trailblazers, I was concerned about the price. However once I did the math on how much it would cost me to do workshop hours and buy/download things for my classroom, I realized how much I would benefit from it. I have redone my entire preschool. I needed new center labels, new songs, new activities, new everything. Having all this at my fingertips has been amazing already!

Jenni H.

Pre-K Teacher, Trailblazers Member
This is the first program I had no second thoughts about enrolling in because I can relate with everything I've seen here. I don't have to wonder or guess anymore if I am on the right track where pre-K teaching is concerned.

I also admire the support areas you have set up in the Trailblazers community to provide your members with whatever help we may need. I am really very happy and already feeling more empowered both as a classroom and virtual pre-k teacher.

Arlene C.

Pre-K Teacher, Trailblazers Member
I would definitely recommend Teaching Trailblazers to anyone that teaches Transitional Kindergarten. We are alone in the sea of education. Most districts do not understand what TK is nor do they attempt to support it. I have heard many TK teachers that have no support for their grade or make them a TK/K combo. Education in California needs to get on board and understand what developmentally appropriate learning should look like in TK.

Amber B.

Transitional Kindergarten Teacher, Trailblazers Member
I thought Teaching Trailblazers was a site for new teachers. I have been teaching for 16 years and thought "what could I possibly need from this site. Would it be worth joining?" Well, I can say now that it has been one of the best investments I have made as a teacher, especially with the continuing education.

Amy G.

Pre-K Teacher, Trailblazers Member
I am so grateful for your vision to help educators teach better, save time. and live more. One of the best teacher investments I've made over the years has been my membership to Teaching Trailblazers. It's worth every penny! THANK YOU!

Chrissy M.

Preschool Director, Trailblazers Member