I'm pleased to announce the continuation of a summer tradition here at Pre-K Pages, our annual Book Study Blog Party! Based on the number of e-mails I have received inquiring about the title of this summer's book I know this is the moment you have all been waiting for.
Without further ado, we are pleased to announce the title of the book that was selected this year, The Read-Aloud Handbook (7th Edition) by Jim Trelease.
About the Book
Published by Penguin Books in 1982, The Read-Aloud Handbook spent 17 weeks on the New York Times bestseller list. With more than 2 million copies sold world-wide and translated into many languages The Read-Aloud Handbook is considered the all-time bestselling guide to children's literature for parents and teachers. New editions of the book have been released over the years with the most recent, seventh edition scheduled for release on June 25, 2013.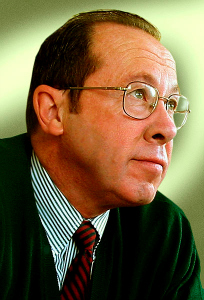 (Photo Source: Wikipedia)
About the Author
A journalist by trade, Jim became curious about the connection between reading aloud to children and their motivation to read. This curiosity led him to research the topic in depth and ultimately to the publication of the book. His goal has always been "…to help children make books into friends, not enemies."
Why Did You Choose This Book?
The main reason this book was chosen is because it's a perfect topic for early childhood professionals and parents to discuss; it's also very well-written and researched without being too "textbooky" (quick, somebody call Stephen Colbert- I made up a new word!) And then there's a little thing called fate. In 2000 I had the opportunity to see Jim speak in Dallas but I was unable to attend; this was the biggest regret of my professional career. Jim inspired my rain gutter bookshelves and the implementation of a pre-k version of SSR in my classroom. You know that question about what three famous people would you most like to have dinner with, dead or alive? Jim Trelease is on my list. About 18 months ago Jim and I crossed paths via e-mail after he saw a post I made on Facebook. Our correspondence revealed that he was working on the seventh edition of The Read-Aloud Handbook; I have been eagerly awaiting the release ever since- talk about perfect timing!
Who Should Read This Book?
You might be thinking "I'm a teacher and I read to my class every single day, I don't need to read this book." And you would be dead wrong. There is so much more to Jim's message than just "read to your kids" – that only begins to scratch the surface of this book. Not unlike the Common Core, Jim goes a mile deep and an inch wide on this topic exploring every single aspect thoroughly- and in my opinion with just the right amount of wit and humor, making it a relaxing and enjoyable read. If you're asking me who should read this book my response is a resounding everybody! I think this book should be required reading for every single administrator, politician, school board member, teacher, and parent.
How Do I Join the Book Study
Here's how it works, starting July 8 we will be posting twice each week on different chapters. To join in the discussion all you have to do is follow the participating blogs and leave comments with your thoughts and questions. If you have your own blog you can also join the linky. Here are the bloggers who will be hosting the chapter discussions:
Where Do I Get the Book?
The Read-Aloud Handbook will be published on June 25, 2013 and can be pre-ordered on Amazon so you can have it in your hands on that day.
Where Can I Find the Previous Book Study Posts?
Literacy Beginnings by Fountas and Pinnell
Teaching in the Digital Age by Brian Puerling
Stay tuned for a summer of fun and reading!